What Is Clinic Revenue? 
As a clinic owner, one of the things you always think of is how to improve clinic business. You want to ensure that you have a steady stream of revenue coming in for your clinic business. 

Clinic revenue is the money that a clinic earns from its patients, either through payments for services or insurance reimbursements. 
Why It Is Important To Improve Clinic Business? 
Ensure the long-term sustainability and growth of your business 
With more revenue, you can invest in the clinic's operations, staff, equipment and services, which in turn can lead to an increase in patient satisfaction and retention.
Improving clinic business can also help you stay competitive in the healthcare market.
With more revenue, you can offer more competitive pricing and expand the services you offer, which can attract new patients and retain existing ones. This can also help you differentiate your clinic from competitors and establish a strong reputation in the community.
Give you more financial flexibility and security
It can help you weather unexpected expenses or market fluctuations, and provide a cushion to invest in new opportunities or technologies that can help improve patient care and attract more patients.
Malaysia is a competitive and growing market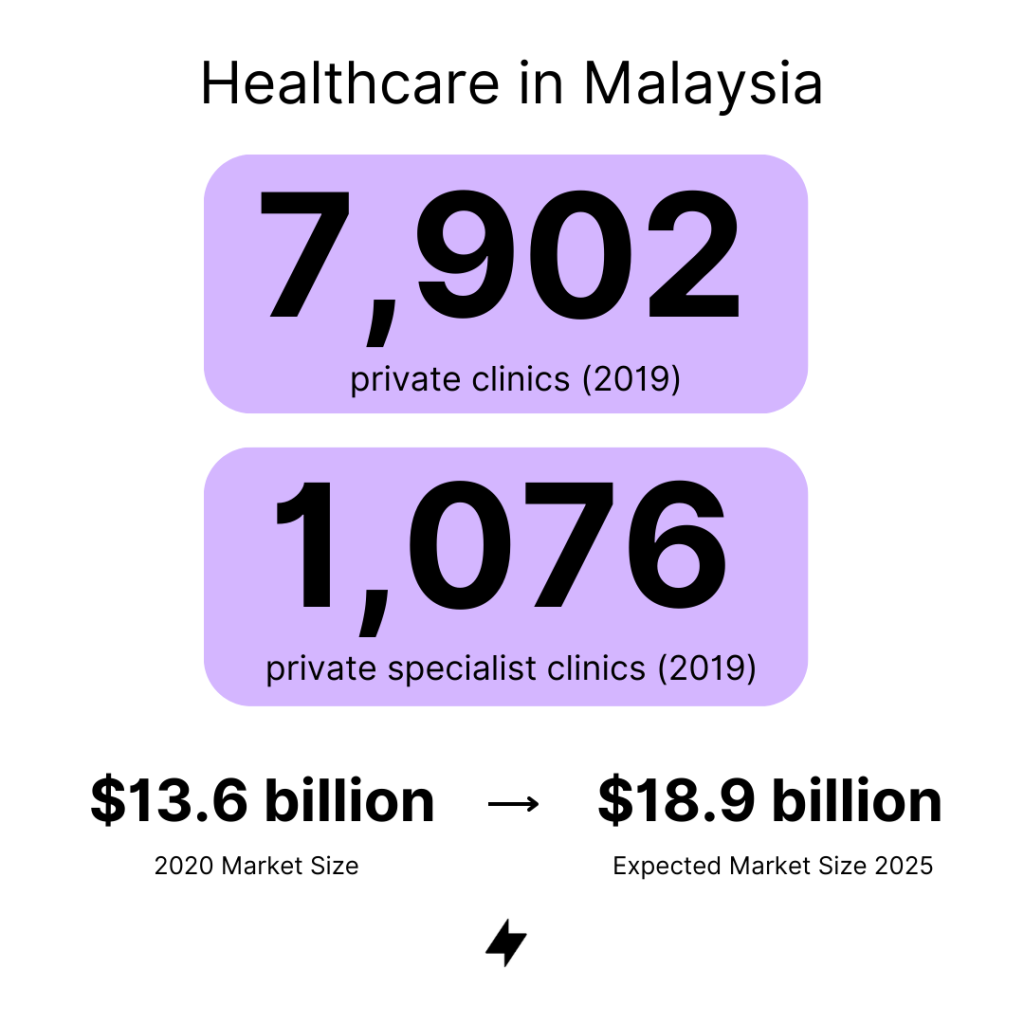 The Ministry of Health reported that there were 7,902 registered private clinics in Malaysia in 2019.

The Ministry of Health reported that there were 1,076 registered private specialists clinics in Malaysia in 2019.

In 2020, the healthcare market size in Malaysia was valued at $13.6 billion and is expected to reach $18.9 billion by 2025, growing at a CAGR of 6.6% during the forecast period.
How Do You Develop A Strategy To Improve Clinic Business? 
Owning a clinic 10 years ago was a vastly different experience than it is now. Back then, when you chose a location & open a clinic you basically can have steady revenue without much effort because the competition is less fierce than now

Today, patients have access to an abundance of information online and have come to expect a higher level of convenience and accessibility.

If it feels inconvenient to get a treatment or consultation at your clinic, they will just go to another clinic they can find a few blocks from yours. 
To succeed in improving clinic business today. It's important to have a solid strategy that you can use.
Establish Social Media For Your Clinic
Increase Visibility Through Search Engine Optimisation
Offer Online Booking For Your Customer
Focus On Patient Experience
Clinic Retention Program
Expanding The Services Offered At The Clinic
Establish Social Media For Your Clinic
The first step in improving your clinic business is to establish a presence on social media. 
Social media platforms like Facebook, Instagram, TikTok and Twitter are a great way to connect with potential patients and keep current patients informed about your clinic's services and promotions. 
By regularly posting updates, promotions, and engaging content, you can build a following of loyal patients who are more likely to recommend your clinic to their friends and family.
Increase Visibility Through Search Engine Optimisation
I bet at least once in your life you try to search a solution about certain problem or topics and you end up finding a product or service that seem can solve it for you
You either contacted them to enquire more or simply start your car engine and go to their address and that's the result of good Search engine optimisation (SEO).

Search engine optimisation (SEO) is a critical component of any digital marketing strategy. By optimising your clinic's website for search engines, you can increase its visibility and attract more traffic. 
This can lead to more potential patients finding your clinic when they're searching for health-related services in your area.
Offer Online Booking For Your Customer
If you ever ask your customer or patient on what could be better at your clinic, they would mention "appointments" the most!

Don't take my words for it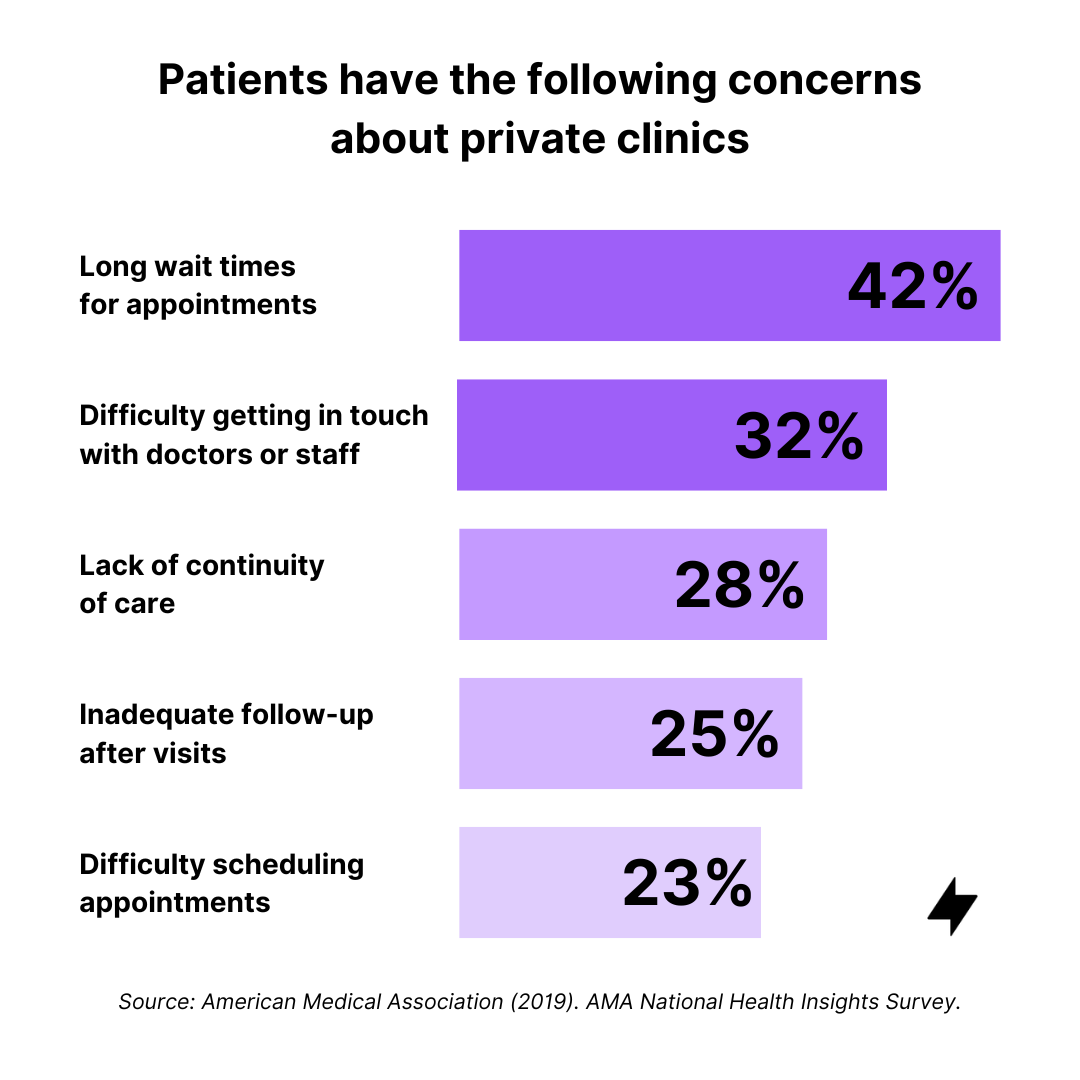 According to this survey, 2 of the top 5 concerns about private clinics are about appointments.

42% & 23% respondents say they encounter long wait times for appointments & difficulty scheduling appointments respectively. 
By offering online booking on your clinic's website, you can make the process much easier for patients and increase revenue by filling more appointment slots.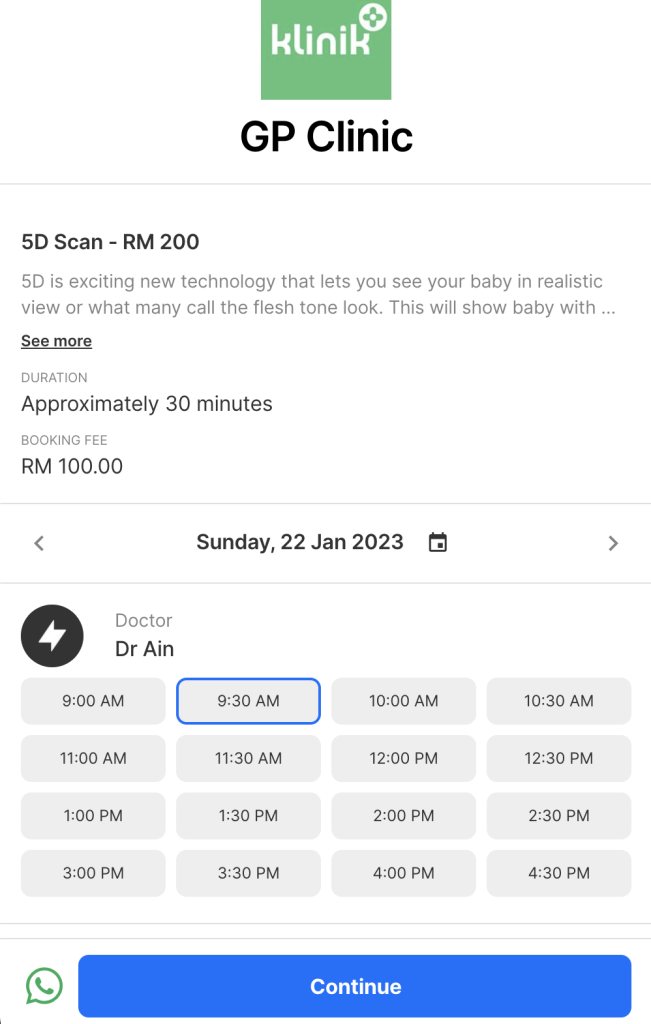 For example, the appointment page feature of Yezza Clinic Appointment System as shown above makes customers or patients easily choose services or treatment, select preferred doctors with their next available date and have option to pay before or during visit at the clinic.

You can go here to know more about Clinic Appointment System by Yezza
Focus On Patient Experience
If you never come back to a restaurant that gives you a bad experience, why would you think your customer or patient will come back if they have a bad experience at your clinic?
Focus on giving the best patient experience that they will return to your clinic and recommend it to others. 
By providing excellent customer service and creating a welcoming atmosphere, you can improve patient satisfaction and increase revenue.
To improve patient experience, consider implementing a patient feedback system that allows patients to rate their experience and provide feedback. 
This will give you valuable insights into what's working well and what needs improvement. 
Additionally, you can train your staff on customer service best practices and provide them with the resources they need to provide the best possible experience for patients.
Clinic Retention Program
Now you already have a plan on how to attract new customers via social media content you produce, your optimised search engine & word of mouth of happy customers.

But retaining existing patients is just as important as attracting new ones. By implementing a retention program, you can keep patients coming back to your clinic and increase revenue.
A retention program can include things like loyalty rewards, special promotions, and regular communication. 
For example, you could offer a loyalty card that gives patients a free treatment after a certain number of visits or send out regular email newsletters with promotions and updates.
Expanding The Services Offered At The Clinic 
Finally, consider expanding the services offered at your clinic to increase revenue. By offering a wider range of services, you can attract a wider range of patients and increase the lifetime value of each patient.
For example, if you currently only offer general medical services, you could expand to offer specialised services like physical therapy or acupuncture.
Additionally, you could offer additional services such as health and wellness classes or nutritional coaching.
Conclusion
In conclusion, improving clinic business can be achieved through a combination of efforts, including implementing effective marketing strategies, expanding services and specialties, and utilising technology to streamline operations.
Your clinic can attract new patients, retain existing ones, and ultimately boost your clinic bottom line.
Remember to always stay up-to-date on industry trends, and to continually evaluate and adjust your approach as needed. With the right strategies in place, clinics can increase revenue and continue to provide high-quality care to their patients.
Read : How To Implement Digital Marketing For Clinic