Why do you need to craft a digital marketing plan for your dental clinic?
In today's digital age, a dental clinic digital marketing plan will help you to reach your target audience and stand out from the competition.
More and more people are using the internet to find local businesses, including dental clinics.
If you want to attract new patients and grow your dental practice, you need to have a strong online presence.
Why dental clinic digital marketing is important?
Dental clinic digital marketing is crucial for reaching potential patients and growing your business.
In fact, a survey by BrightLocal found that 97% of consumers searched for local businesses online.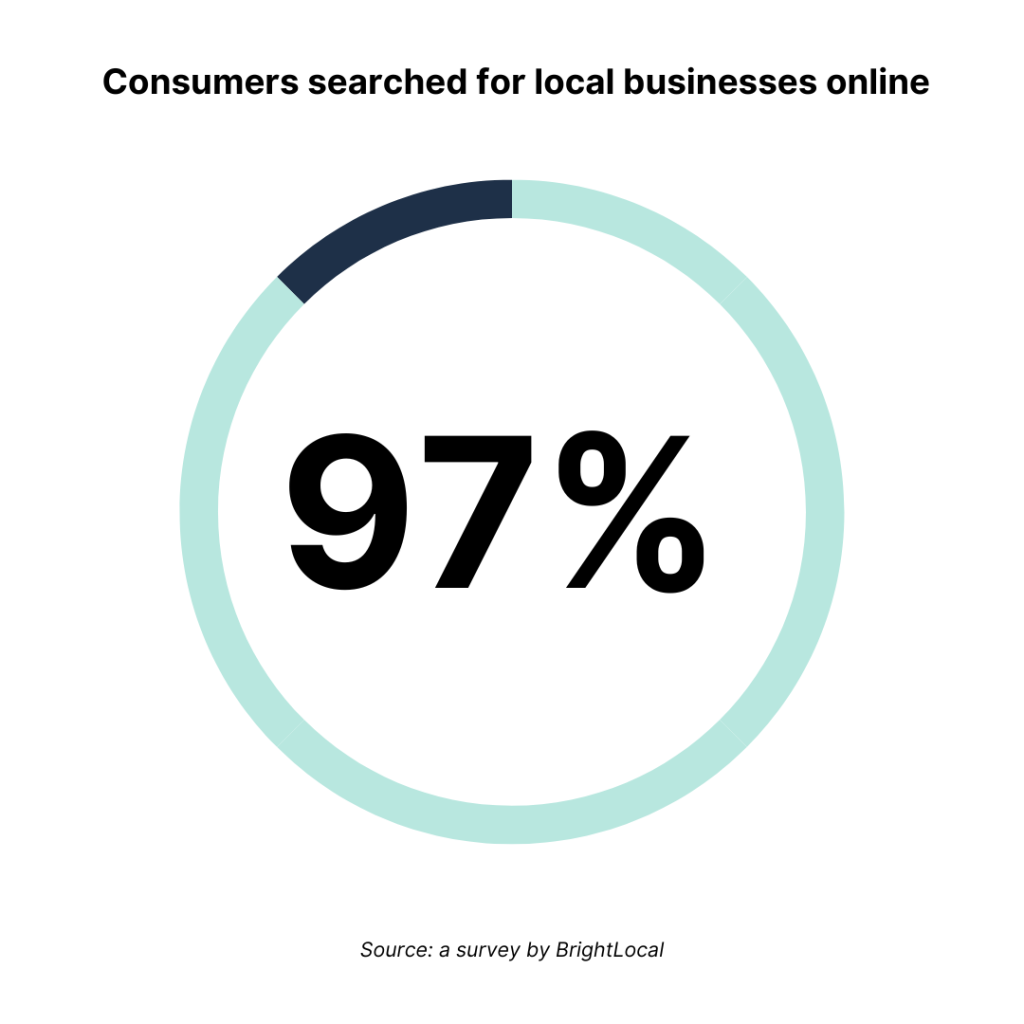 This means that if you want to attract new patients, you need to have a strong online presence.
By developing a comprehensive digital marketing strategy, you can reach your target audience and drive more traffic to your clinic's website.
Difference between dental clinic traditional marketing and dental clinic digital marketing?
Traditionally, dental clinics have relied on methods such as print advertisements, billboards, and word-of-mouth to market their services.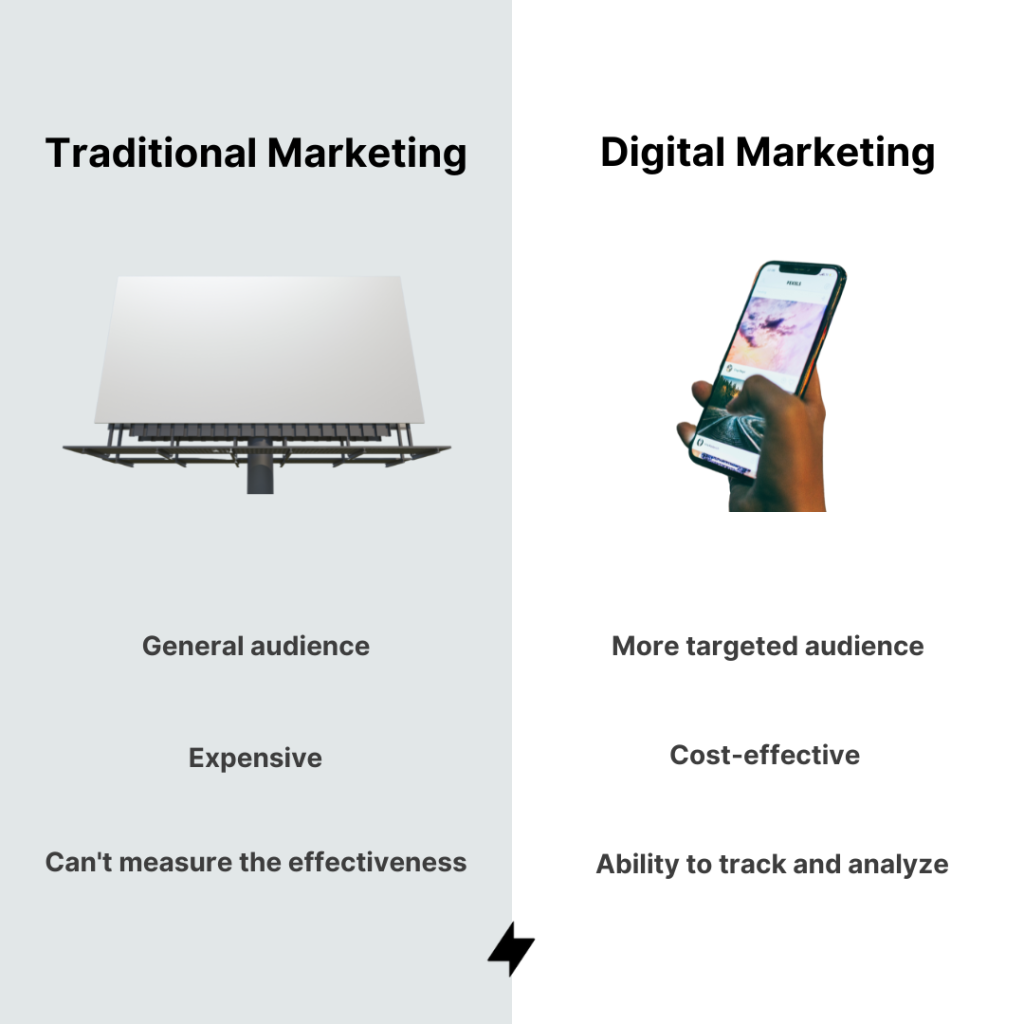 However, with the rise of digital technology, dental clinic digital marketing has become an increasingly important aspect of growing a successful practice.
A survey by the Digital Marketing Institute found that 72% of consumers prefer to receive promotional content through email, compared to just 17% who prefer direct mail.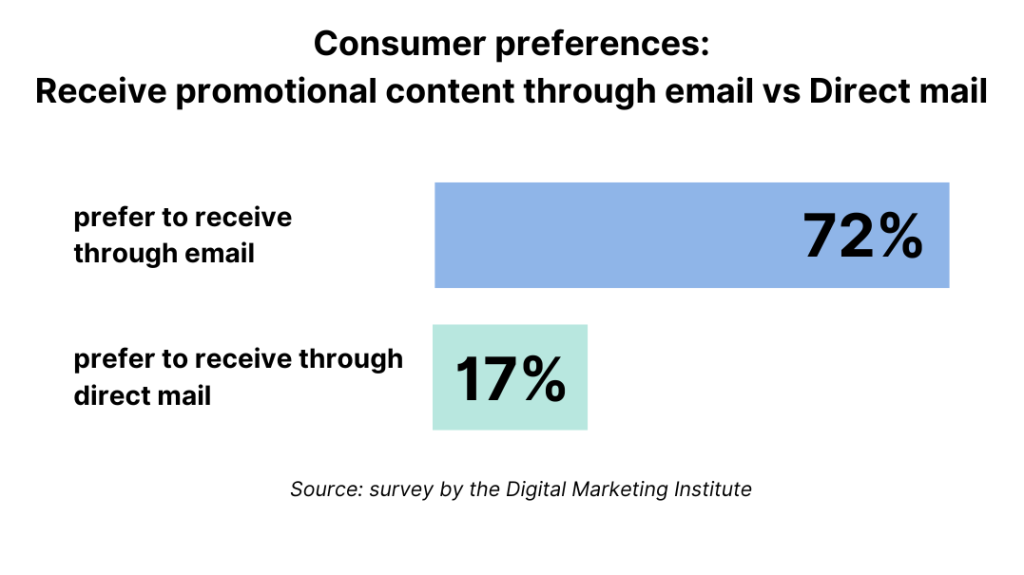 This shift towards digital marketing channels allows for more targeted and cost-effective advertising, as well as the ability to track and analyse the success of marketing campaigns
and if I can suggest what type of content format you should be focusing on your dental clinic digital marketing plan
I would say video marketing.
Half of internet users look for a video before visiting a store (Google).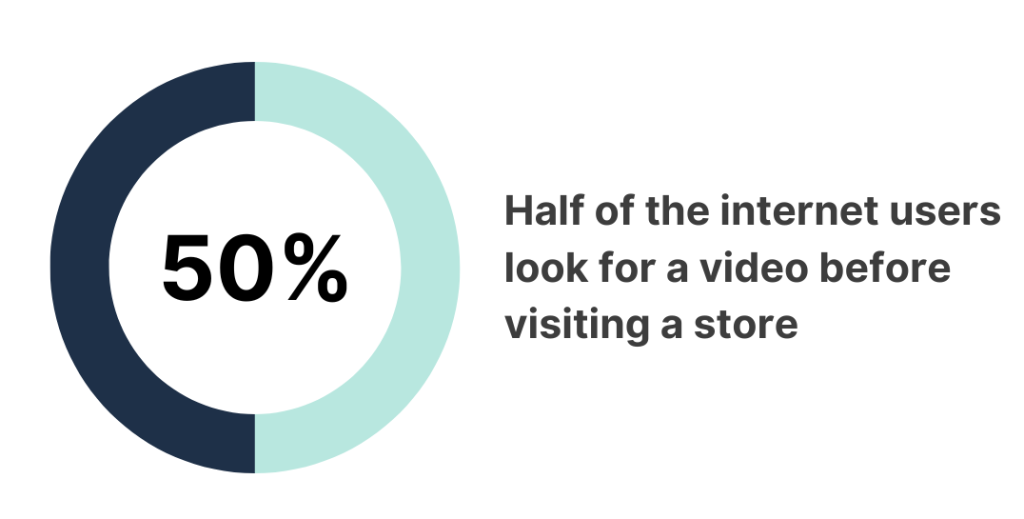 And 90% of consumers state that video "helped them make purchasing decisions" (Forbes).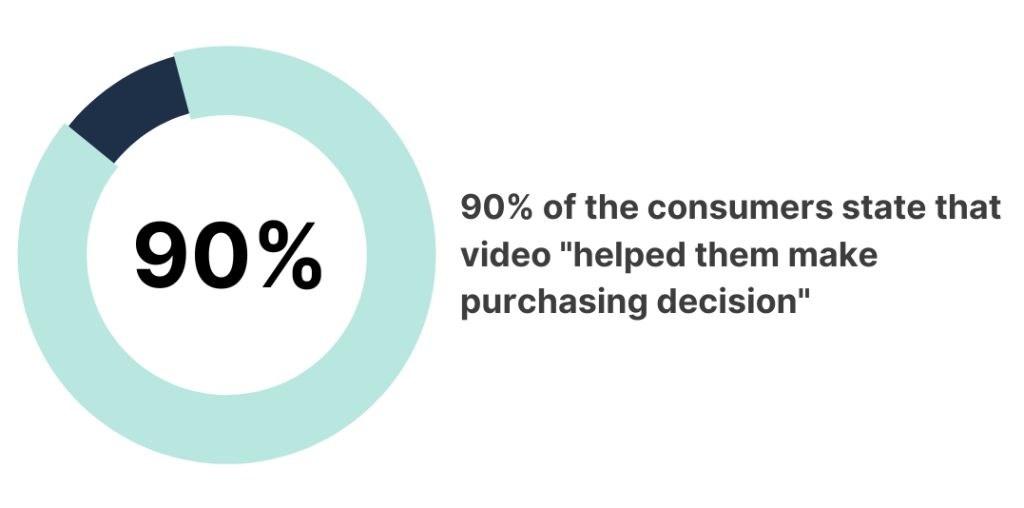 If you want to develop and craft a good video content for your digital marketing plan, I found a good step by step guide on how to do it. You can read it here.
 5 Practical tips for dental clinic digital marketing 
Today, I will guide you dentist on how to create and execute a practical digital marketing plan for your dental clinics 
I believe your journey to become a dentist and a clinic owner is way harder than to follow these practical tips!

In this guide you'll learn:

Setup google business profile for your clinic

Allow your prospect to book online appointment with your dental clinic

Google search ads 

Facebook & Instagram paid ads

Content marketing on social media 
Setup google business profile for your clinic
What is google business profile?
A Google Business Profile is a listing that appears on Google when people search for your business on Google Maps or Search.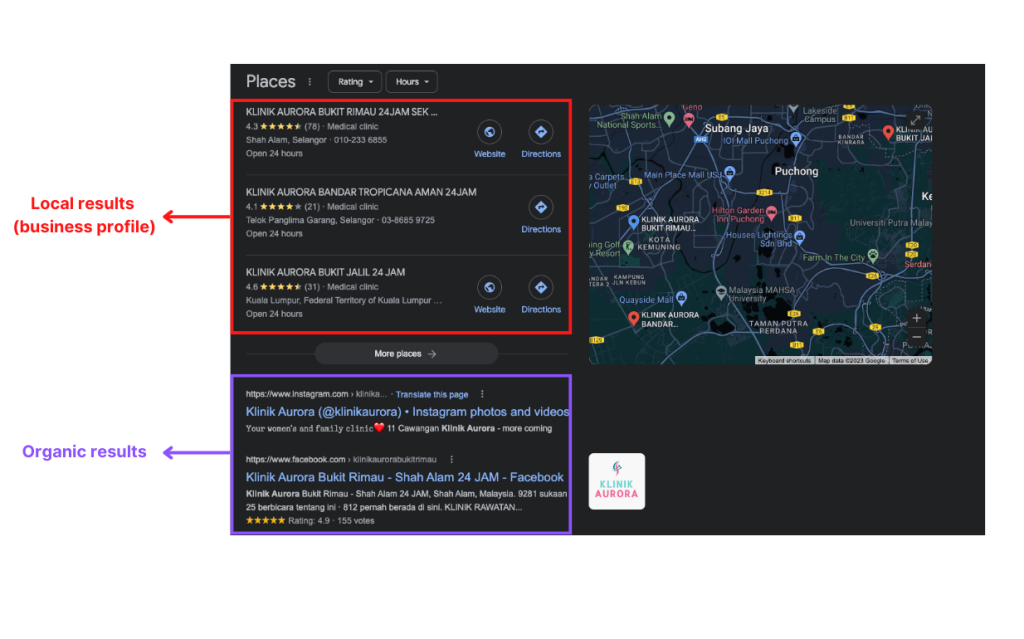 It includes your:
business name
address
phone number
hours of operation
and other important information.
In short, it's like a digital business card that helps people find your business on Google and gives them an idea of what to expect when they visit you.
Business Profiles on Google Maps look like this: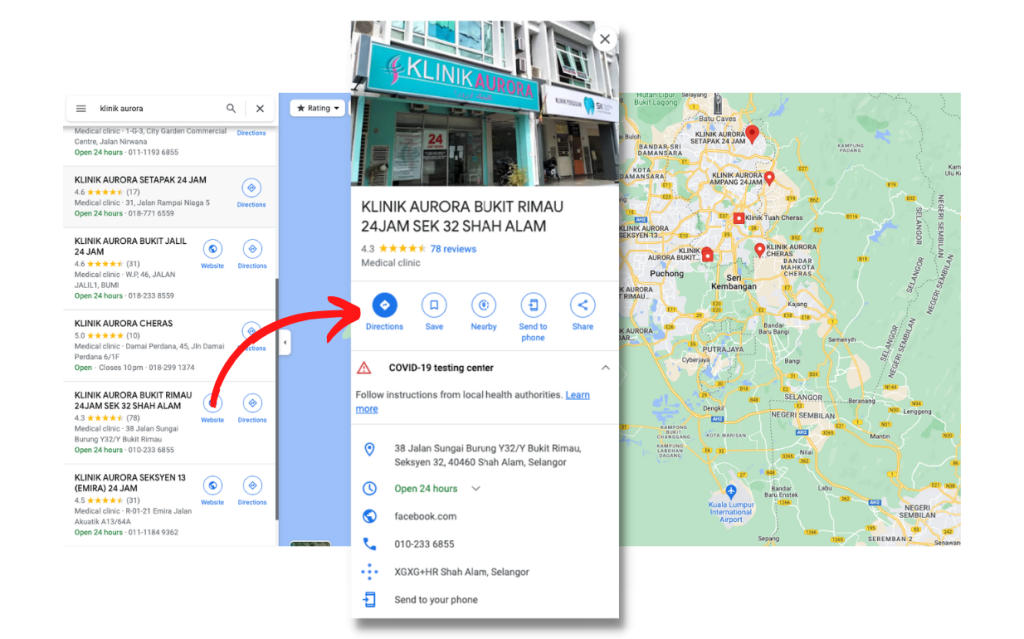 Creating a Business Profile is the same thing as adding a place to Google Map.

By creating a Google Business Profile, you can access, customize, manage, and enhance your Business Profile on Google, all still for free.
Here is the reference on how to create your Google Business Profile
Why is it important to have a google business profile?
By creating a Google Business Profile, you can encourage satisfied patients to leave reviews and ratings, which can help potential patients make a decision about whether to visit your clinic.

According to a survey by BrightLocal, 88% of consumers trust online reviews as much as personal recommendations.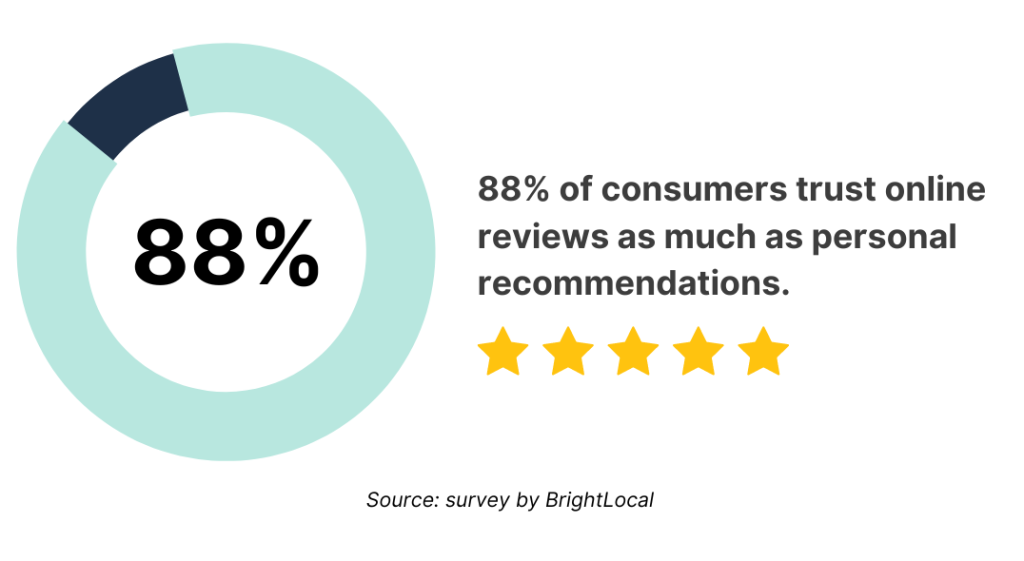 Google Business Profile also can also increase your clinic's visibility in Google Maps and Search, making it easier for potential patients to find your clinic online.

Allow your prospect to book online appointment with your dental clinic
Typically, in this digital age almost every business have a website, as a saying goes;

Back then it was "do you have a website for your business?"

But now, it is more like "you don't have a website for your business?!"

But for a dental clinic, you will need more than just a website

Because your dental clinic business core product is time-based, every consultation or treatment required your dentist time

Your main product = dentist time & expertise
Thus, you need a website that can handle online appointment booking
Let me explain, why you need online appointment system in your dental clinic digital marketing plan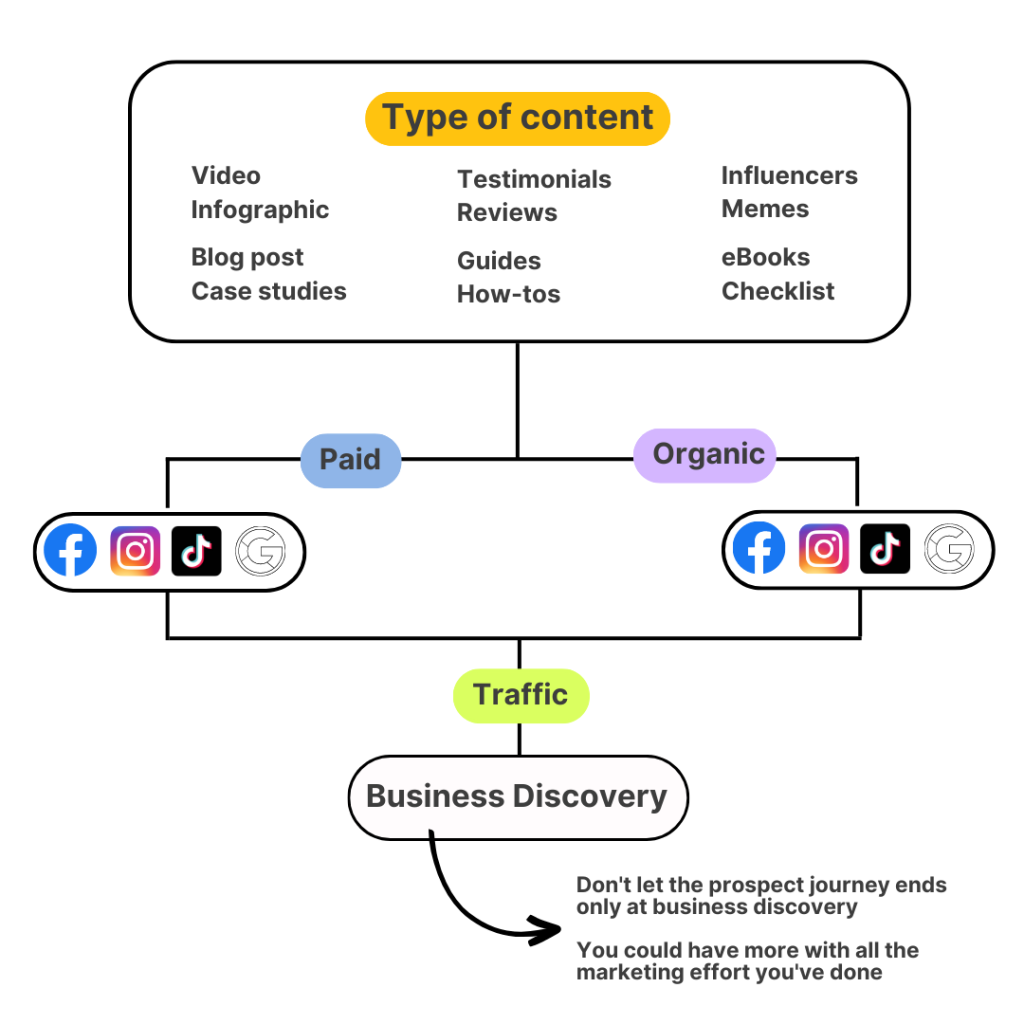 In your dental clinic digital marketing plan, what you need to do is;
Choose type of content you that you think suit with your audience 

Post it on your preferred platform to get organic reach 

Advertise your content via paid ads (I will explain more later)
This step will get you traffic, resulting people to discover your business

But as a dental clinic, if you let it end only at business discovery without easing them to take a valuable action (in dental clinic case, the valuable action is to book an appointment)

You basically wasting all marketing effort you've done

So what should you do instead?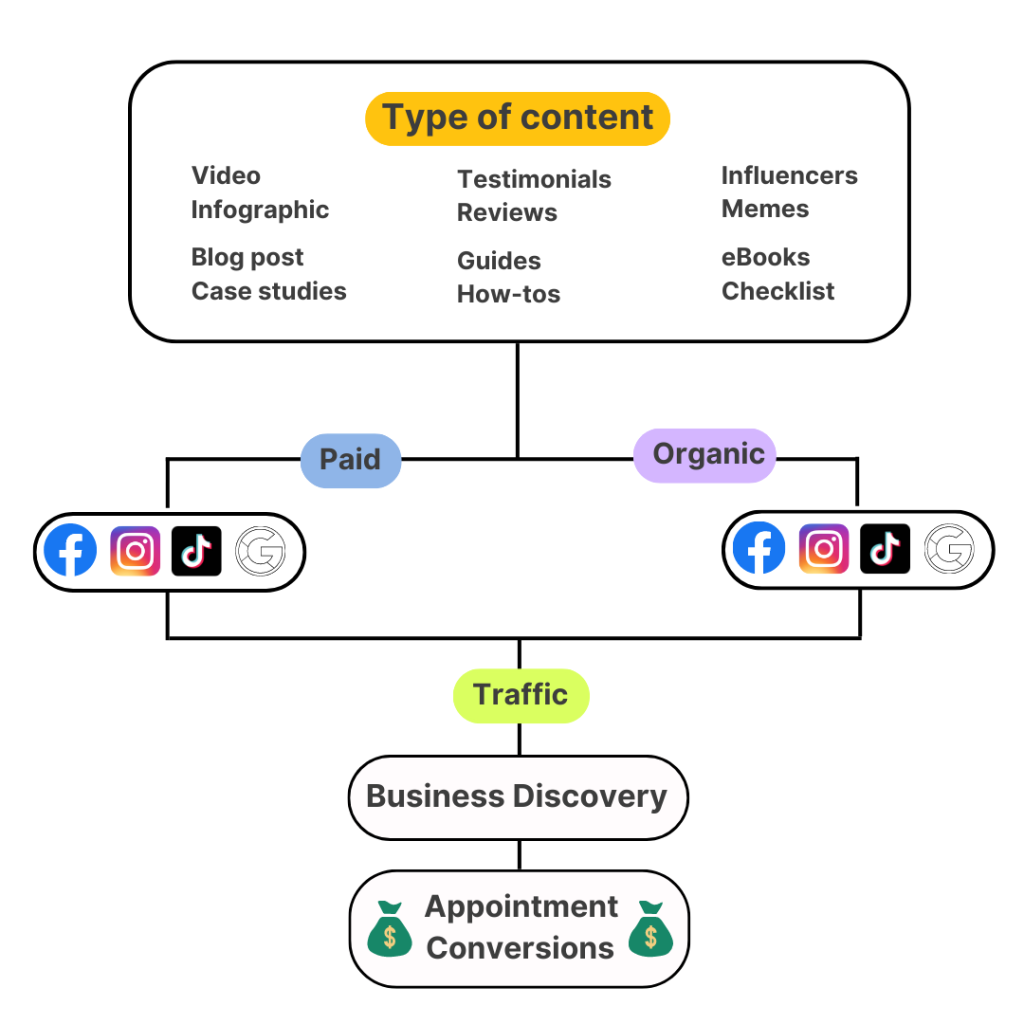 Aim to have as many appointments as you can!
Clinic Appointment System For Your Dental Clinic Digital Marketing Plan

You will need a landing page that is built for clinic appointments. 
And I will show a case study of Myaclinic using Clinic Appointment System from Yezza 
Simple landing page with the list of treatment or consultation available at Myaclinic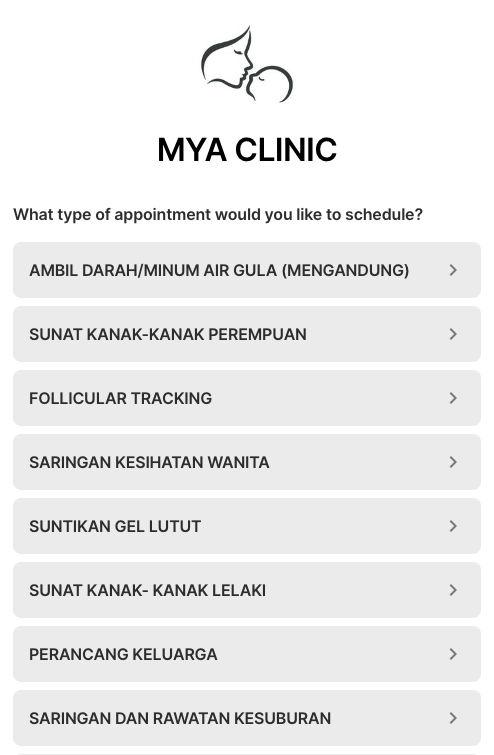 Patient or prospect can easily book Doctors and their preferred date and time for an appointment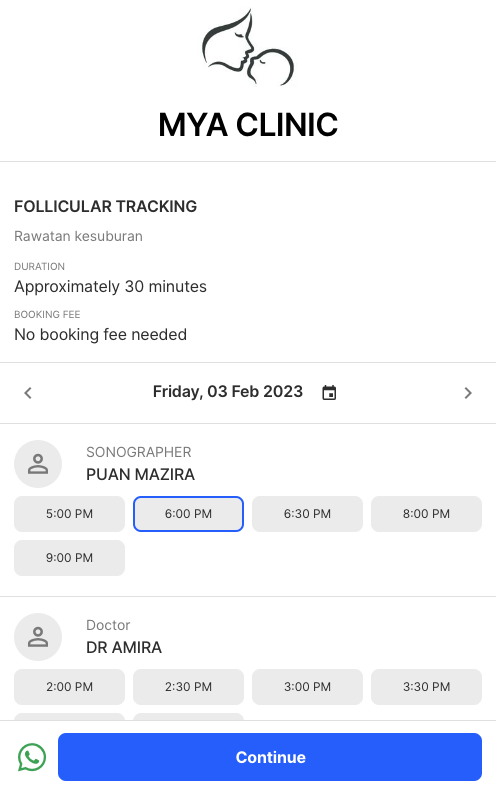 Patient or prospect then have to fill a simple form to book an appointment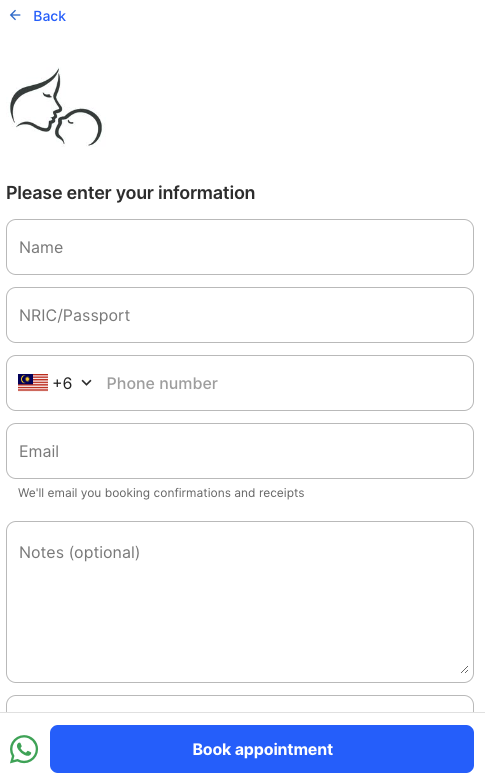 As of now, Myaclinic reported that they manage to double up their appointment conversion rate!
You can set up Clinic Appointment System for your dental clinic here

Our dedicated support team will assist right away. 

Paid Ads For Your Dental Clinic 

What is paid ads
Paid ads, also known as pay-per-click (PPC) advertising, is a type of digital marketing where businesses pay a fee every time a user clicks on one of their ads. 
This is in contrast to organic marketing, which relies on creating valuable content that ranks well in search engines without paying for ad space. 
Some popular platforms for paid ads include 
Google Ads

Facebook Ads

Instagram Ads
Implementing Google Ads For Your Dental Clinic

Types of google ads campaign are:

Search 

Display 

Video 

App

Shopping 
But in my opinion. The best types of campaign for dental clinic is Search Ad Campaign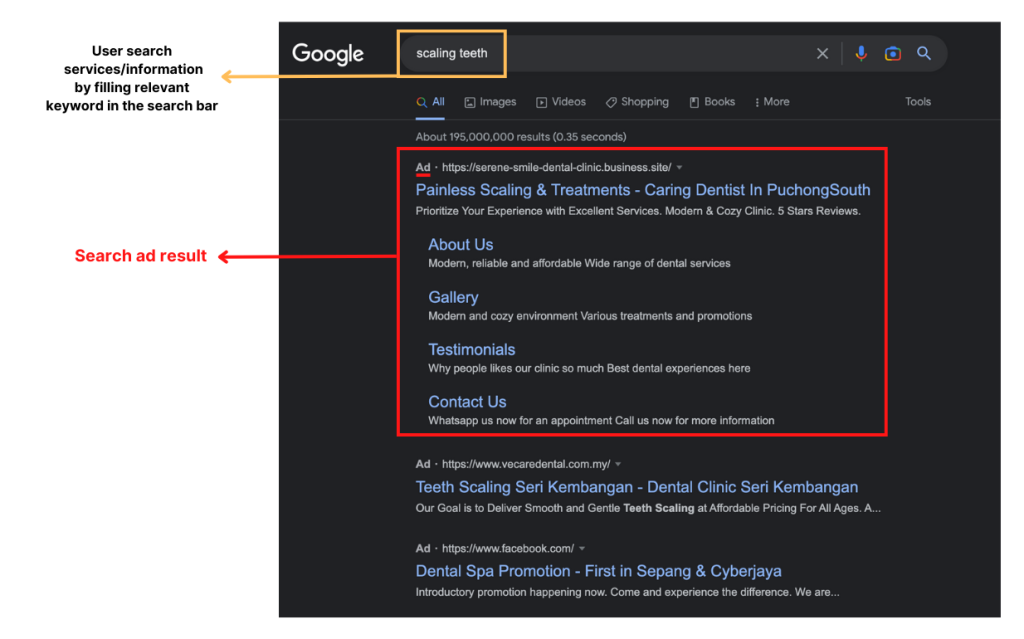 How does the search ad campaign work?

Your prospect have problems they want to solve, he/she then go to google and fill relevant keywords of their problems

In this case, he/she want to know more about teeth scaling service
Then they find the search results and usually the top search results are ads.
You can appear in the top 10 of search results without paying a single cent and that is called SEO (It can takes months before it appear in the top 10)

But, if you prefer fast results. I would suggest you to go for Google Search Ad Campaign.
For example, "Scaling Teeth" keyword has 4,400 search volumes monthly.
4,400 people want to know where they can get the best teeth scaling service EVERY MONTH.

You can get an almost instant impact for your dental clinic with Google Search Ad Campaign.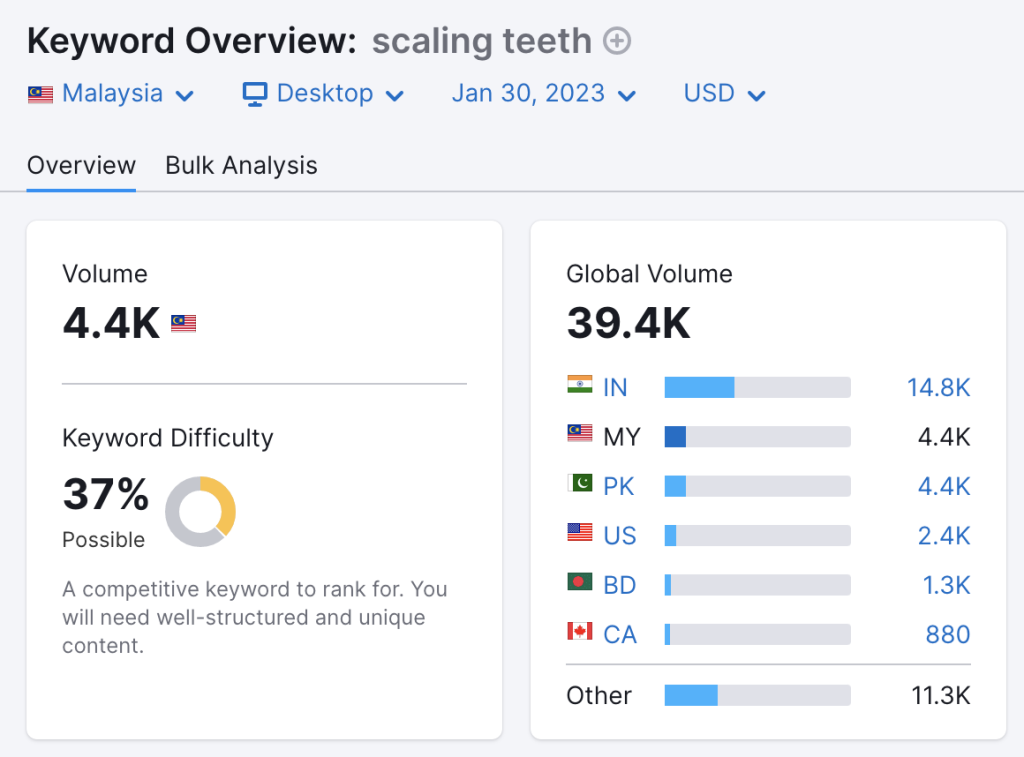 You can read this guide to know more about Google Ads.
Facebook & Instagram Paid Ads For Your Dental Clinic 
Basically, Facebook ads & Instagram ads can be manage in one roof under Meta Business Manager account 
Main Meta ad placement: 
Regardless of these 3 ad placement on Facebook or Instagram

I would strongly suggest to use video as your ad creative 
Below are example of facebook & instagram ads in action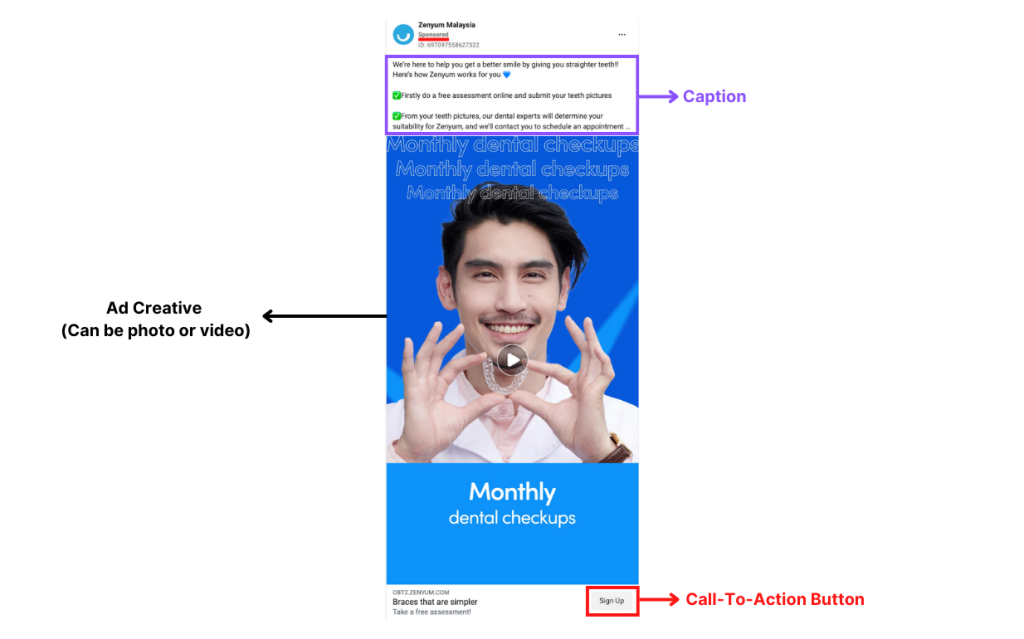 For dental clinic, the best link you can put in your call-to-action button is your appointment booking page 
So audience that saw your ad can have a very clear action they need to take
And one of the best features of meta ads is audience targeting.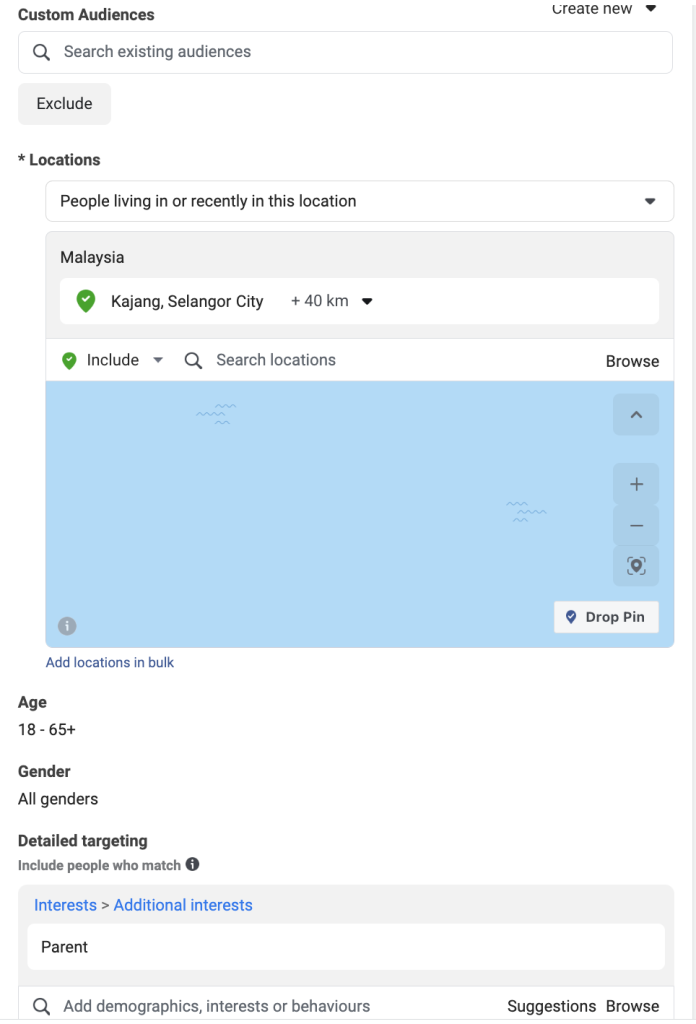 In short, you can ask Meta to show your ads to specific audience criteria 
Location 

Age

Gender

Interest

Behavior  
The mindset when running facebook and instagram ads is different from Google Search Ad Campaign
Where Google search ads campaign is more depending on search volume trend, meaning more people search about certain keywords, more people will be more likely to find your ad 
While facebook and instagram ads are more in 'disrupting' style, actively appear in your targeted audience feed, story and reels 24/7 & 365 days non stop.
Monitor Your Dental Clinic Paid Ads Campaign
Regardless of which platform you choose to run paid ads campaign (Google or Facebook and Instagram) 
You need to monitor your campaign effectiveness
What are the main metrics that you should be focusing on when running paid ads campaigns for your dental clinic?
Like I mentioned earlier, you should focus on Appointment Conversion.
Measure how many appointments are booked daily, weekly and monthly.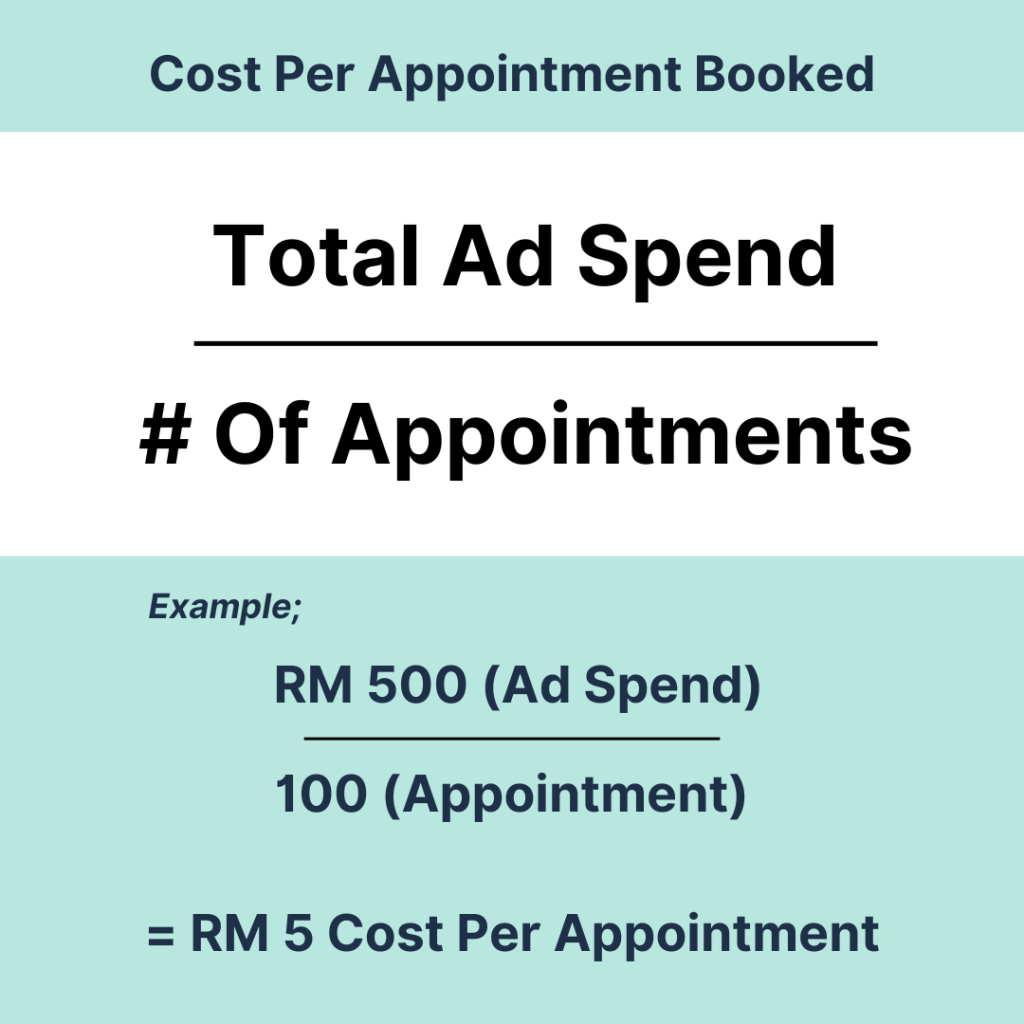 With knowing your cost per appointment, you can decide whether your paid ads campaigns are doing good or costing you money for nothing.
Organic Content Marketing

Unlike paid advertising, organic content marketing does not involve paying for traffic, visibility, or leads. 
Basically, you create content and leverage the power of search engines, social media to drive visibility and engagement with your followers or audience.
Below are educational videos created & published by Dental Sharlindah on Tik Tok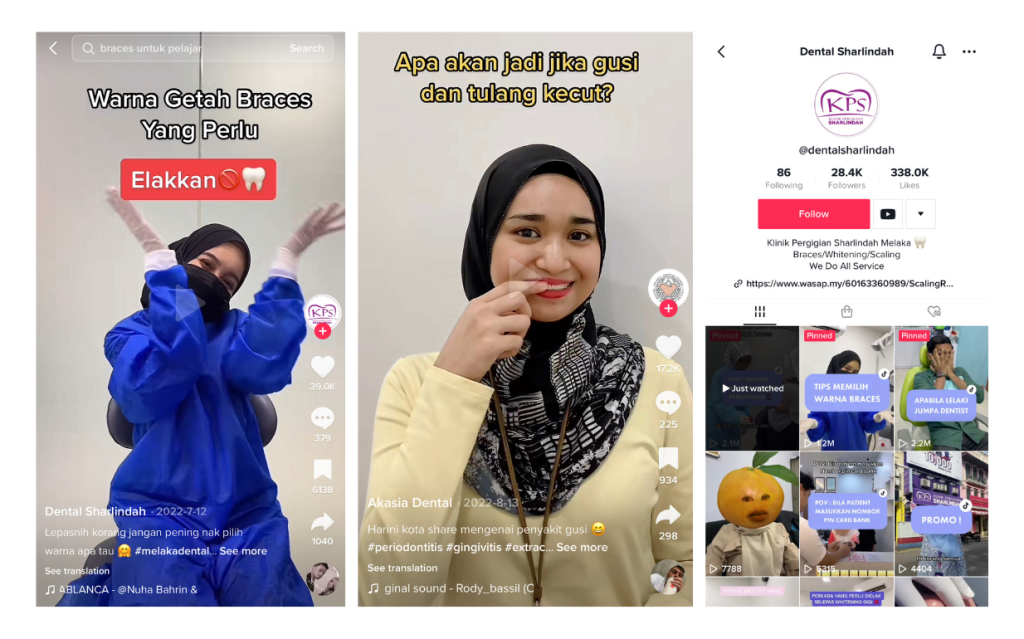 As you can see, engagement gained by the videos is really good.
By consistently creating good organic content, they managed to attract a big number of followers (28.4K followers as of today).

What are other types of content you can produce?
Video

Infographic

Testimonials

Reviews

Influencers

Meme

Blog Post

Case Studies

Guides

How-Tos

eBooks

Checklist 
 Conclusion
In conclusion, dental clinic digital marketing is essential for dentists and dental clinics to grow their businesses and reach a wider audience. 
With the right strategy and a mix of tactics like Google Business Profile, paid ads, and organic content marketing, you can take your dental clinic to the next level. 
By following the tips and advice outlined in this guide, you can increase your online visibility, build a strong online reputation, and attract more patients to your clinic. 
So, take the time to develop a comprehensive digital marketing plan and start seeing results in no time!
Read: How To Improve Clinic Business