Some clinics don't want to invest the extra money in an online appointment management system and end up losing out on the immense benefit it can give them. We're here to tell you why you need one and how to choose one. At the end, you'll also find the best solution for your clinic!
What is Online Appointment Management System?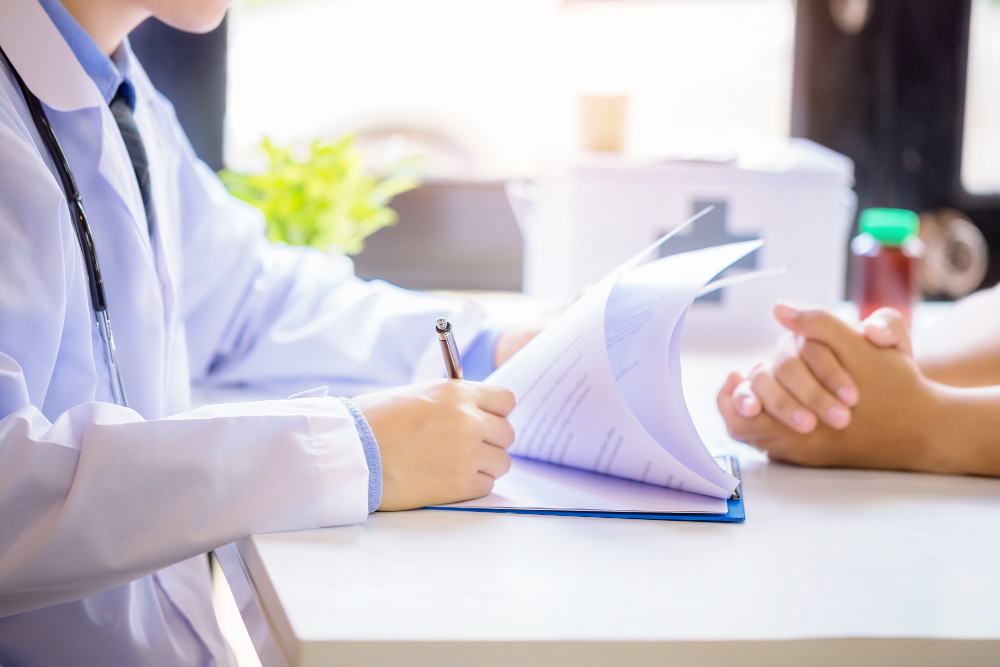 An online appointment management system is a digital solution allowing you to almost entirely automate the appointment process in your clinic. The entire process: bookings – reminders – rescheduling – completions – follow-ups (feedback/review) – reappointments, is done entirely within the management system.
Can Online Appointments Increase Clinic Revenue?
Yes, it can! Allowing an online appointment management system to efficiently manage the core process can and will increase your sales and revenue. Malaysia's CareClinics, for example, boosted their revenue to almost RM 61,000 in just over 3 months.
Why Online Appointment Management System is Important?
Operating your clinic with an online appointment management system is extremely important because it:
1. Manages Your Core Processes
It will save time and energy from your actual employees in going through the core appointment process. The data entries, either filled in by employees at the clinic or by your patients, are automatically organized, saved, and accessible when they're needed.
2. Increases Sales & Patient LTV
Increases your revenue by churning already existing and past patients to come back to your clinic – retaining customers, increasing repeat patients, and therefore raising sales. Your sales also increase by way of the system improving patient LTV (lifetime value) – establishing a longer and deeper relationship with your patients and encouraging them to keep coming back to your clinic.
Manual Appointment System vs Online Appointment System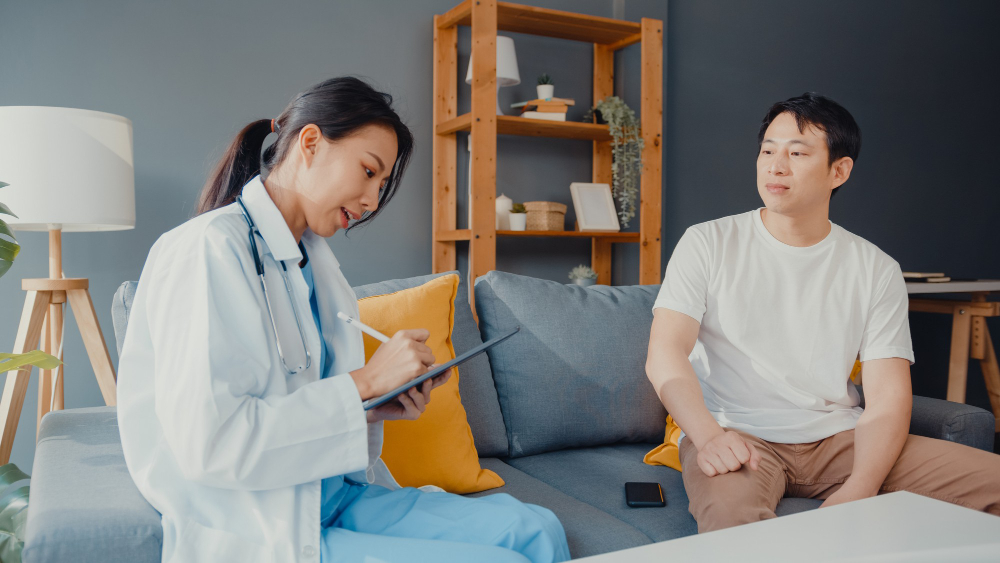 Here are a few reasons why you have to switch from the outdated manual way of doing things to integrating an entirely online appointment system:
1. Human Errors
Human errors are the expected downside to the manual system. Manually booking appointments can lead to issues like double or duplicate bookings. And that's a redundancy that you don't want. An online system can avoid that.
2. Cost 
Manually tracking payments can cost you money with how often you can overlook patient data. Mistakes will cost you money. But these mistakes can be avoided by using online management systems.
3. Efficiency
An online appointment management system increases your operational efficiency. It streamlines the processes, makes sure information is correct and saves time and the energy of your employees.
4. File Backups
A digital management system including an online one can offer you safeguards by backing up files and data. This means that if something unfortunate happens like a broken computer or loss of printed documents, you'll still have access to the necessary data that's saved in digital storage.
How To Choose An Online Appointment Management System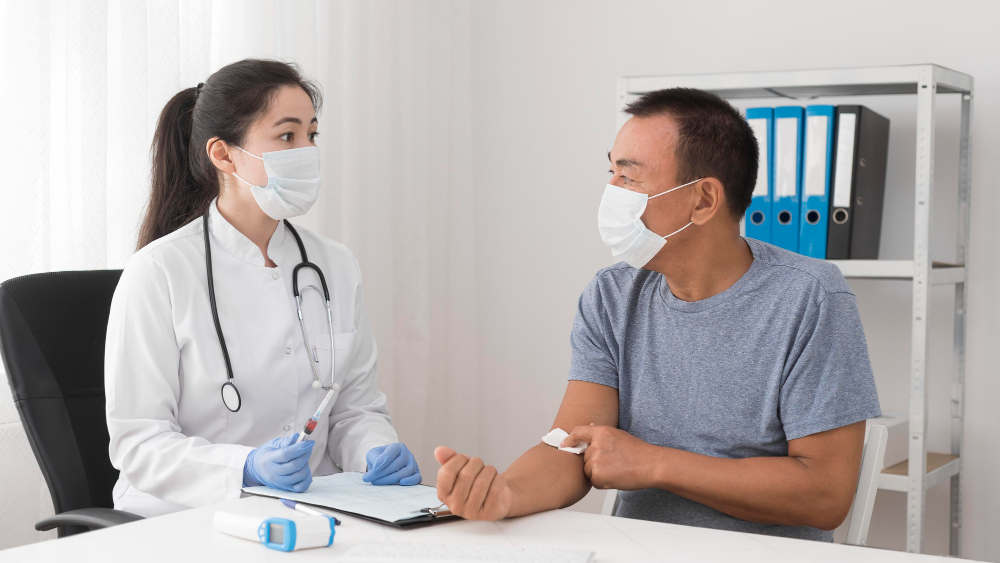 There are 5 things that we recommend you consider when choosing an online appointment management system for your clinic:
1. Patient Able to Book Online
An effective management system should give your patients the ability to book appointments themselves. This provides a level of customer care by giving them the flexibility to choose their own time and at their convenience.
2. Campaign & Promotion by Cohort
Your online appointment management system of choice should also assist you with marketing efforts. An efficient way is to facilitate campaigns and promotions by groups of targeted people that share similar traits and customer profiles.
3. Reminder for Upcoming, Missed & Reschedule Appointments 
Statistics show that only 50% of patients actually follow through with second appointments. A management system should be able to send personalized and automated reminders to your patients on their upcoming and missed appointments or for ones that need rescheduling.
4. Collect Positive Reviews for Online Presence
Allow your customers and patients to review your services online. Positive reviews for your clinic can really boost your online presence and ranking on search engine sites like Google. Drawing in more sales.
5. Online Feedback for Service Improvements
Reviews aren't just there to rank you high on the internet so more people can more easily discover your clinic. Feedbacks from your customers are also there for you to reflect on and use to further improve your services.
The Best Clinic Appointment Scheduling System
With all that said, we have the best clinic appointment management and scheduling system for you! We present to you ClinicOS!
Yezza : ClinicOS
ClinicOS is a clinic operation system that helps clinic owners increase revenue and save time. This includes appointment management, patient management, and inventory management.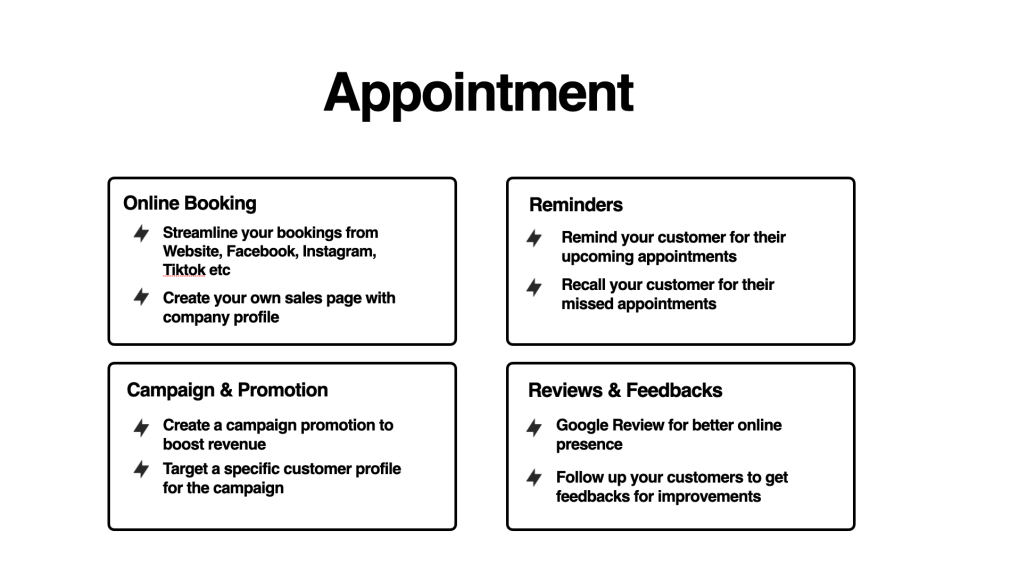 ClinicOS will benefit you greatly by:
increasing your repeat customers 

retaining existing customers 

improving patient retention 

raising your monthly sales
Our ClinicOS will prove to you that you don't need marketing to make sales and retain customers and by focusing on critical illnesses and pregnancies, you'll get a minimum patient churn rate of 15%! We're able to do this by making sure patients arrive on time with a great reminder system and when needed, recall a patient for rescheduling.
ClinicOS will ease your clinic's entire appointment process; booking – reminder – rescheduling – completed – follow-up (feedback/review) – reappointment. You can put your faith in ClinicOS to efficiently manage your appointments and see your revenues increase exponentially in mere months!