You must be feeling familiar with the term reseller in business life. Yup, the resale business has been loved by startup entrepreneurs for their early experience. And the amount of resellers (someone who runs a resale business) is always increasing every year.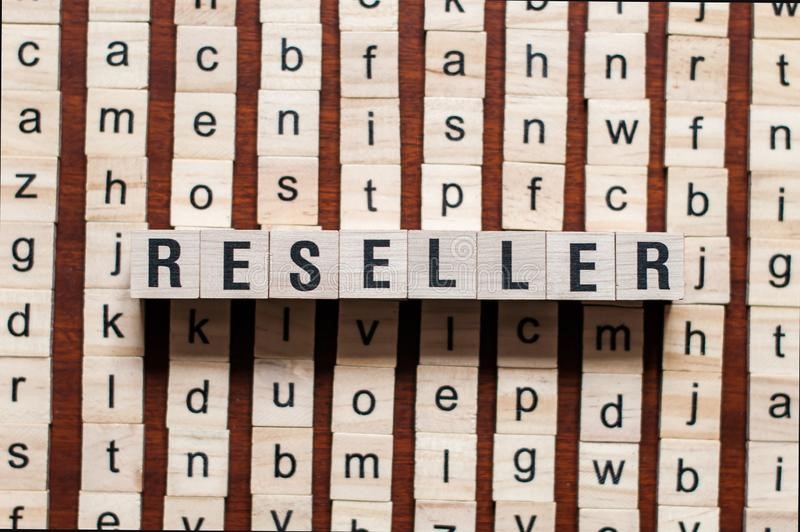 Source: www.dreamstime.com
Actually, there are many reasons for them to choose resale business as their early experience. Some of them start their resale business as a business learning media, some of them because of their lack of capital, and even some of them make a resale business for their side income.
Yet, what is the meaning of reseller?
What is a Reseller?
A reseller is a seller who buys a product from one or several suppliers, then resales the product, whether online or offline (on the store). Resellers usually buy a product at a lower price because they reach the minimum purchase conditions which had been set up by the suppliers. So, suppliers can give them discounts.
After that, resellers can resale the product at a higher price to consumers. In this condition, resellers have their own right to setted up their product price as free as they want.
How does the reseller work?
Basically, the resale business or reseller business process involves 3 parties. There are suppliers, resellers, and consumers. In the first process, resellers buy products from one or several suppliers. In this process, resellers usually get a discount from suppliers because of the minimum purchase conditions. So, the price is much cheaper compared to if they buy with less quantity.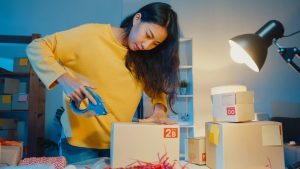 Source: www.freepik.com
In the second process, the reseller will sell their product to consumers with their own wanted price. In this process, resellers have their own right to set the selling price freely. Resellers can do direct resale (offline) if they have their own store. Or they can do online resale through online stores, websites, or social media. Then, resellers do product shipments to consumers.
Why should you be a reseller?
As startup entrepreneurs, we often must be feeling confused and frightened because of our business. Will our business get a profit? Or will it lose? Are we ready to face any risks in our business? Through these confusing thoughts, a resale business may be the right answer for us to join the business world.
But, why should we start a resale business? Here, there are several answers to your confusing thoughts:
1. The right media to start your journey
Basically, everyone can be a reseller. No matter how old you are. Not a few high school students run this business model as their early step to starting their business journey. Resale could be an easy way for anyone who wants to be an entrepreneur.
2. Small capital
Reseller is a business model that requires just a small capital. Resellers just have to follow the minimum purchase conditions, so they can get discounts from suppliers.
3. Easy to do
Different from the other business model that requires to do production or supplying products, reseller doesn't require to do that process. Resellers just have to order products from suppliers, then resell them to consumers.
4. Small risk
Basically, the production process has a big risk. Such as product failure, product defect, or machine maintenance costs. And a reseller doesn't have to face that kind of risk. Resellers just have to ensure stock inventory, then carry out product marketing strategies.
5. Set up profit margin freely
A reseller has a right to determine their product selling price, or we can say they can adjust their profit margin freely. But, this process should be done in the right way. The bigger profit margin, the bigger risk they can have. If the selling price is too high to be sold, the products will unable to compete with the competitor.
How to Become a Successful Reseller?
After knowing about the benefits of resellers, would you join this business model and become a reseller? How to start a resale business? These are small steps for all of you who want to be a reseller:
Market research, this will affect the amount of product demand.

Ensure the supplier, is the supplier competent and wise in running their business?

Avoid selling products that have many competitors. This is related to the product's selling price.

Create a communication with potential suppliers and make a discussion about the cooperation system. Such as a minimum number of product purchases, benefits, discounts, etc.

Knowing personal ability. Are you capable of fulfilling the number of minimum purchases? Does the offering price suit your ability?

Make an online store as a marketing space.

Do marketing strategy. Digital marketing is the common way to promote your product.
Basically, every business model has its own risk, either small or big business. It depends on your capability and ways to set the risk. So, are you ready to be a reseller?
If you're a business owner or reseller who needs an online store on your own, Yezza is ready to realize your hopes! Yezza is the platform that helps a business owner or reseller to set up an online store. In just 9 minutes, then you own your online store and are able to increase your sales.
Check the offers on the link below!