Amazon has garnered itself a spot among the top of the list as one of the world's largest companies and made its founder Jeff Bezos the richest man in the world (depending on when you're reading this). It shouldn't be a surprise that Amazon has literally skyrocketed Bezos to space with all the money he's gotten from the company, by funding Blue Origin – Bezos' aerospace company. But Amazon also opens opportunities for you to cash in on its size by becoming an Amazon affiliate. We can guide you on how and by the end, you too can profit and make money online from your website(s) or blog(s).
What is the Amazon Affiliate program?
The Amazon Affiliate program is also known as Amazon Associates. The word 'affiliate' might already be all that you need to know what it is if you know what affiliate marketing is.
Amazon Associates is an affiliate marketing program, enabling you to include links to advertise Amazon's products on your online platform of choice – usually websites and blogs. By joining the program, you get a referral fee for every traffic you lead to Amazon. People click on your link, they buy from Amazon, and you get paid. It is that easy.
Amazon's affiliate program is something you should consider because:
It's easy and free – It's super simple to join and there's no membership or subscription fee that you need to pay of any kind when you join.

There are millions of products – You can curate ads for products that match you and your audience, so you can be a more effective affiliate.

It gives several options to display items – You can customize links and widgets to fit your aesthetic and platform.
How does the Amazon Affiliate program work?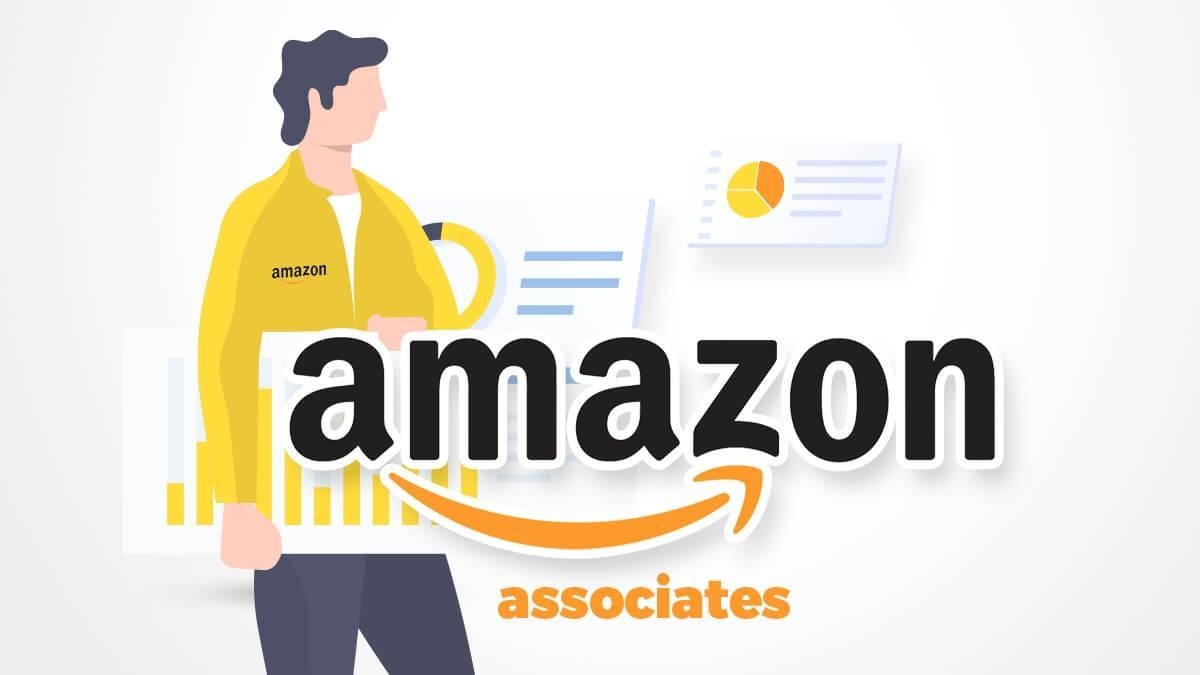 Through Amazon Associate, associates or affiliates earn commissions by promoting their unique product links on their website and, with every click, brings people (traffic) back to Amazon. Basically, how it works is like this:
You create an Amazon Associates account

You're given a unique Associate ID by Amazon

With your application approved, you start creating affiliate links

Now as an affiliate, you place the link(s) on your website/platform

A person clicks the link, makes a purchase, and then, you're paid.
How much commission do you get paid on Amazon Affiliate program?
Based on what we've mentioned earlier, the total amount you can get paid in commissions is pretty much dependent on the amount of traffic Amazon gets from you. The commission rates and the exact amount that you'll get paid depends on the category of the product you're advertising.
Allow us to clear up any confusion you might have or will have:
Let's say you advertise a toaster. Someone clicks on that ad/link. They don't have to buy the toaster. They can buy something else entirely and you'll still get your commission.

You only get a commission if the person who followed your affiliate link buys something off Amazon within the next 24 hours, after they clicked on your link.

You get paid if Amazon makes a sale through you. You won't get paid for having someone just browse through Amazon.
Be sure to review Amazon's commission rate per product category list. This commission table can change from time to time, so also be sure to stay updated on the possible changes. At the beginning of your journey as an affiliate, we recommend you don't entirely rely on the program as a source of income, as the numbers could skew on the lower side to begin with.
The more people you lead to Amazon through your website/platform, the more money you stand to earn from the potential sales you could make. Remember, the amount of money you earn from the program is based on the sales you generate for Amazon.
What are the rules and requirements of Amazon's affiliate program?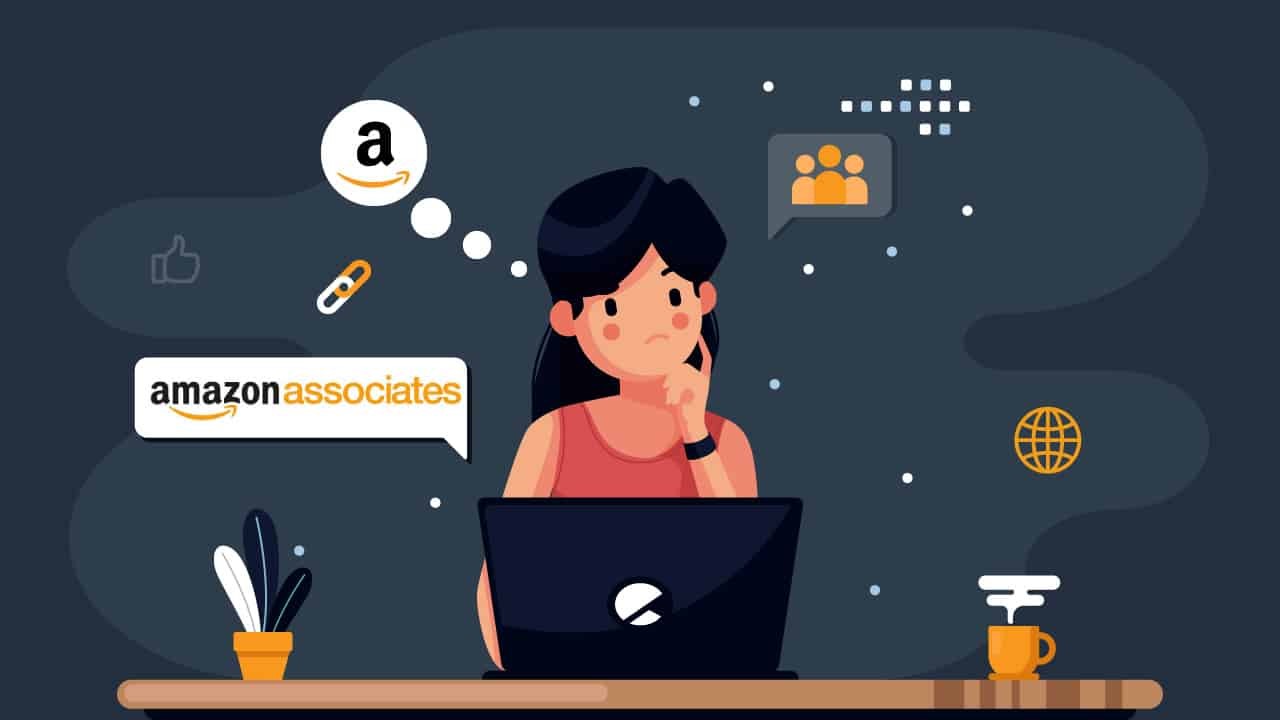 Carefully consider the guidelines as an affiliate. Amazon has its own set of rules and regulations for affiliates. A breach of the operating agreement and program policies allows Amazon to terminate your account. These rules are for ethical promotion and to avoid people from cheating the system. So these are definitely not rules that are meant to be broken.
You can check out Amazon's Associates Program Policies to see more. But several of the big ones are:
You have to disclose, on your content and website/platform, that you're eligible to profit from your product recommendations

You can't make any wrong or deceptive claims about your product recommendation

Avoid referring to prices since they can change

Don't use the Amazon affiliate links in offline promotions, eBooks and emails

Do not use link shorteners

You have to make 3 sales within 90 days so your account remains open. If not, you have to open a new account

Rebates are prohibited

Mimicking Amazon's website is not allowed

You can't purchase from your own link

Personal info has to be current
5 Steps to become an Amazon affiliate
Amazon Associates accepts affiliates from any nationality, any country and from wherever. However, you do need a valid platform to join. You have 3 options:
This is the most common way to join the program. According to Amazon Associates, there are 3 criteria to follow; Have 10 unique and original content/posts, posted recently within the past roughly 60 days and content that are acceptable as in not illegal, hateful, false, defamatory, sexually explicit or anything else that comes close to those.
Social media sites are acceptable. You can promote via; Facebook (public group/fan/business page only), Instagram, Twitter, YouTube, TikTok and Twitch. You do need to have a decent amount of organic followers though (at least 500).
You can also apply with an app as long as it fits with Amazon Associates' application policy.
Now that you've read all of that, if you're thinking of becoming an Amazon affiliate yourself, then here's our guide to doing so:
1. Sign up to the Amazon Associates homepage
Head on over to Amazon Associates and click the "Sign up" button.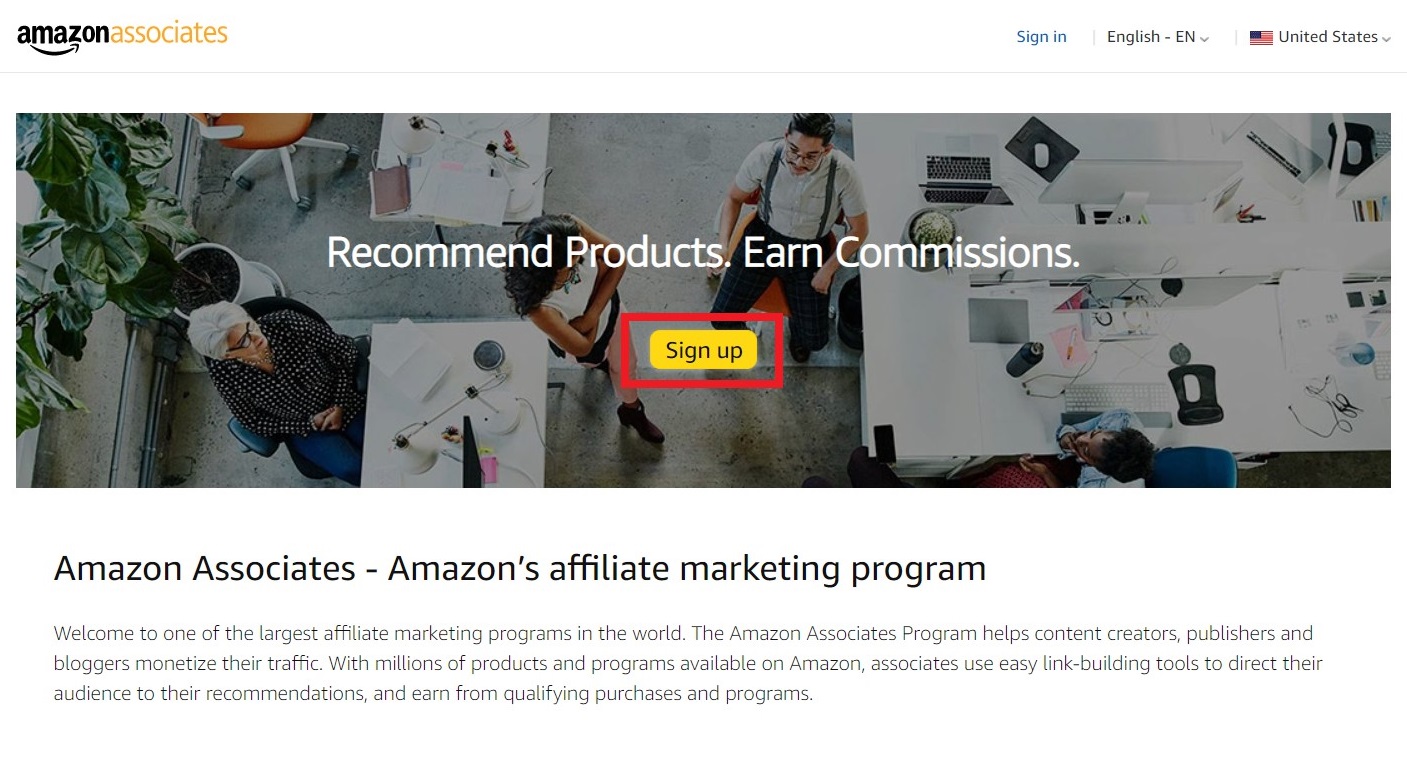 You can use your Amazon account for shopping to join the program. If you don't, then you have to create one.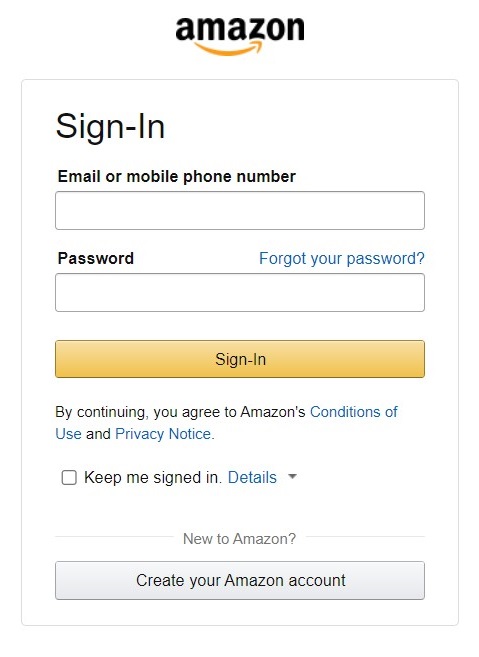 2. Submit your personal and website details
Fill in your account(personal) information.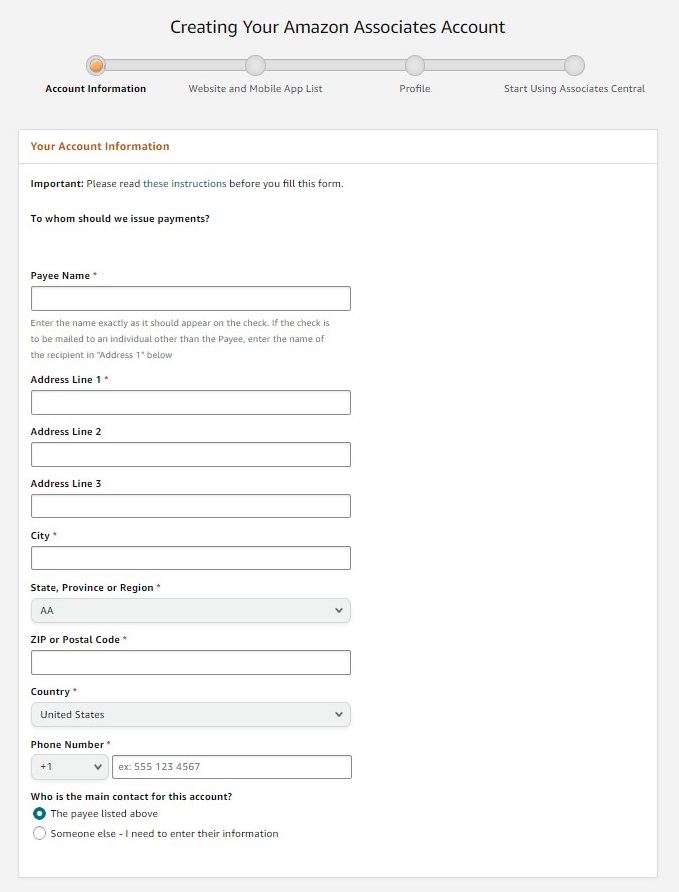 And your website details.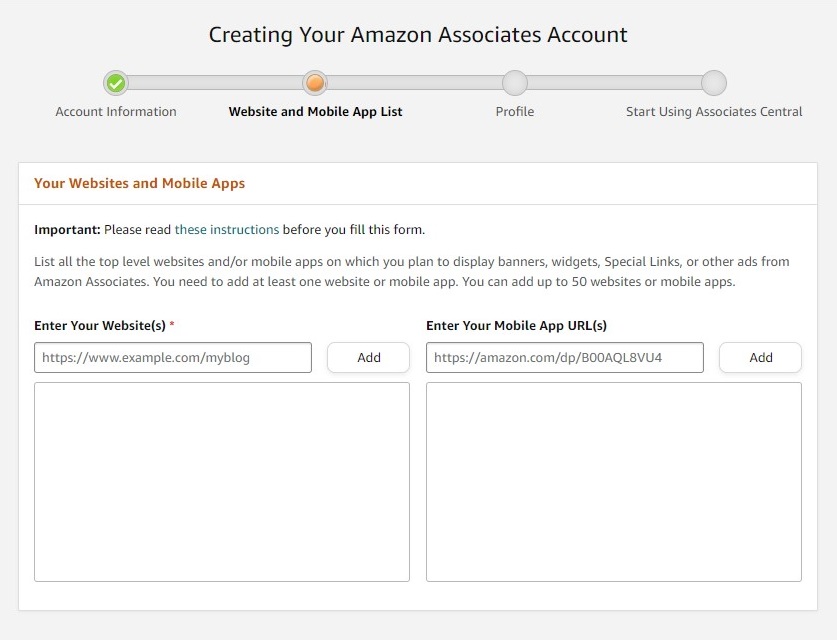 3. Set up your profile
Complete the required profile information.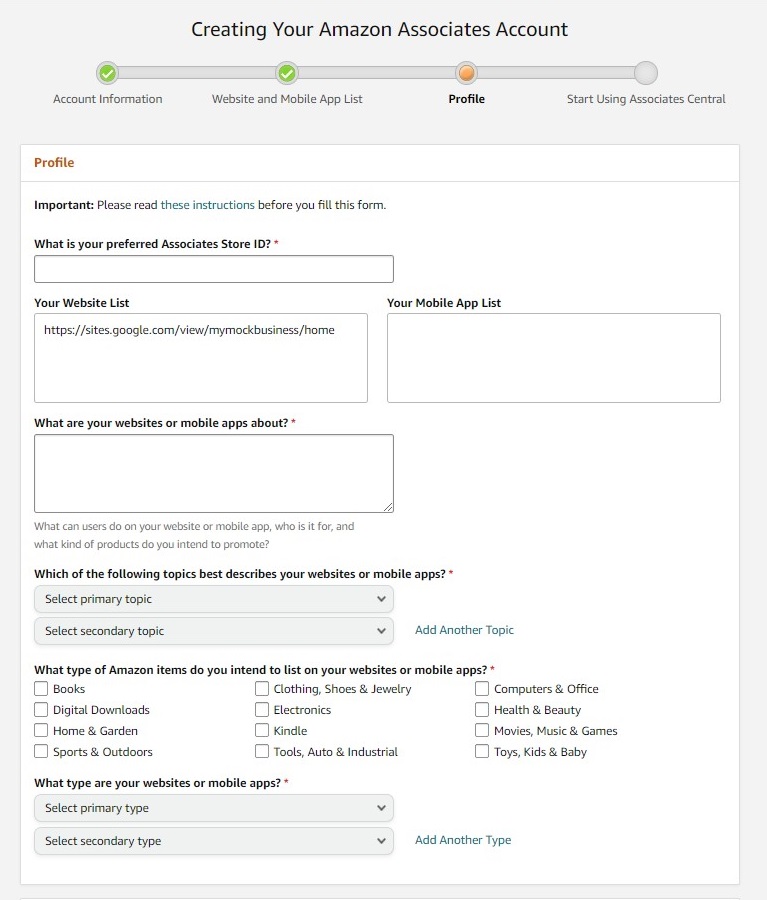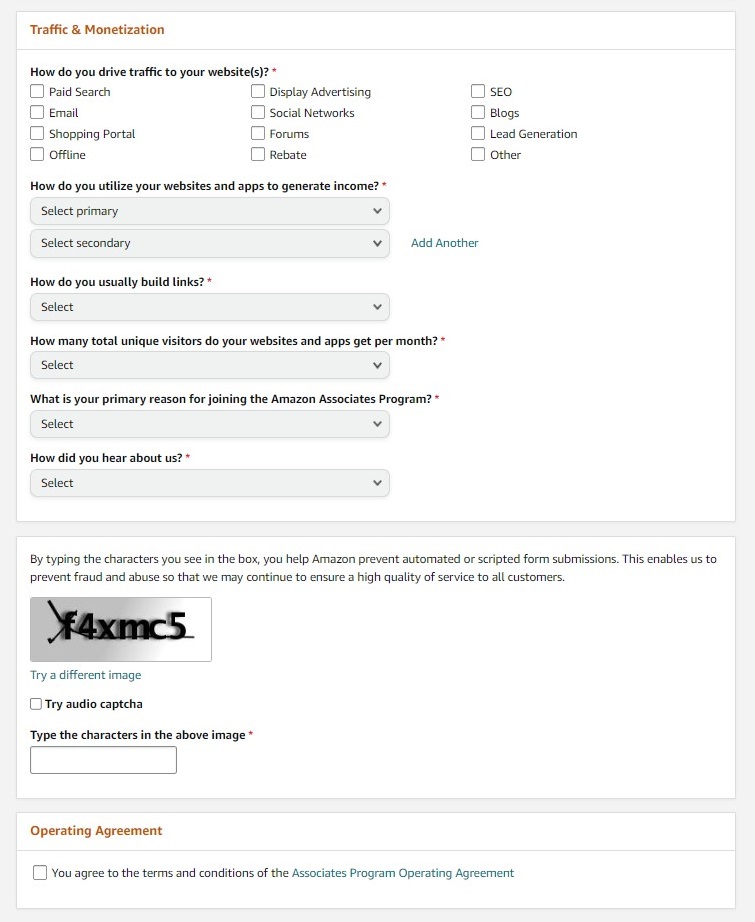 After this, you'll receive an email that your application has been received and approved.
4. Choose your payment method
Once you've filled all those in, you've completed the basics of setting up. You can choose to add in your payment details later or immediately. Whichever you choose, this is where you'll fill those details in.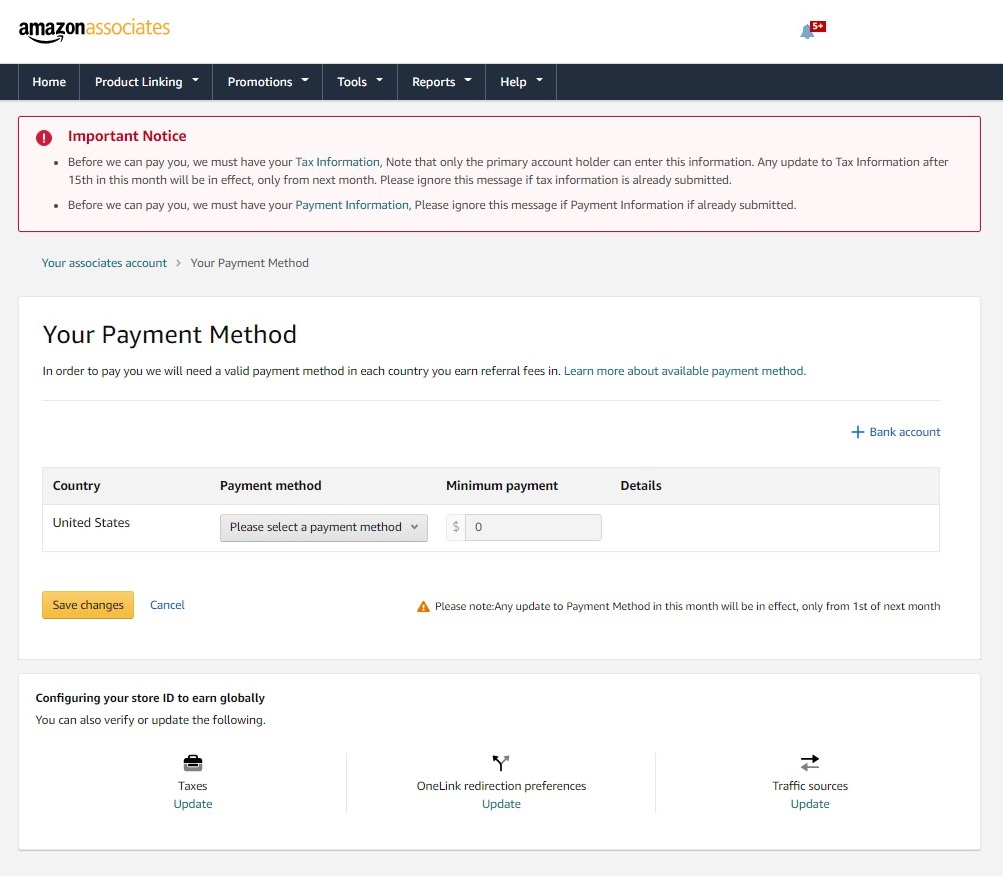 Once you've done all of that, under the "Home" tab, you'll get a page detailing your statistics similar to this.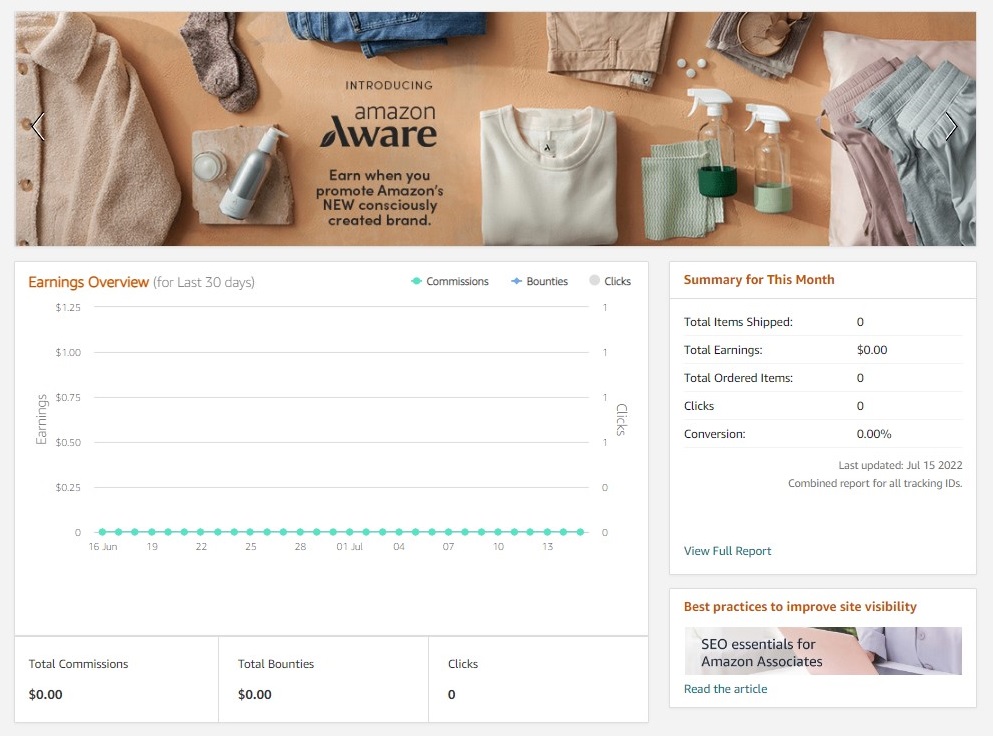 5. Create Amazon affiliate links
Creating your affiliate links is super simple with the SiteStripe tool. Just go to Amazon's main website. And if you're logged in with your Associates account, the SiteStripe toolbar will appear above the search bar.

Go to any page that contains the product you want to advertise/recommend. You can see on the SiteStripe toolbar, you have options on the types of affiliate links you want.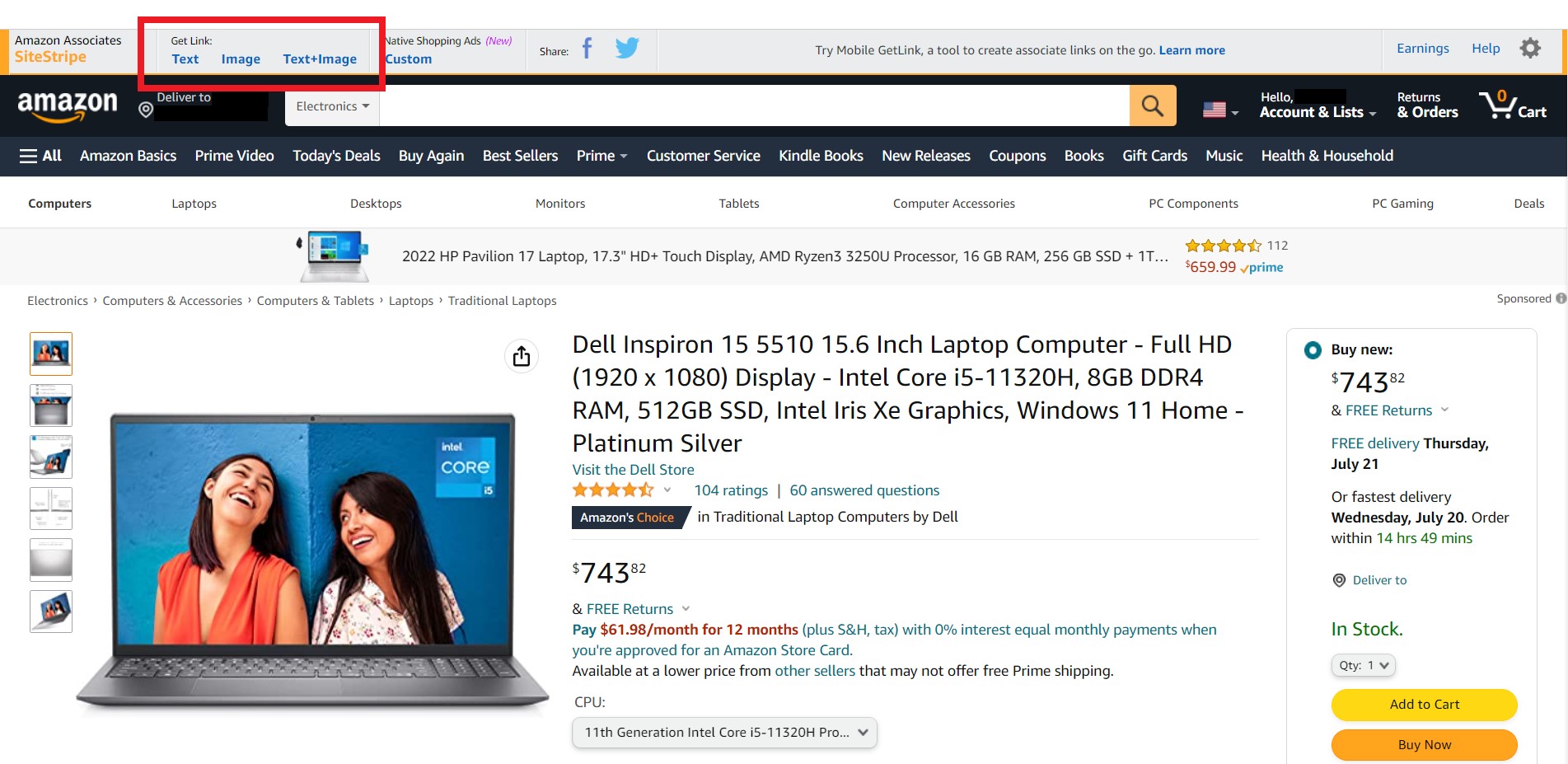 If you select "Get Link: Text", you'll get a pop-up like this.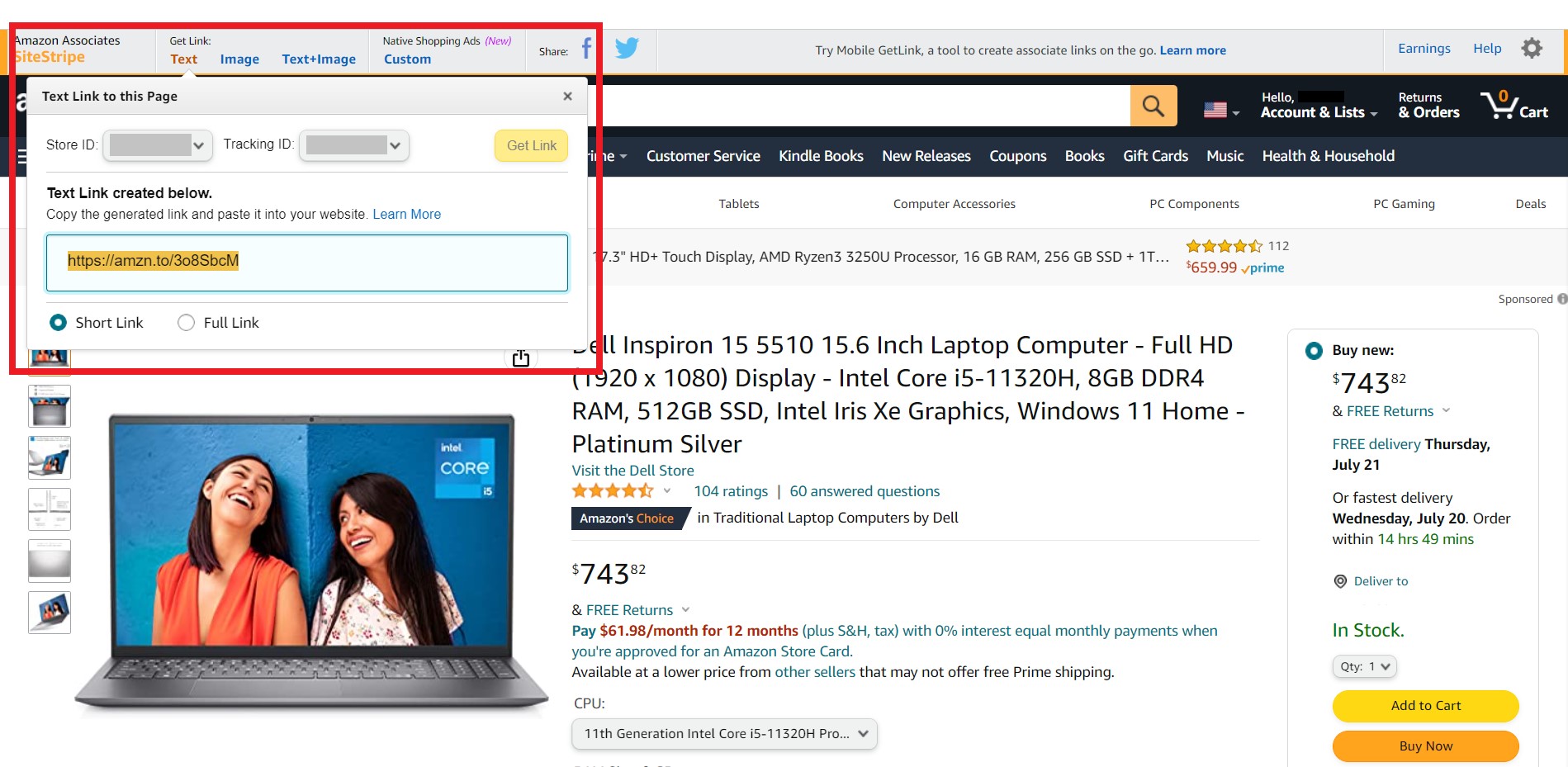 For "Get Link: Image",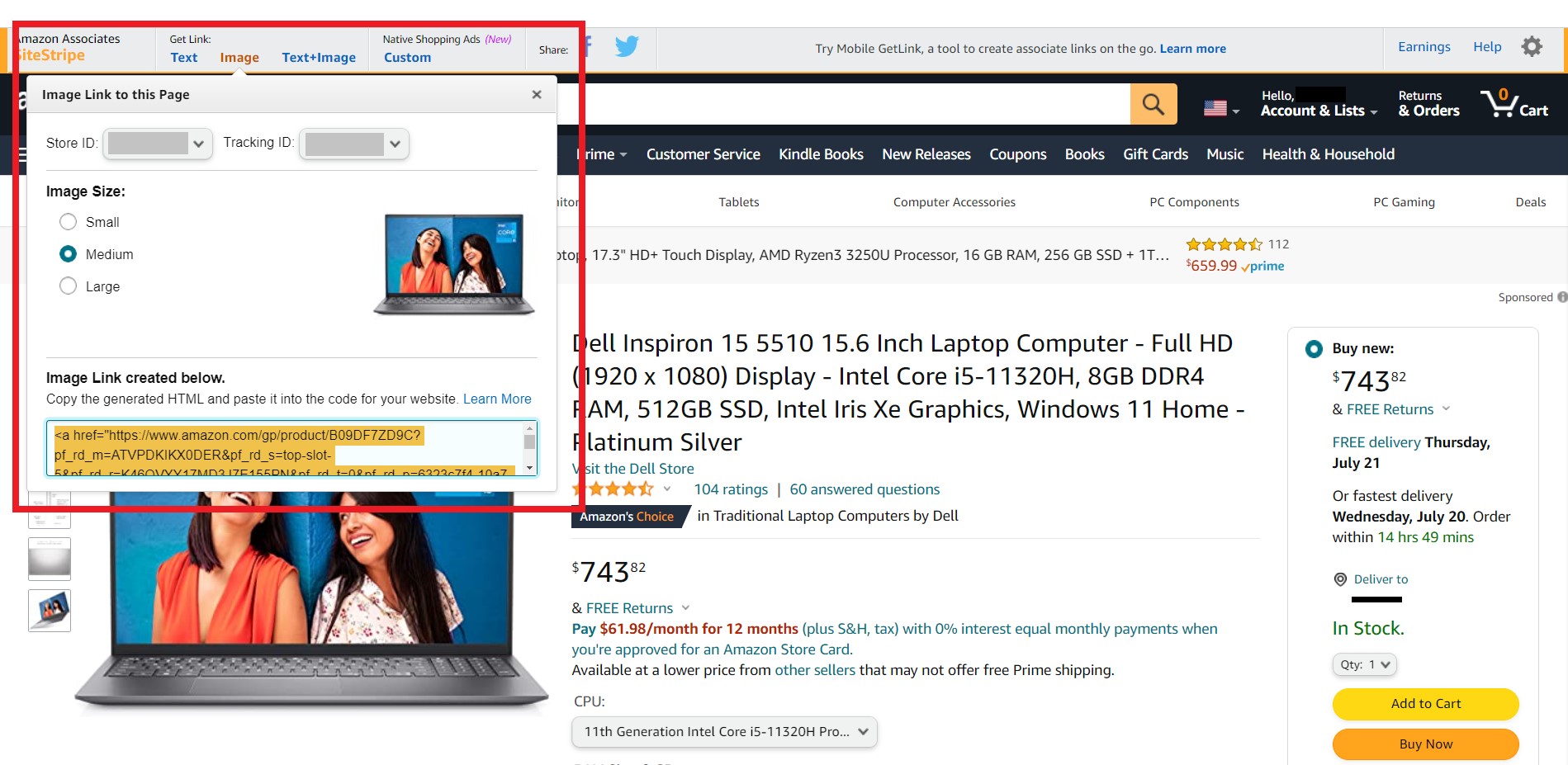 If you choose "Get Link: Text+Image",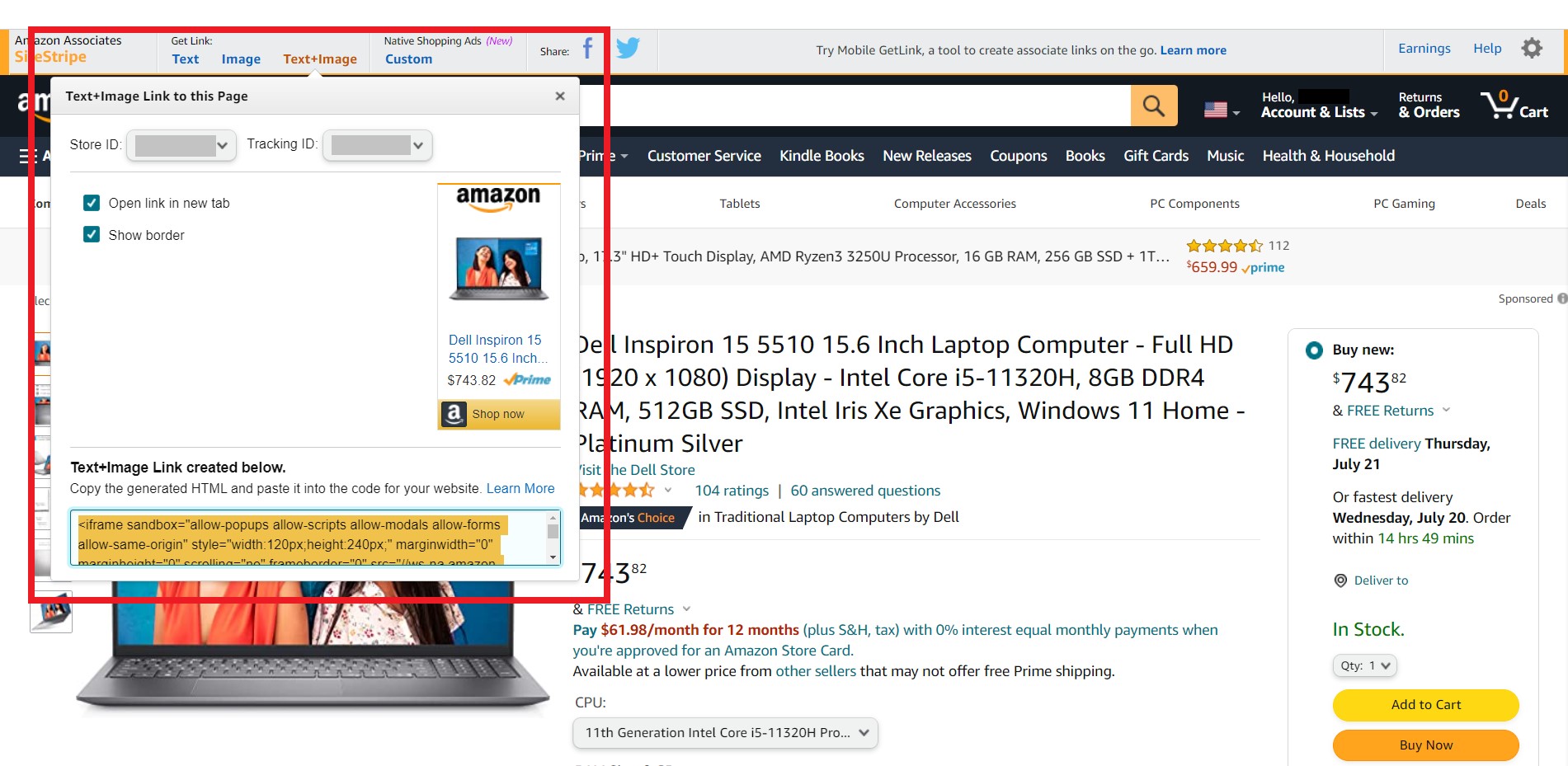 Either way, all that's left for you to do is copy the links and paste them into the content on your website.
And CONGRATULATIONS! You are now an Amazon associate. Affiliate marketing with Amazon! Being an affiliate is one way for you to generate some passive income and a great side hustle option. Keep it up with your quality content and continue to give the people products they can use and need.
ALL THE BEST. GOOD LUCK. & STAY SAFE!