Many businesses make a Google Business Profile for them to be visible on Google. Something that you might not know, however, is that you don't necessarily have any management control over it. To make sure that you can use your Business Profile to effectively be an SEO and lead generation tool, you have to create a Google My Business (GMB) account for your Business Profile.
Many are not aware that their profiles aren't as optimized as best as they can. We can teach you how. And by the end, you'll have a better understanding of your GMB and your advertising.
What is Google My business?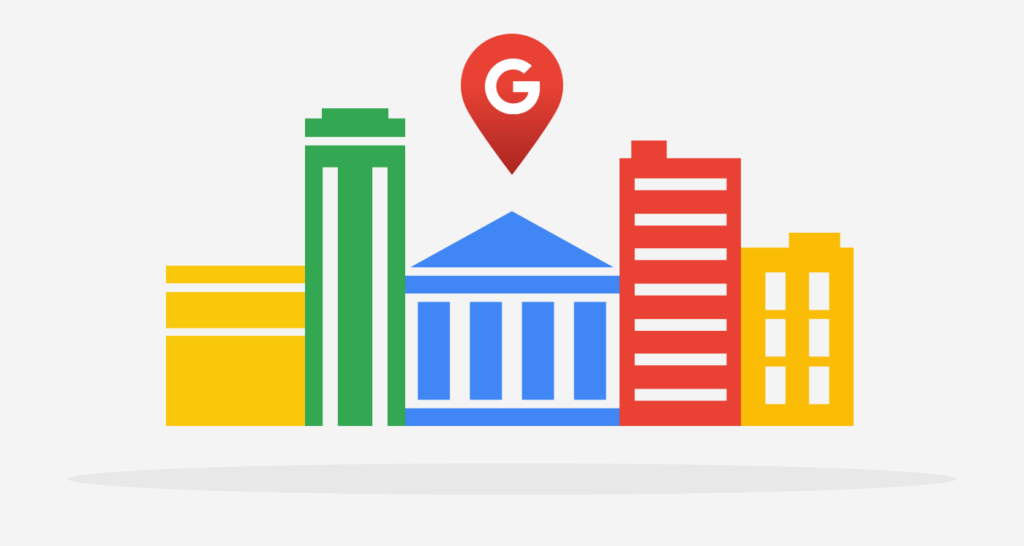 GMB is the tool that Google created to help optimize and manage your Business Profile. By claiming your business on Google and adding things like contact info, location, business hours and pictures, you determine how your business appears to users on Google maps and Google search results.
But is GMB really that important?
Why is Google My Business important?
Yes, it is. Or at least, it's important enough for you to seriously consider setting up. The thing is, anyone can register your business name with Google. Your business will appear then on Google when searched, but probably the most that users are going to get is a location.
Without a GMB account, you won't be in a position to manage any info that's put on display or any of the reviews you might be getting. Like we said earlier, through GMB you'll optimize your Business Profile by adding useful and accurate business info to users, such as your actual address and a more accurate location, operating hours, phone numbers, email, pictures and even driving directions.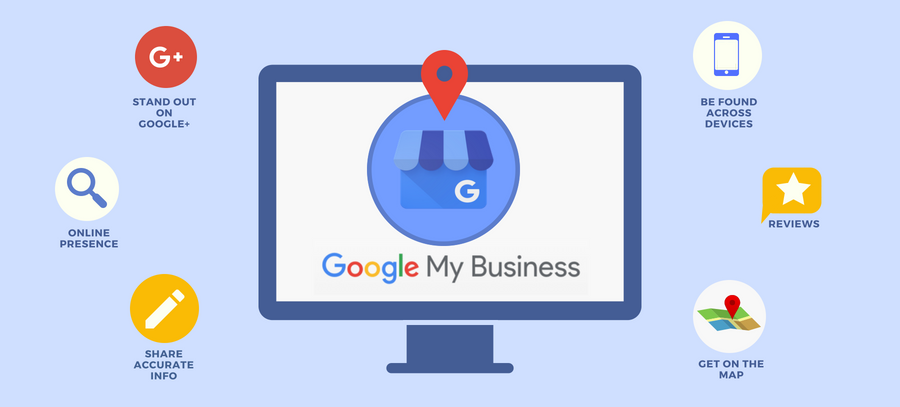 Therefore, a GMB account will: 
Get you discovered easier on Google search and Google Maps. You'll improve your local SEO and increase web traffic if you're fully or have a presence online (websites, social media, blogs, etc.) or turn that web traffic to foot traffic if you have a physical store.

Clearly, you'll have control over your business information and the ability to quickly and readily update any essential information when needed.

Build trust and credibility between you and customers through reviews. And about reviews, don't worry. Google and people know that having mixed recommendations and critical reviews are more trustworthy than a whole page of positivity alone. 
Not having GMB might risk you losing out on potential customers with any false information about your business, gaining a poor reputation by not engaging with your customers and their reviews and also losing out to competitors by not having attractive info and looking somewhat dodgy. So, we here highly recommend you setting up an account.
How to set up a Google My Business account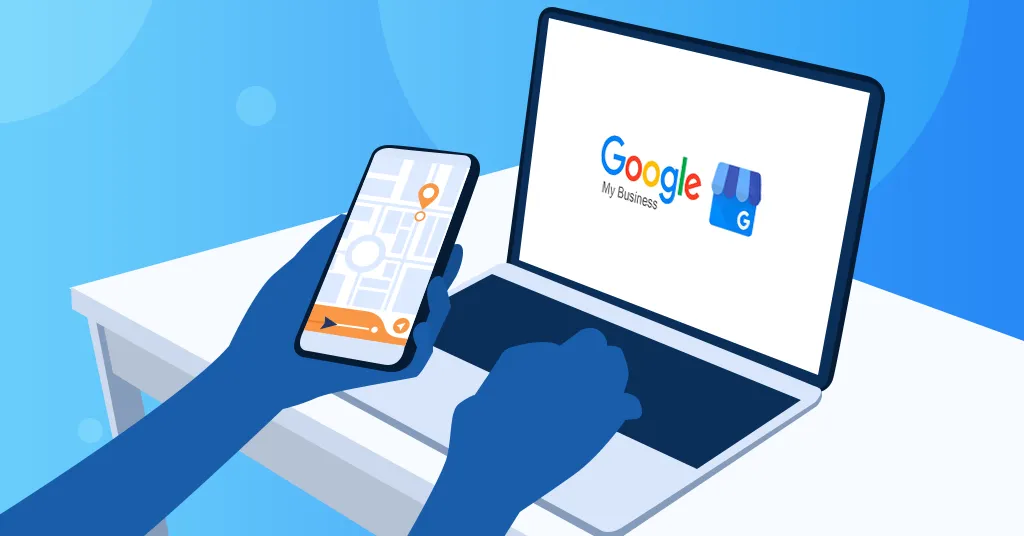 Setting up a GMB account is pretty easy and we're going to help you with how to do it:
1. Create a Google account for your business
Like everything else with Google, you first need a general Google account for your business. Setting this up is almost like your own personal account, only that it will be entirely related to your business and with a domain name – either @[yourcompanyname].com or just @gmail will work fine.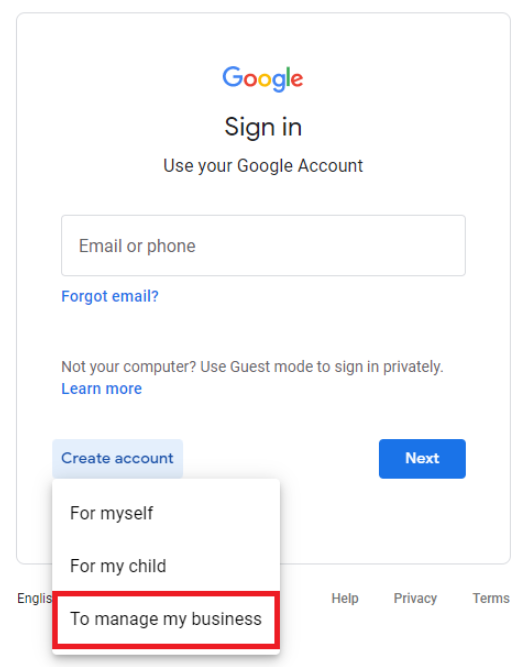 2. Go to the Business Profile main page
Head on over to the main Google Business Profile website. Once you're here, select the "Manage Now" button.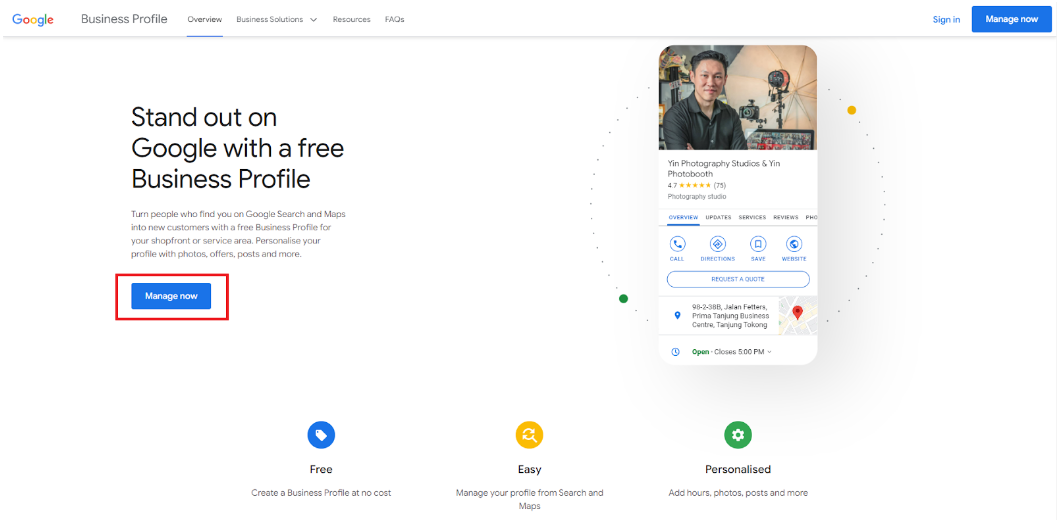 3. Enter your business name
Really simple. Enter your business's name and the category that it belongs to.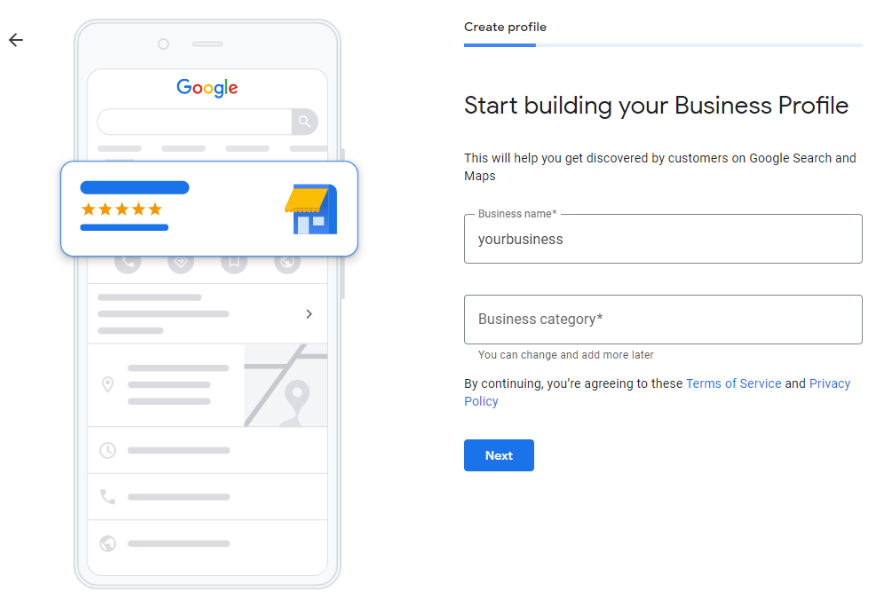 4. Enter your location and services
Next, if you have a business office or a store, choose to add one.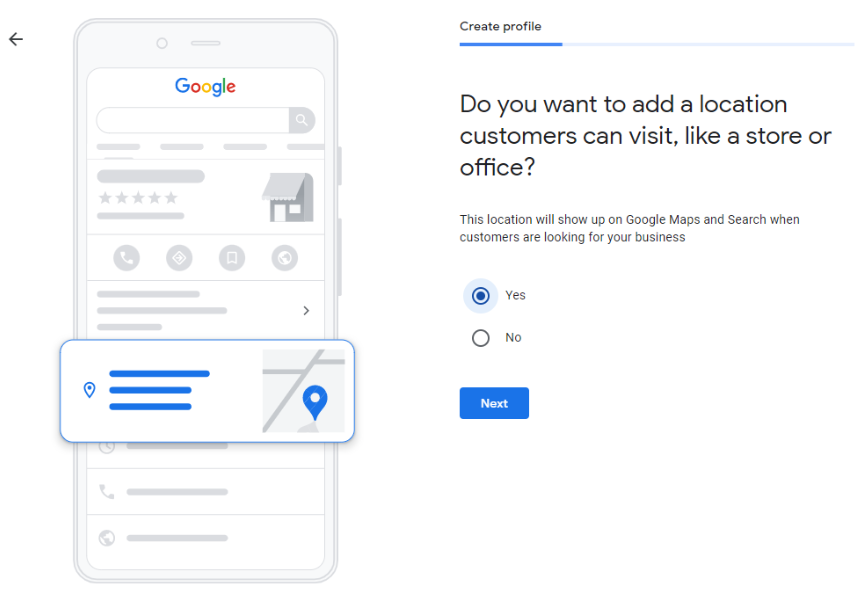 If you have a location for your business, fill in the address.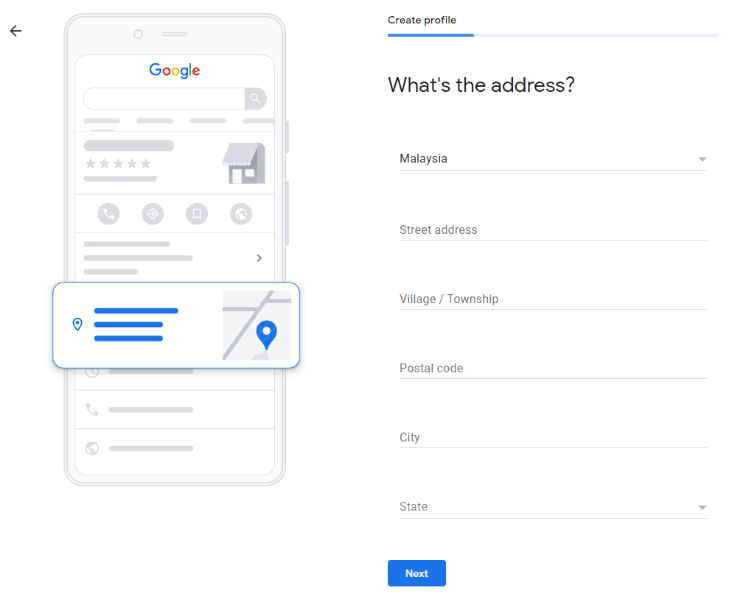 Additionally, if you have a delivery or visiting service, you can add it in.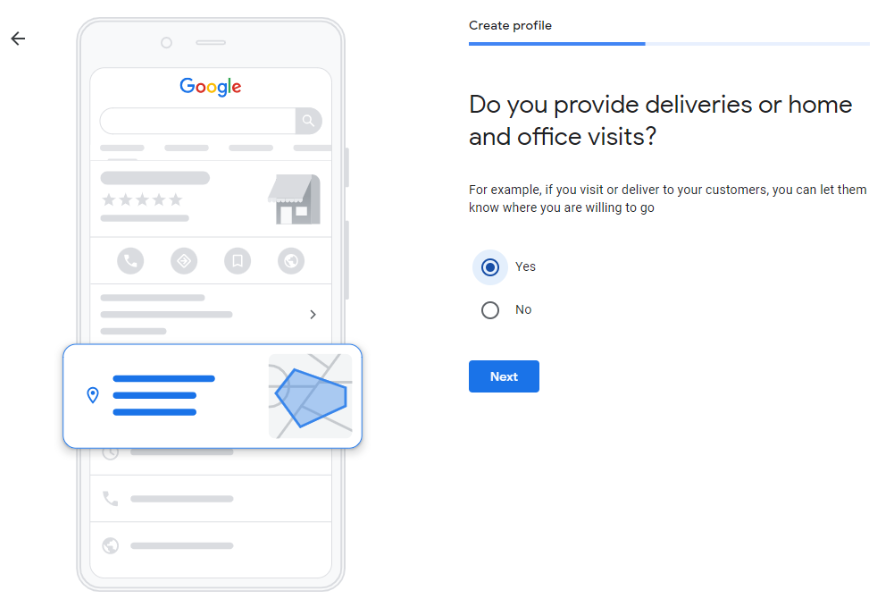 Then, add the area that your business serves. You can add more or change it later on.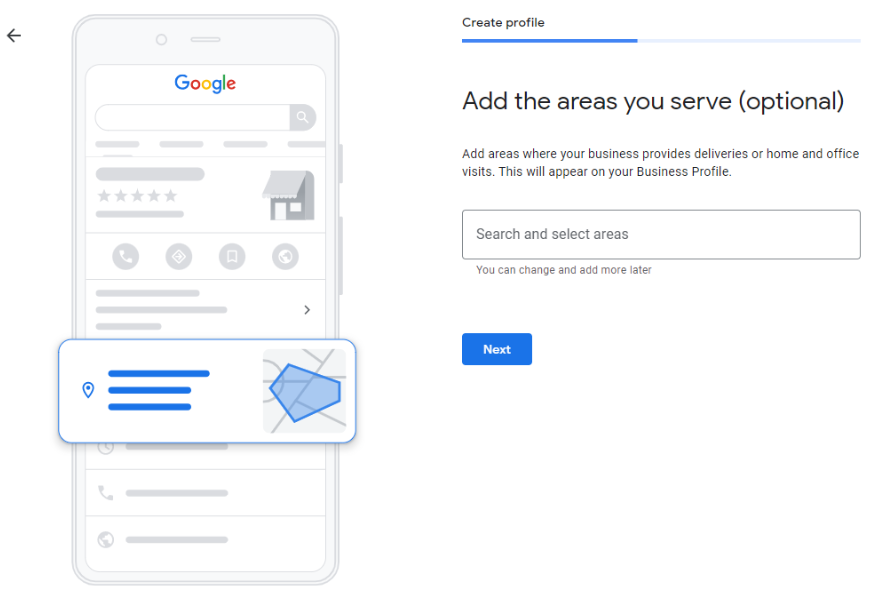 5. Add your contact details
Your customers want to get in touch. How can they go about it? Contact information is an important element to any business.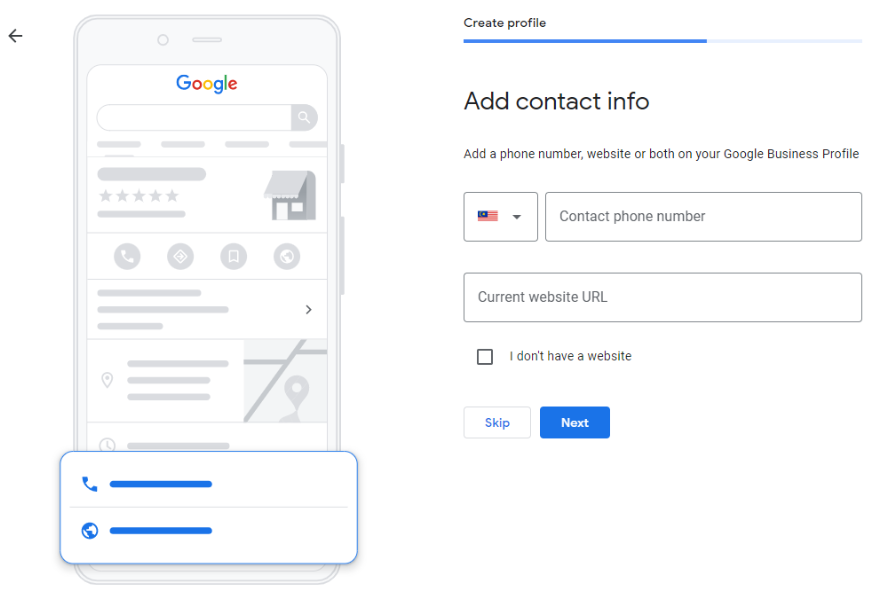 Optionally, you can opt for updates and recommendations from Google for your business.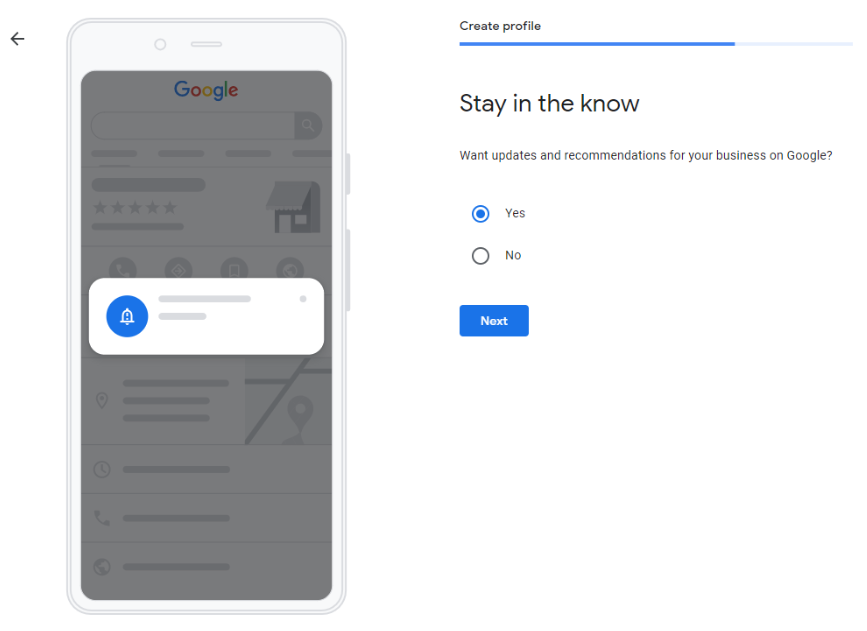 6. Verify your business
All that's left is to verify your business and you're all set!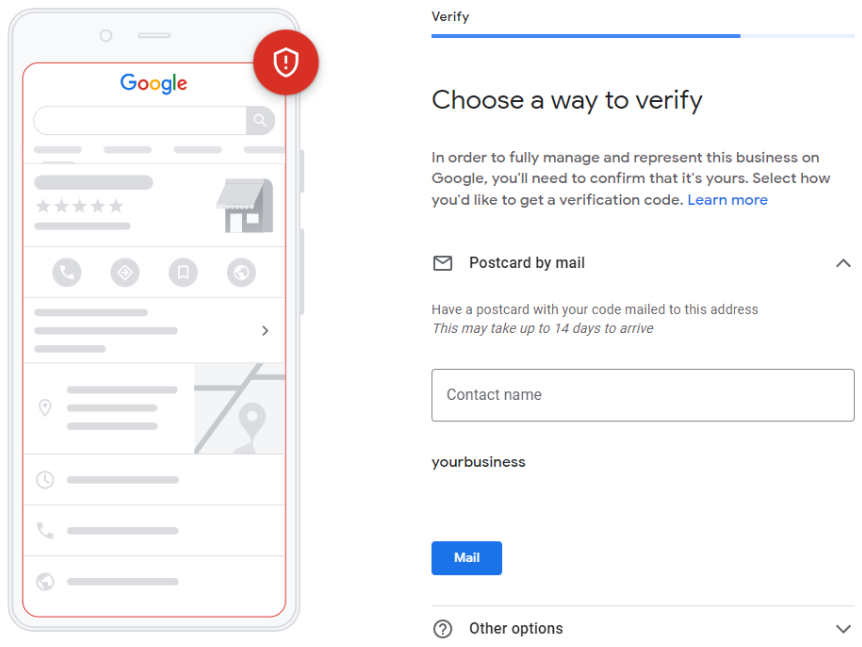 Verifying your listing involves Google sending a postcard to the address you filled in before. The postcard will contain your verification code and the steps to complete the verification process – which can take up to 2 weeks. 

Under "Other options", you can choose to verify later but as it says, your customers won't see any updates or edits you've made until you're officially verified.
7. Add your business hours
Tell people when you open and when you operate. Just select the days that you do and at what time. You can be specific with the time according to the day of operation.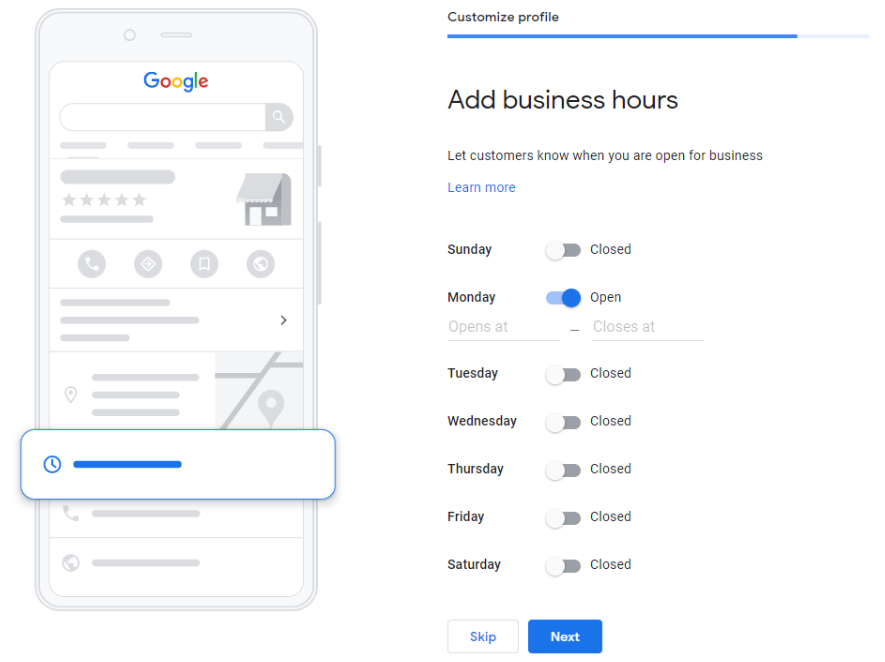 8. Add a messaging option
You can choose to let people message you through Google.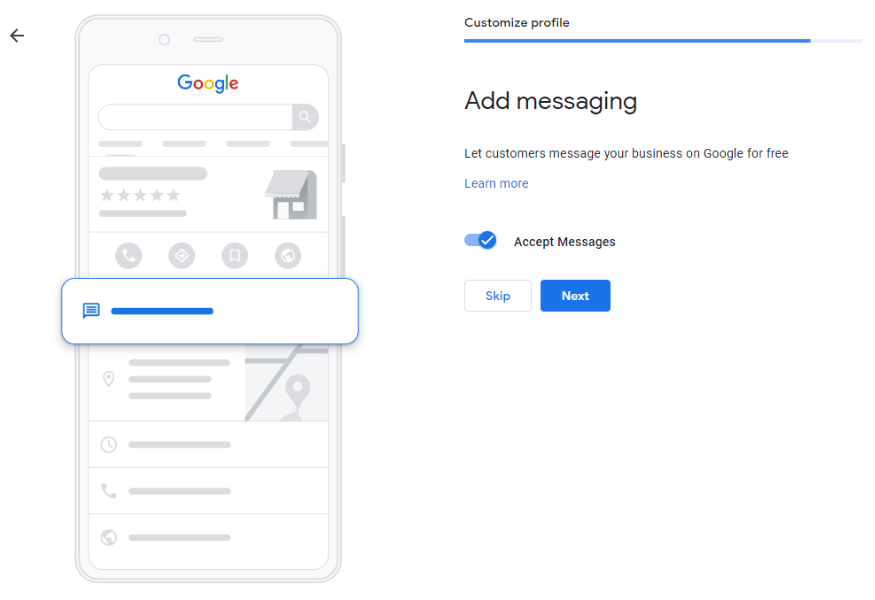 9. Describe your business
This is where you inform people and your potential customers on what your business is all about and what you can offer them.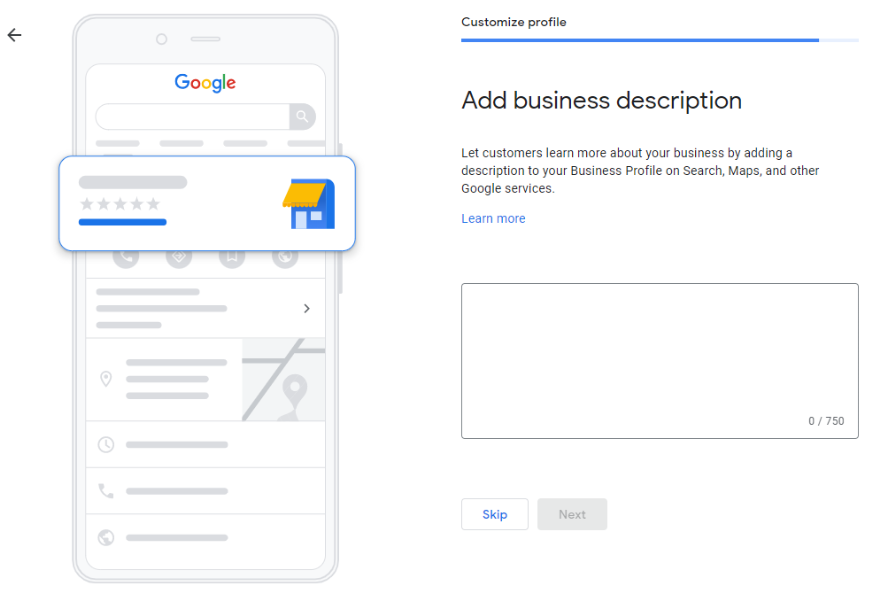 10. Add attractive photos for your business
The online world is mostly a visual space. So make sure to add photos that reflect and are about your business. Remember to make them easy on the eyes to attract more people.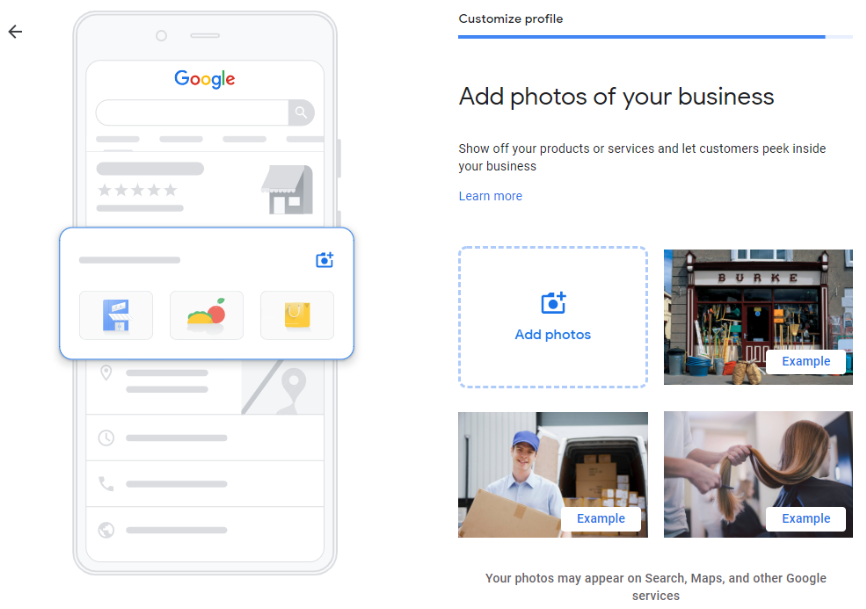 11. Start advertising 
This is also optional at this point, like steps 7 to 9. But if you're ready, you can start setting up your ads and ad campaigns too with Google Ads.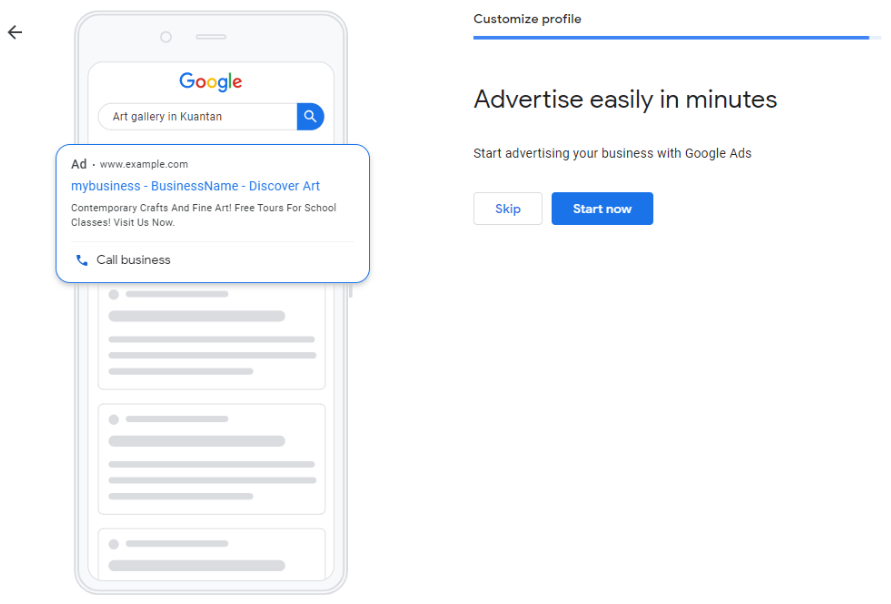 Strategies to optimize your Google My Business
Using GMB to its full effect includes optimizing it. By optimizing your GMB account, you're essentially ticking and filling in every box that Google can provide, which ensures that your business's appeal and reach are as wide as they can be. Google measures ranking on the local search by looking at 3 things:
Relevance

– how well your GMB listing fits with a user's search

Distance

– how far you are from the user searching at that time

Prominence

– how established is your business (based on links, SEOs, review numbers, scores, etc.)
It doesn't take much to score on all three. Some of these optimization strategies are similar to what you've already done during the GMB account setup, but we've included them anyway to help you see that they're still a part of the optimization process. 
An optimized GMB will help you improve engagement with customers, boost your local ranking and drive more conversions to your business. We've compiled several strategies here for you:
1. Claim your Business Profile
"Claiming" your business is really simple. Being officially verified is laying claim to your business.
2. Complete the data of your Google My Business account
Fill in all the data that Google asks for. Completing your profile's data will rank you higher on the search algorithm and increase the actions that customers can do when they look up your profile.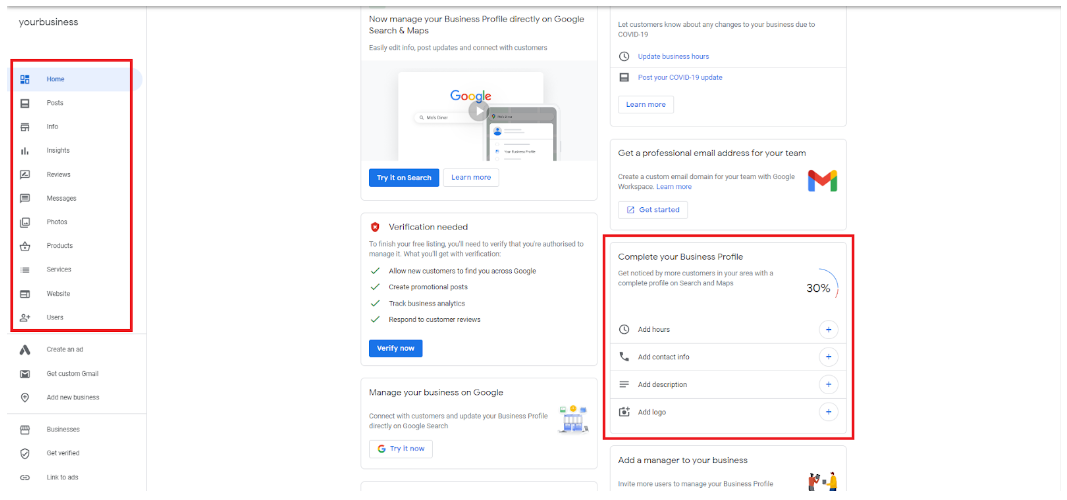 3. Insert important keywords into your Business Profile
Keywords are important and crucial to be discoverable online. Search phrases and keywords are incredibly helpful to get one of the top spots on Google searches. Think of as many as you can while making sure they're related to your business and what you believe customers and users will search for while browsing Google.
4. Add photos of your products or services
You already started adding photos during step 9 of this guide. But this doesn't mean you should go too overboard with uploading pictures, like hundreds of them. When it comes to optimizing the GMB, some tips for adding photos:
At least one new photo every week

Your business logo as your thumbnail

Use a picture/graphic that best reflects your brand for the cover photo

Generally, Google has its own guidelines on photos, but some are showing happy customers, exterior and interior pics and team photos.

Try not to use stock and edited photos with special effects. We recommend you be authentic from the get go.

Focus on the quality of your photos with clear depictions.

Geo-tag your photos

Add videos too if you have them
5. Make sure the contact information is correct
Business info has to be correct and also particular. Doing so includes matching up your business name online with your physical shop sign, names and addresses are identical across the web where people might find them, and specify your regular opening hours and your holidays. These are just some of them but overall, be specific and detailed with information.
6. Select applicable attributes
Attributes set up your business with special features that searches look for, like "Dine-in", "Takeaways", "Delivery", "Wheelchair accessible", "Free Wi-Fi", "Suitable for wedding", and so much more. Google will give you a whole list of attributes for you to choose from. Google's attributes can get really, really detailed and granular, so you'll attract more people.
7. Get Google reviews
Another essential ranking factor for Google's algorithm is reviews. Reviews make the primary influence on consumer buying. You can see that the first three local results that appear after a search have multiple reviews which correspond with solid ratings.
8. Manage and respond to customer reviews
Customer interaction and engagement shows that you care about your buyers and value their feedback on their experience with your business. People are more likely to give you a second chance if you show interest in their comments and suggestions to improve your business's customer experience. A positive impression on customers can greatly heighten your brand's visibility on searches.
9. Publish Google posts regularly
Quality posts that are visually pleasing and interesting, interactive with links, correct language and words and with positive vibes are what you have to churn out on the regular. You can post announcements, offers, products, sales, events, etc. 
Posts give more interactive options for customers to do with your profile and send positive ranking signals to Google. Google can act like any other social media platform, so with consumers having higher intent on search engines like Google, you're increasing engagement with them through your posts and consumers can also follow your profile to be updated on new content from you.
Google My Business Insights reporting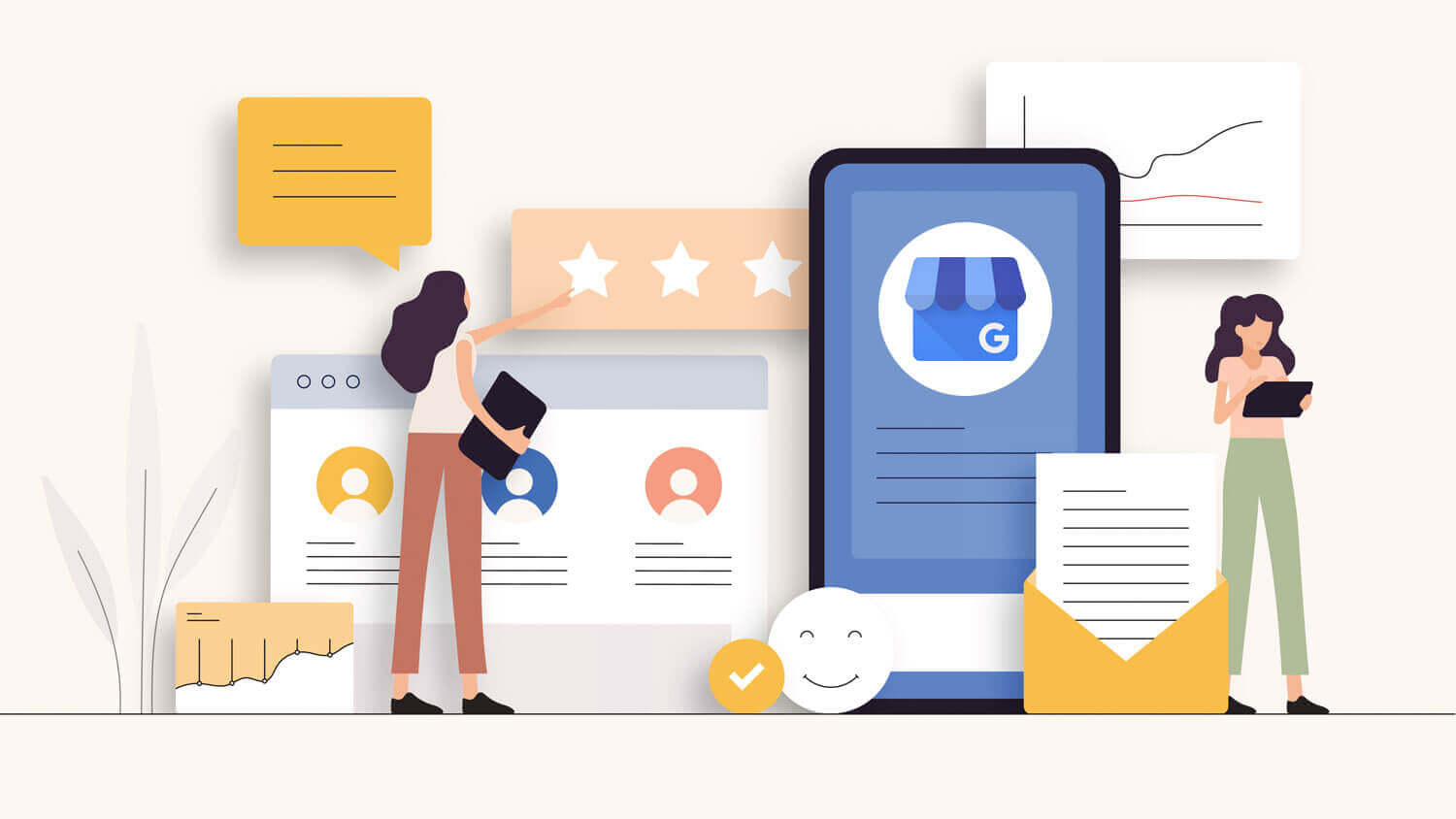 With Google's tremendous analytical data availability, Insights is another Google tool that can help you understand the interaction between customers and your business. Data under Insights includes views, searches, and actions from natural search results and through Google ads. 
While there are several ways to see your customer-business interaction, to begin with, we've listed down the 3 main data that you should look into:
1. How do customers find your listing?
Through this section of Insights, you get to see how people find your business and how many people have done so. A chart will detail the number of searches and organize them into separate categories. There are 4 of them actually:
Direct searches – A customer directly searched for your business name or address.

Discovery searches – A customer searched for a category, product, or service that you offer, and your listing appeared.

Branded searches – A customer searched for your brand or a brand related to your business. 

Total searches – The total number of direct, discovery, and branded searches.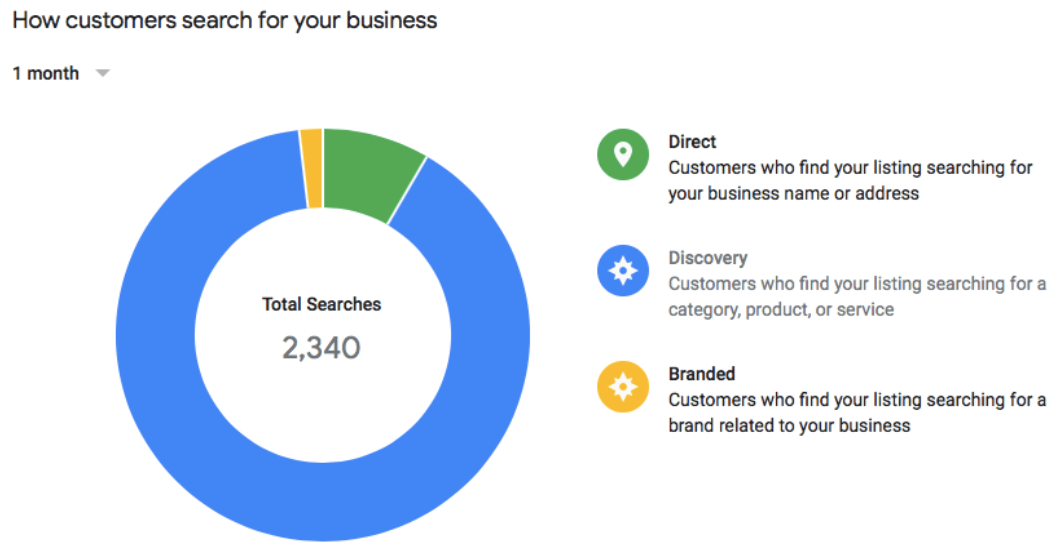 2. Where do customers view your business on Google?
Insights also has a section that shows you where your customers are viewing your business. People can find you through the good old fashion Google search or through Google Maps. You can also know if they're using a mobile device or desktop.  
View on Search – A customer found your business via Google Search. Displays as "Search views" on bulk reports.

Views on Maps – A customer found your business via Google Maps. Displays as "Maps views" on bulk reports.

Total views – The total views of both Google Search and Google Maps.
Google calls such views "impressions". Google's data doesn't differentiate between someone who really dug deep to interact with your business or someone who just took a glance. Nonetheless, this information can still be helpful.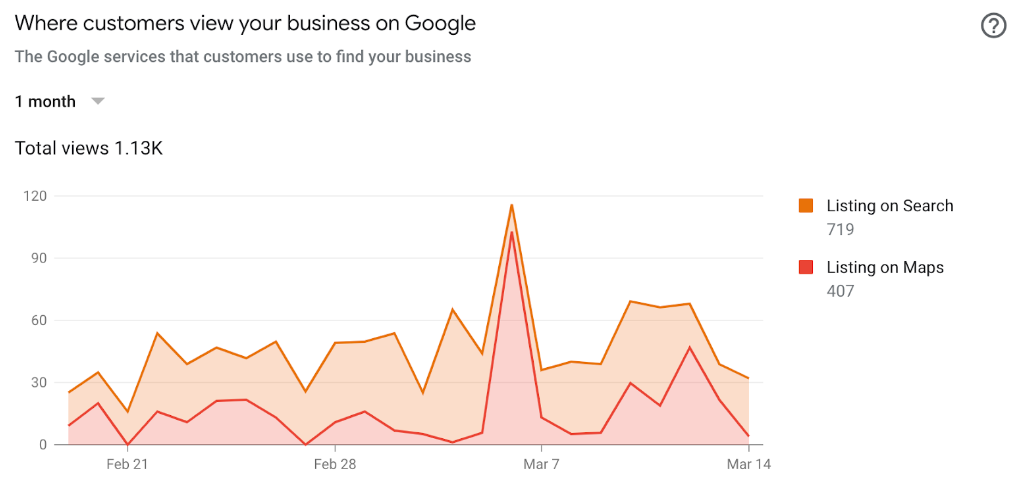 3. What is your business known for?
The third section provides you data on customer opinions on your business and any popular terms or sentiments. Google matches and pulls similar sentiments by going through the reviews. Thus letting you see how customers feel about your brand. 
These opinions, however, are subjective, as they are based on personal experiences. But one customer's insights can be valuable to another. Examples of terms and sentiments include 'cozy', 'romantic', 'fun', 'friendly' and many others.
Maximize your online presence
Google has somewhat become the internet. Everyone uses it and it's almost impossible to use the internet without it. So it's a definitely good idea to utilize Google to its maximum potential to get more traffic to your business and obtain more customers.
ALL THE BEST. GOOD LUCK. & STAY SAFE!