Beyond Facebook's Business Manager and Ads Manager, there's the Ads Library. It was created in 2019 by Facebook in the spirit of media transparency. Facebook's Ads Library is also a free tool you can use to advertise on Facebook while also researching effective ways for your ads approach. So, let's get into all about this ad library.
What is Facebook Ad Library?
Facebook Ad Library is a searchable digital database that contains info about ads which are running across not just Facebook but also other Meta platforms (Instagram, WhatsApp, etc.). Ads on current issues, elections, and politics are also in the database.
The tool improves transparency by providing everyone (including those without Facebook accounts) access to information on all ads on Meta's platforms. Ads that are inactive (up to 7 years back) are also accessible. For the political, the advocates and social commentators, it allows them to see who funds what, how much they've spent, and their reach across varying demographics. But for marketers, the Ad Library lets you see all the ads your competitors are running in one place. 
The digital marketing can be cutthroat business. So, if you aren't keeping an eye on what your competitors are up to, you can easily fall behind. If you're ever getting ready to launch your first campaign, you can check out some real-world inspiration for your own ads, validate your ideas or maybe look for ways to optimize the campaigns you're already running. Either way, Facebook Ad Library is a great way to get your creative juices flowing and keep up to date on what your audience is seeing.
How to use Facebook Ad Library
Facebook has made the Ad Library very intuitive and really accessible to everyone and anyone. Using the Facebook Ad Library is therefore fairly simple. Here's how:
1. Open Facebook Ad Library
Head to facebook.com/ads/library to access Facebook Ads Library.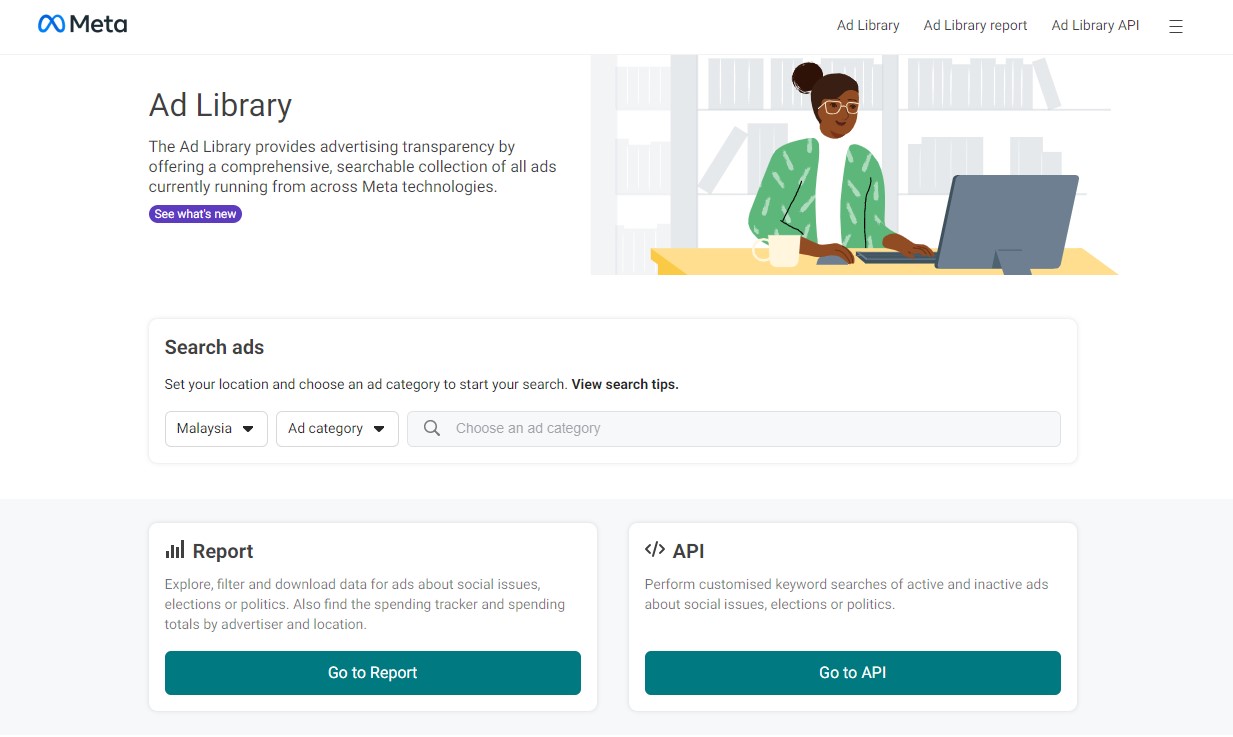 2. Choose keywords related to your business 
Once you've selected a category (either "All ads" or "Issues, elections or politics"), choose the keywords related to your business you want to type into the search bar. Remember to also set your preferred country.

3. Search up a brand/company
To find the ad you're looking for, type in the name of the brand/company/business that's running it. A drop down tab will appear with the relevant results.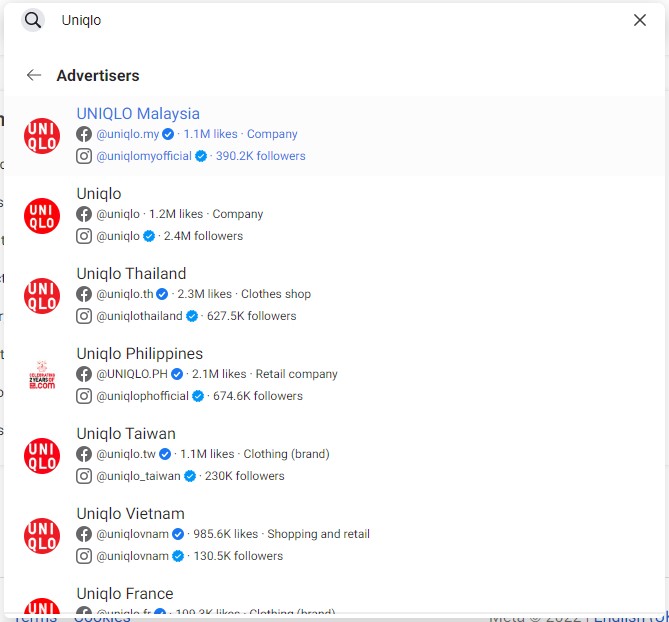 4. Click on ad information details
When you've chosen and clicked on a specific page, Ad Library will display all the ads run by the page starting with the latest.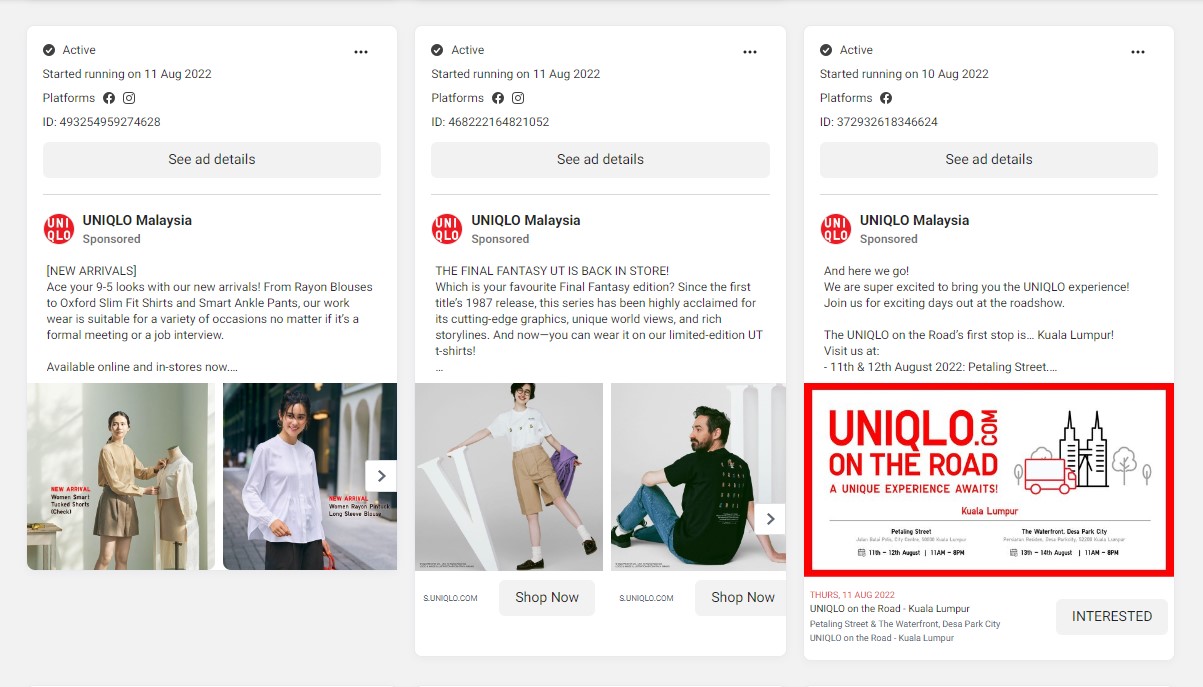 Above every ad, there's a description on it detailing: if it's active, when it started running, the platforms it's showing on and it's ID number. If you click on the "See ad details" button, it will also show you a bigger display of the ad and on the page that it belongs to.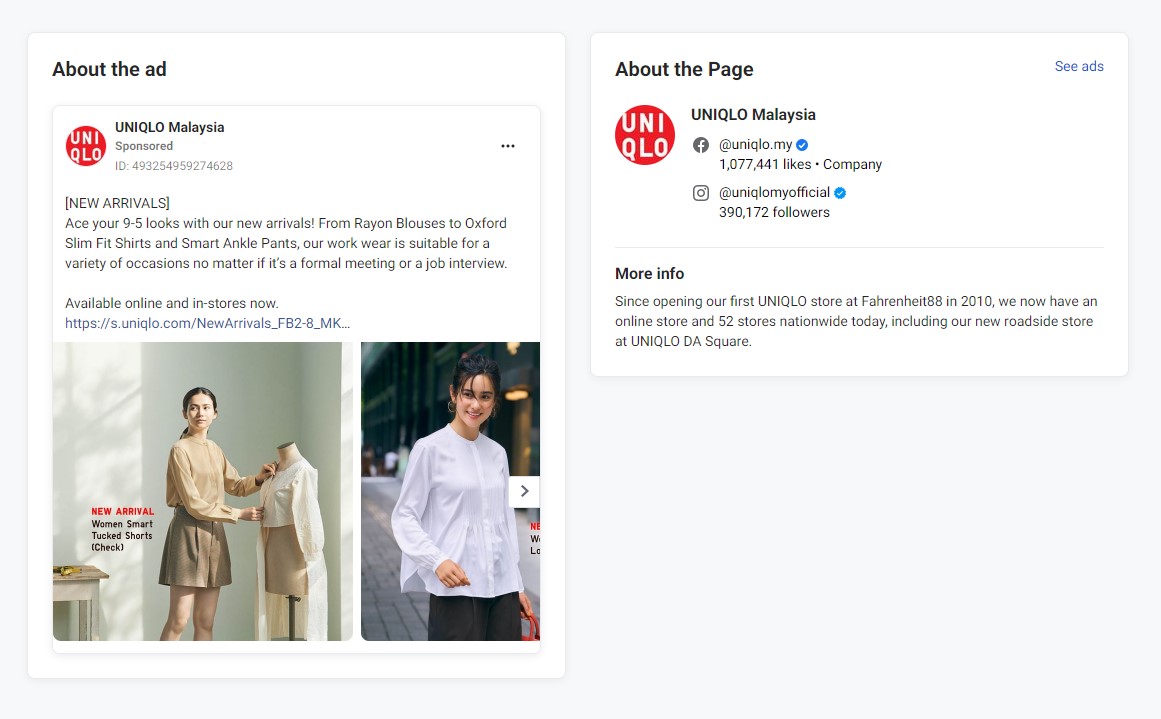 5. Filter the ads
You can refine your search by clicking on the "Filters" button next to the keyword search bar.

Selecting it will give you a pop-up with the filter options available.
Your filter options are:
Language – what language the ad you're searching for uses.

Platform – on which platform the ad you're looking for is running or showing.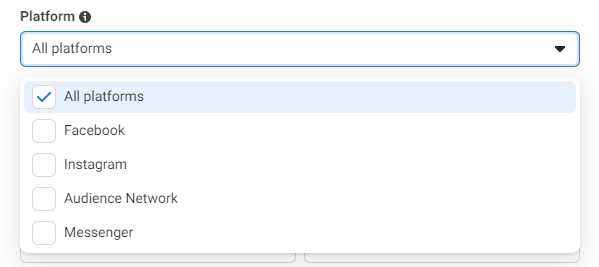 Media type – what type/form the ad takes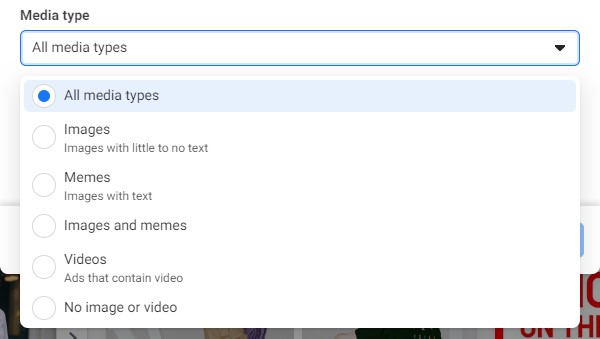 and Date – when the ad ran or is running. Either an exact date or a certain period (date range).

Then, just simply apply the filters.
Facebook Ad Library scraping
One component to advertising success is understanding the ads that work for your competitors and separating them from what don't. Doing so can help you save money and to know how to make your ads and messaging stand out from others by appropriately positioning them.
This is called scraping. Basically, you'll be using Facebook Ad Library to scrape data (legally) on your competitors. If you want to give it a go, here's how you can:
1. Search for ads you want to scrape
Just like in Step 2 on how to use Facebook Ad Library earlier, you can find the ads you want to scrape through the "Search ads" search bar.

2. Review and filter the ads
Then, once again, similar to Step 5 of the earlier guide, apply any necessary filters that can be useful.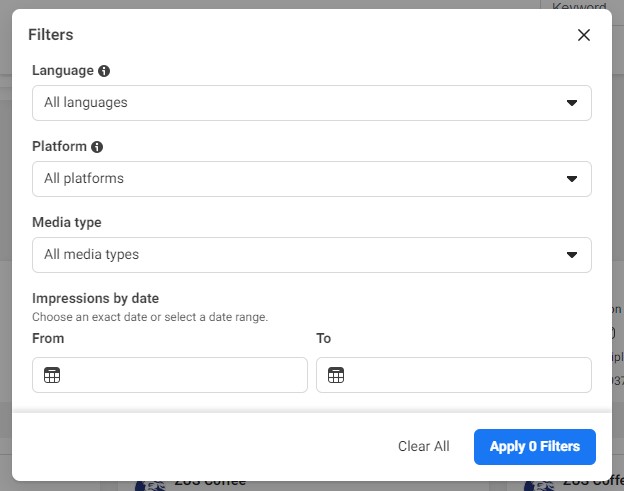 3. Open up developer tools
Let's say you've found the ad you're looking for. Right click anywhere on the page and select "Inspect" on the pop-up.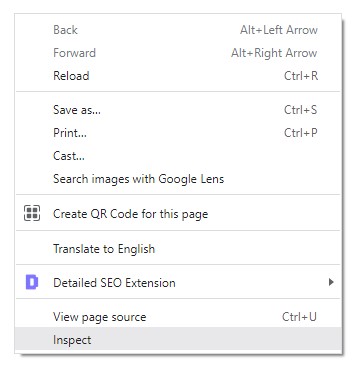 Then, when the Inspect command prompt comes up, select the "Network" tab where you can now see the ad's web traffic data.

4. Refresh and scroll down
With the developer tools open, we're "recording" the data that Facebook is sending back that we want to scrape. In order to capture the initial results that were sent, we need to first refresh the page and begin to scroll down and you'll see in your browser's "Network Tab" Facebook send more and more data we're recording.

 5. Export HAR files
Look for a download arrow in the developer tools (Network Tab) that's labeled something along the lines of "Export HAR…" Click this and save the HAR file somewhere you can access easily.
6. Upload to HAR file web scraper
We now have the data inside a large file. To get the data out of this file, you can use a software like HAR File Web Scraper where you can upload the file and the software will parse everything out for you and group together all the different requests with the Facebook Ads data in it: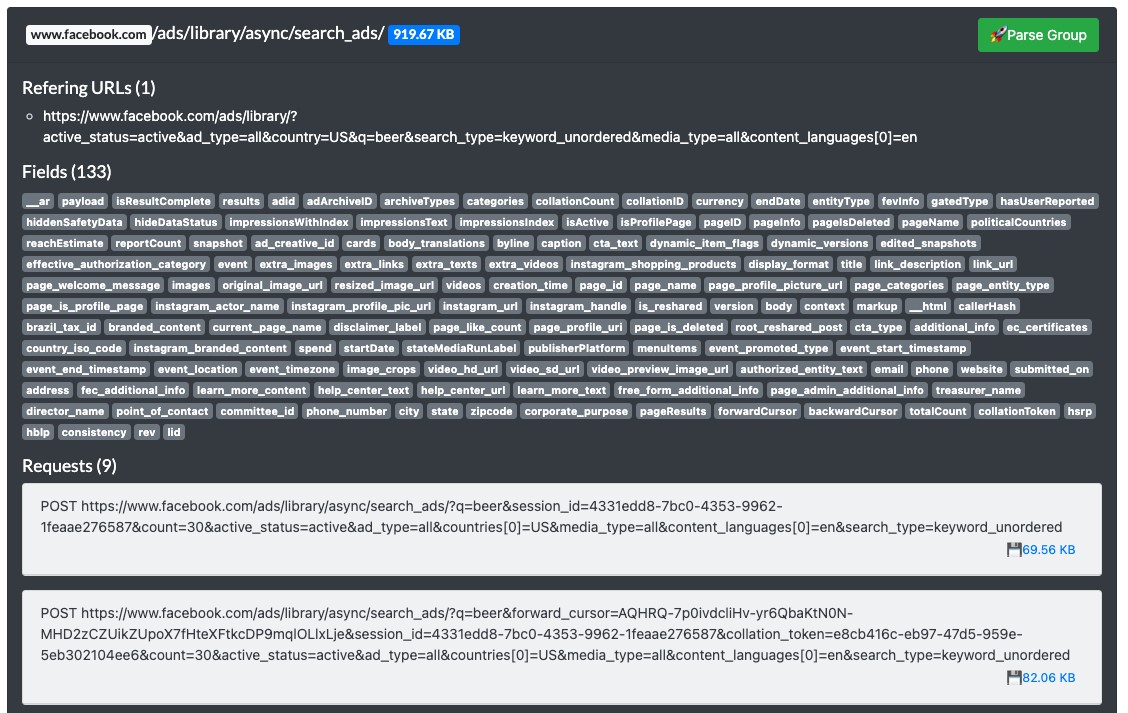 7. Click parse group to see combined results
If select the "Parse Group" button on the top of the grouped responses, you'll see combined results of all the ads you scrolled through. For example:

You can also see other features such as links to images and call out extensions:

Get resourceful to get the edge
Facebook Ads Library is just one useful tool at your disposal that can help you be a better marketer or better at advertising your brand to the world. Beyond Facebook, Google also has features for you to spread your advertising campaigns. So don't forget to use everything and anything that you can to keep yourself competitive and to take your brand awareness to new heights!