Have you ever seen some photos, videos, or writings of brand promotion on social media? All of what you see are a few content marketing examples. These efforts generally aim to increase sales or just to introduce the products.
Content marketing has become a common effort that is practiced by many business owners, especially on the growing path of social media use, because content marketing is generally run on social media.
If you are a business owner and tend to find out more about content marketing with examples, check out the following article, then!
What is content marketing?
Content marketing is an effort to market products that are made intentionally to increase brand awareness as well as attract audiences and nurture them into leads. It is usually in the form of a work or an event.
Content marketing generally contains messages of encouragement and invitations, but on the other hand, it is also educational because it could inform the audience regarding the products offered by the company. The message can be conveyed in writing or implicitly, or even a combination of the two.
Not only serves to increase brand awareness and attract people, content marketing indirectly shows the values and personal identity of a brand. For example, if it's a clothing brand, does the brand have a casual, classy, feminine, or another image? If there's one of them, then content marketing can show that image.
Hence, content marketing has to be well-made and high-qualified.
Purposes of content marketing
The main purpose of content marketing is to attract audiences and increase brand awareness. However, specifically, there are at least a few things that underlie why you should do content marketing.
You can conclude the purpose of content marketing as:
1. Increase traffic
If you create content on social media and websites, it will affect your website traffic or social media accounts. So you'll drive traffic from search engines through this content marketing.
2. Increase sales
If you manage to meet search engine traffic, then the audience would recognize your brand easily. So that the potential customer may convert to leads. Then, sales happened.
3. Increase followers and subscribers
If you create content on social media and want to increase the number of your followers or subscribers, you can do content marketing on it. Your followers or subscribers who consistently look on your social media, are truly interested audiences and have the same values as your brand.
That means, your content manages to convey relevant messages and values to them.
What are content marketing types?
Content marketing can run in any media and form. You literally can choose any media and form you want as long as that is related to your brand values, targeted customers, brand needs, and your marketing budget.
You can use all media and forms of content marketing as long as they can convey the message and brand value to customers properly. In addition, it is important to make sure that they can campaign for your brand well too.
At least the types of content marketing are as follows:
1. Blogging
This type of marketing is suitable for those of you who are active on the website and intend to improve your SEO. Start to research some top keywords, then make your attractive articles.
2. Social media marketing
Social media marketing is one type of marketing that is loved by many brands in various industries. Generally, they do it on Instagram, Facebook, and TikTok, not infrequently but also on YouTube.
3. Visual content marketing
This content is generally in the form of images and videos. Visual content marketing often synergizes with social media marketing which generally provides image and video marketing forms.
4. Tried-and-true content marketing
This content type is created by involving someone's experience in using a brand. For example, you can involve influencers to review a product or other common audiences, such as existing or potential customers.
5. E-books and marketing resources
Some brands provide e-books or resources as their marketing efforts. This would be a good content marketing option because you can provide the certain knowledge your audience needs.
6. Evergreen content marketing
If you've seen some best tips, reviews of products and services, "how to" articles, video guides, and other guide content, then you were heeding the evergreen content marketing.
Those are some types of content marketing that you can apply to your brand. You can try every type, but it would be better if you specify your content marketing strategy so that customers are more easily attracted to and recognize your product. Besides, don't forget to always stay in line with your needs.
In general, the most frequently used types of content marketing are blogging, social media marketing, and visual content marketing. You might be able to maximize your content into those popular types.
Top content marketing examples for any industries
If you are curious about what is an example of content marketing and intend to make a good one, here is Yezza presenting content marketing with examples to you. Here are a few examples of content marketing that companies getting it right:
Blogging
1. HubSpot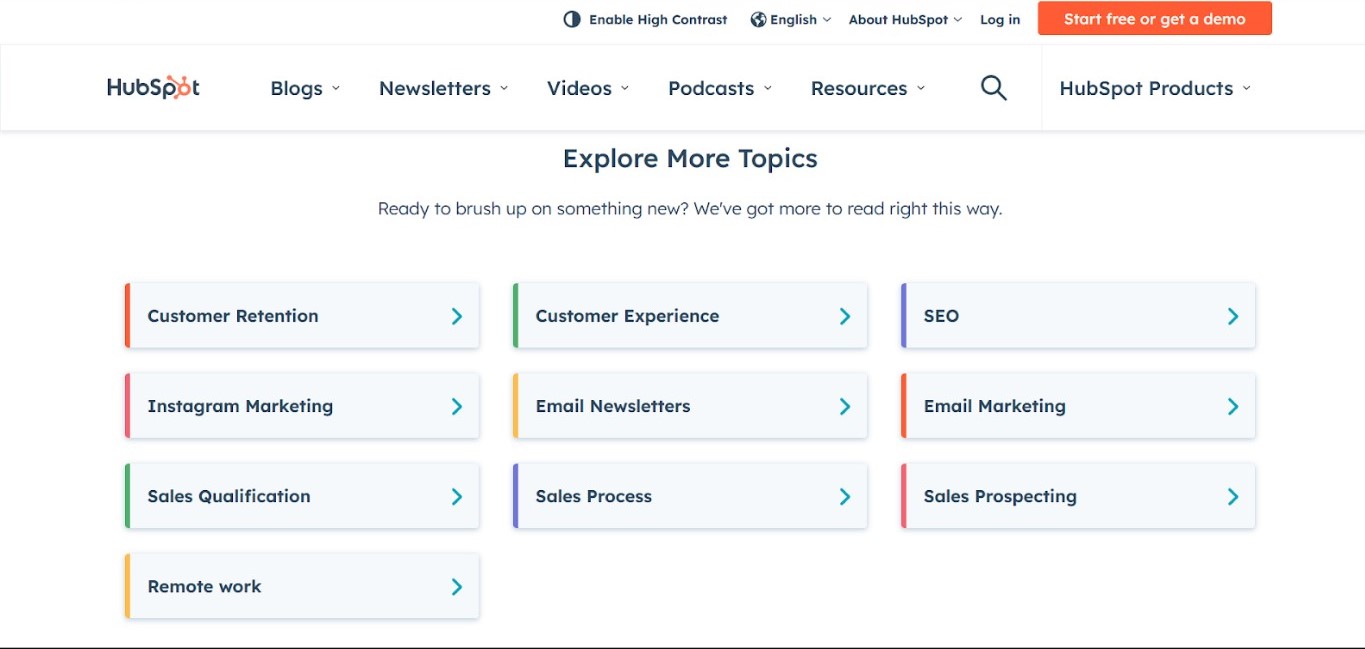 HubSpot is a platform that focuses on marketing, sales, and customer service. HubSpot does content marketing through its blog by uploading various articles with different themes, such as customer retention, customer experience, SEO, Instagram marketing, etc.
If you visit their blog, you will find hundreds of articles related to marketing topics with various themes. HubSpot even separates articles based on themes to make visitors easier.
2. Shopify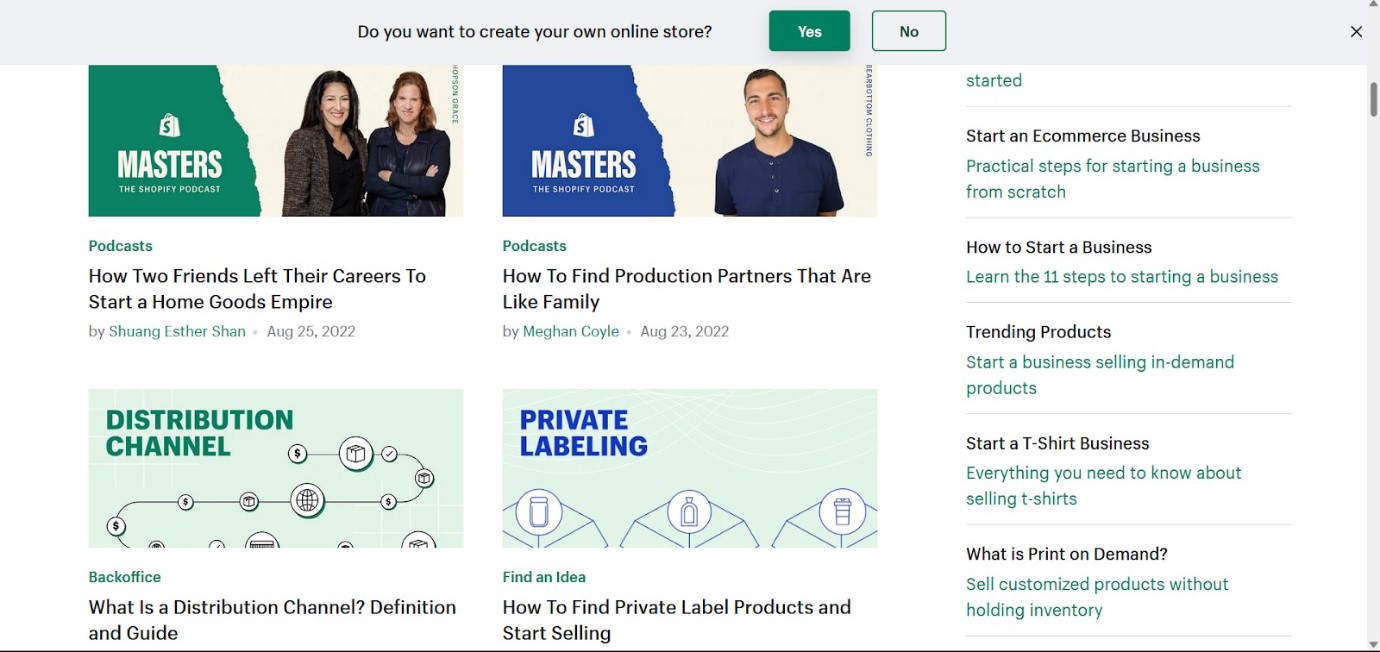 This is one of Shopify's content marketing examples! Shopify is a leading e-commerce company operating in Canada. Shopify chooses to blog as one of their content marketing strategies. That's why you can find hundreds of interesting articles on their blog.
3. Buffer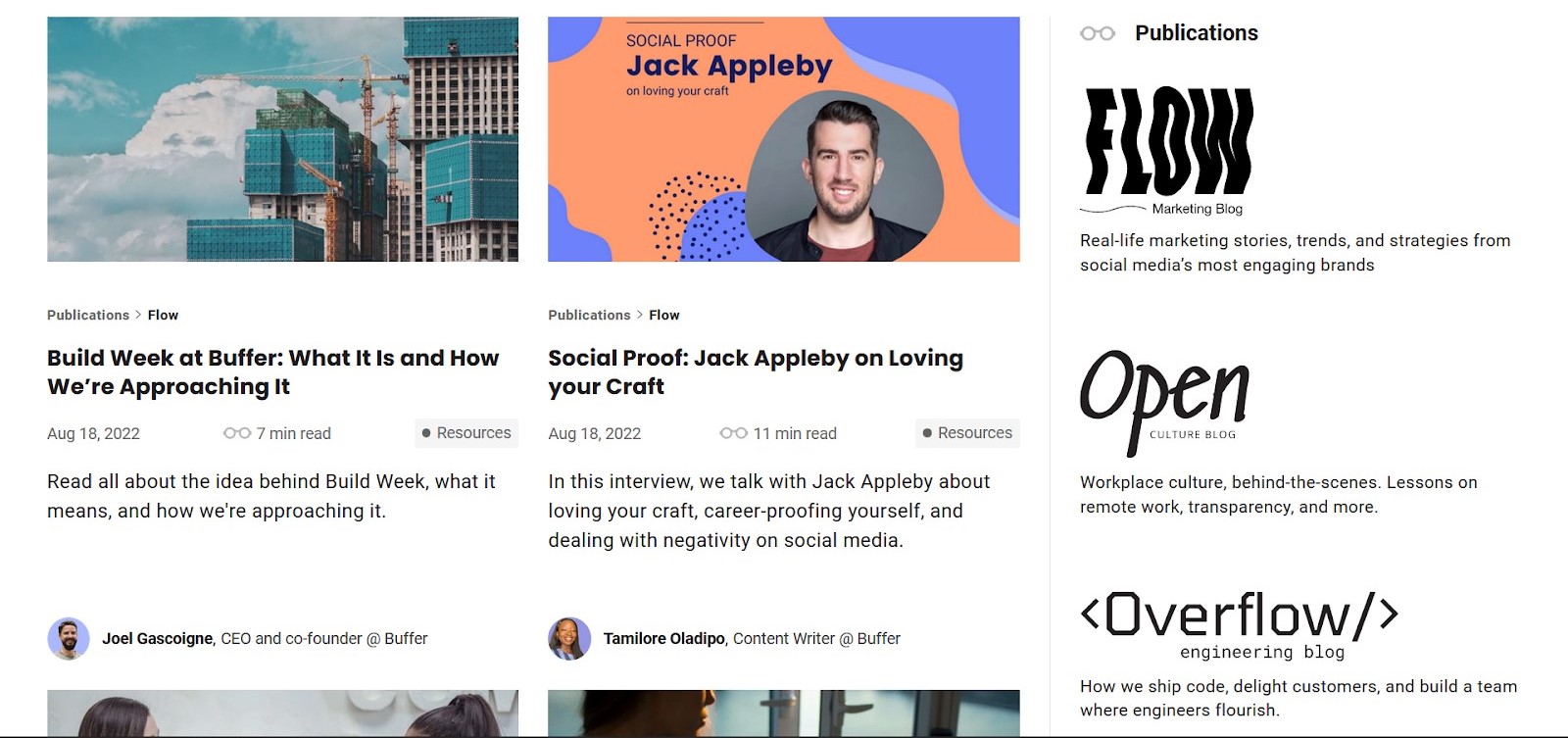 Just like Shopify and HubSpot, Buffer also uses blogging as one of their marketing strategies. Interestingly, you can find various types of articles on their blog such as digital marketing, social media use, work life, and so on.
4. Semrush
Focusing on SEO writing, Semrush fills their blog with articles related to SEO. Such as boosting traffic, competitor analysis, how to find long-tail keywords, and so on. Hundreds of SEO-related articles are ready to be presented to you.
5. LinkedIn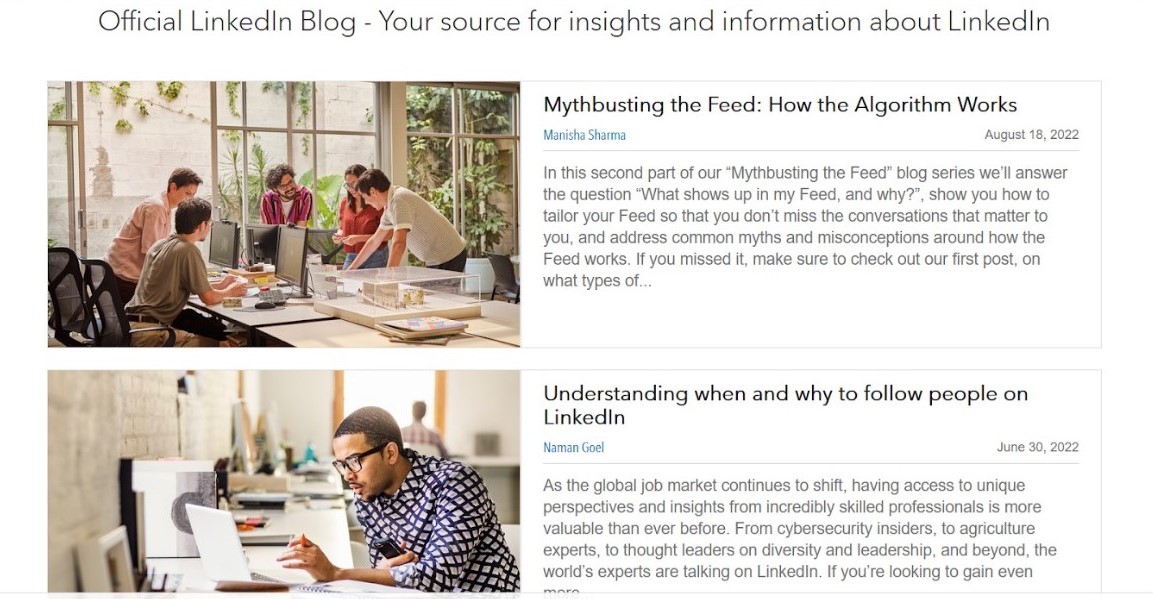 LinkedIn is one of the largest and most popular business networking platforms in the world. You can search and get job vacancies, discuss business ideas, find new employees, and expand business connections, only on LinkedIn. LinkedIn is also quite active on their blog by sharing business knowledge with their audience.
Social media marketing
6. Somebymi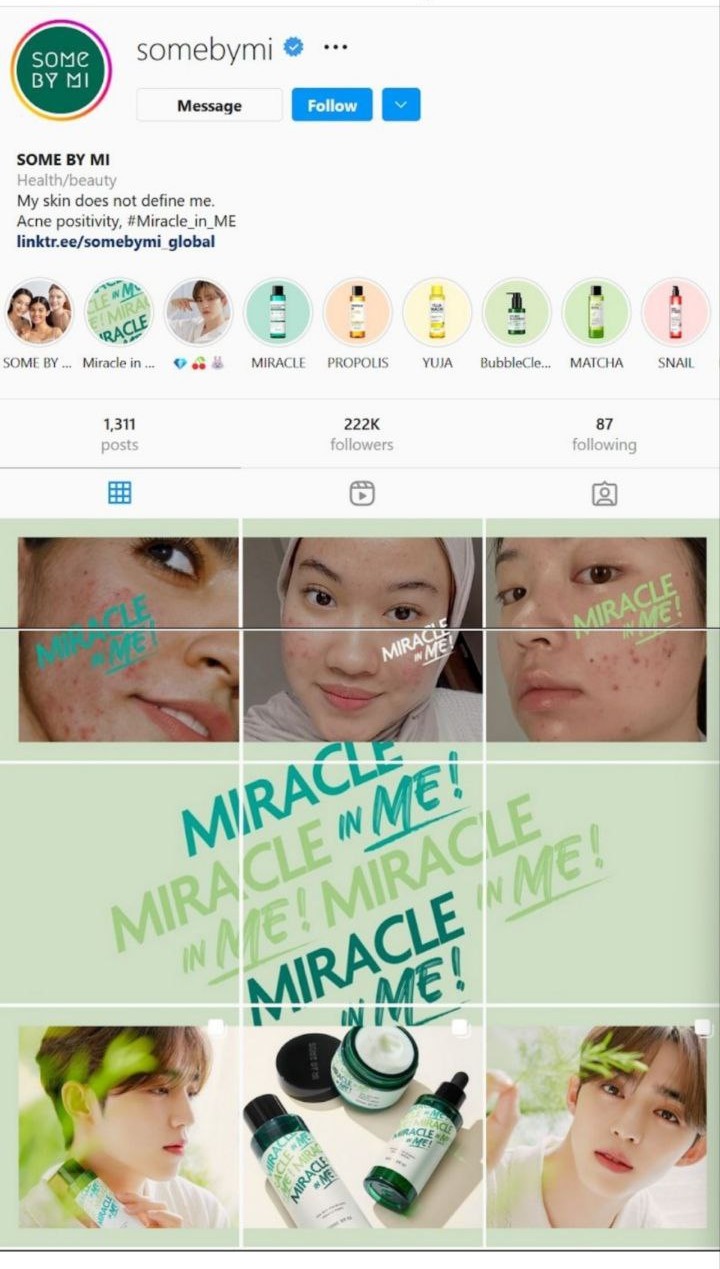 Somebymi is a well-known beauty product in Asia. Somebymi is quite active on social media by optimizing their Instagram appearance. They are active in uploading Instagram Stories, arranging their Highlights, and also doing feed puzzles on their Instagram account to attract their audiences.
7. Apple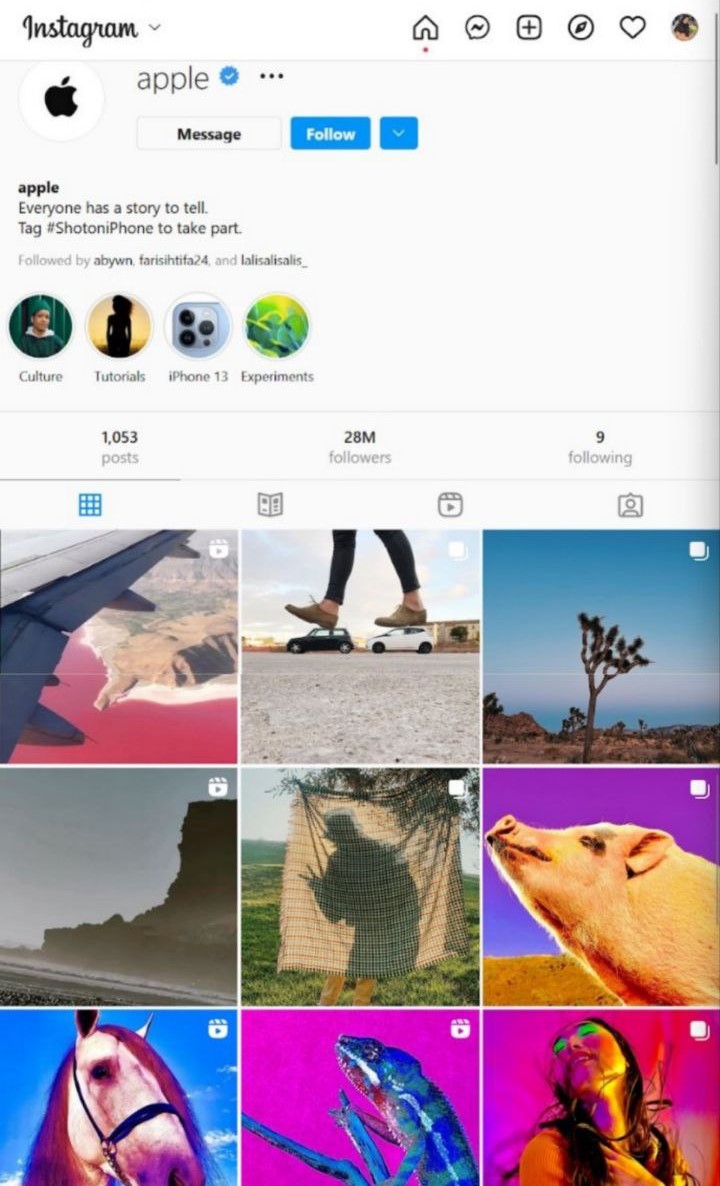 Apple is also quite active in their social media by uploading their audiences' visual content. In short, Apple allows their users to create a kind of work and upload it on social media, so that the entire audience recognizes the good quality of Apple through their user work.
8. Somethinc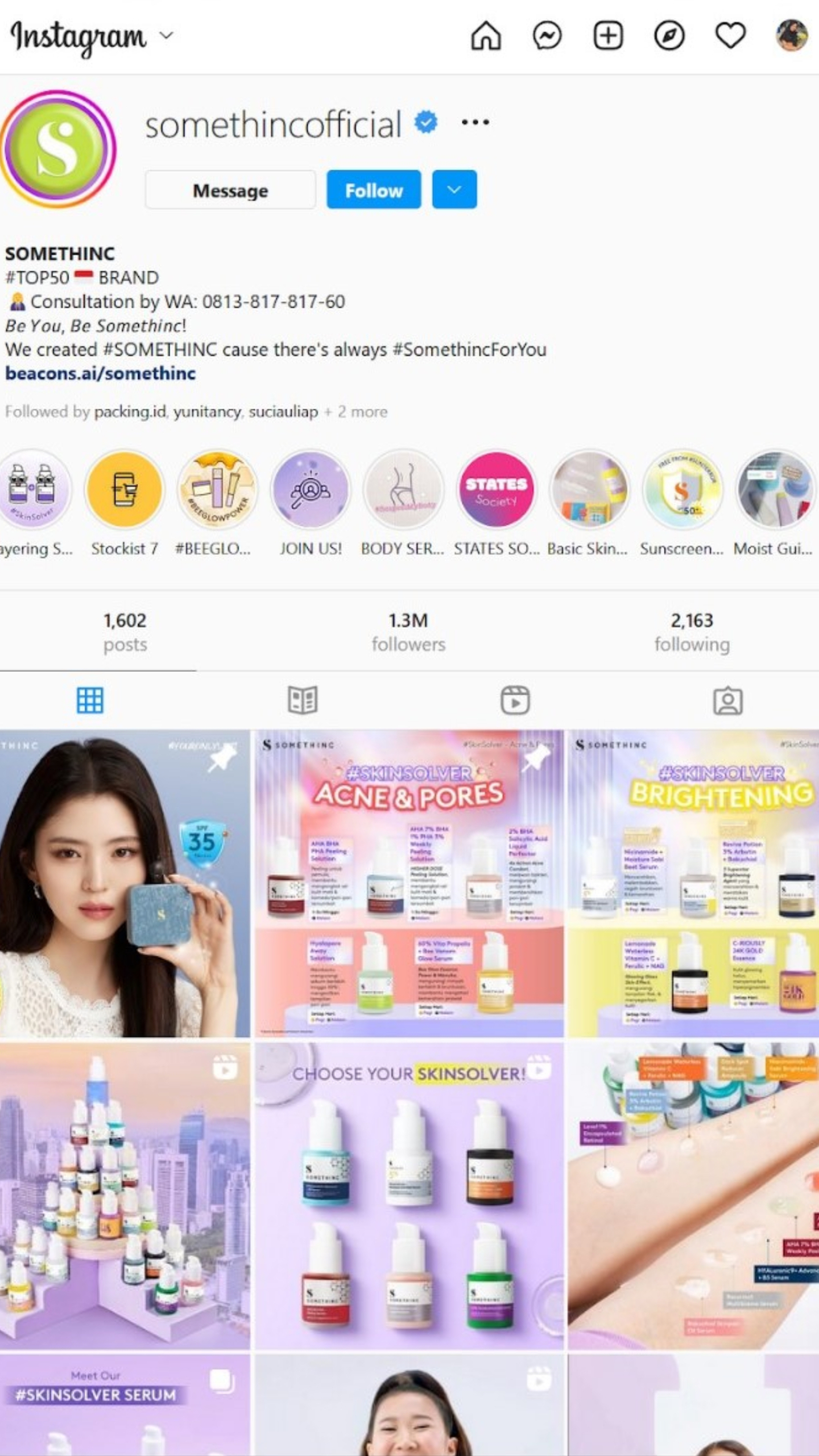 Something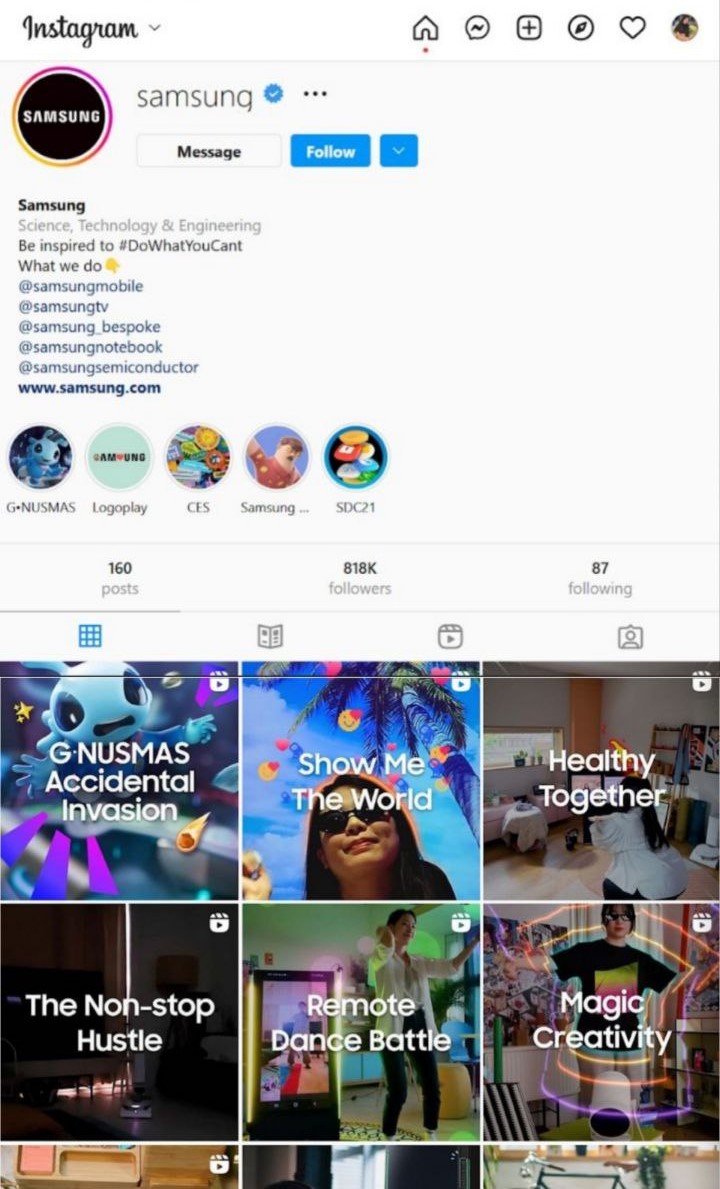 is one of the leading beauty products in Indonesia. Somethinc is quite active on social media, especially Instagram, by regularly uploading Instagram Stories and Feeds every day.
9. Samsung
Unlike Apple, Samsung has their own technique to do social media marketing. Samsung is quite active on Instagram by releasing a lot of video content regularly. In addition, Samsung has many Instagram accounts for each of their products. Such as @samsungmobile, @samsungtv, @samsungnotebook, etc.
Through this effort, their potential customers would find their products easily. They just have to type Samsung tv on the search bar in order to take a look at TV products by Samsung.
10. SKII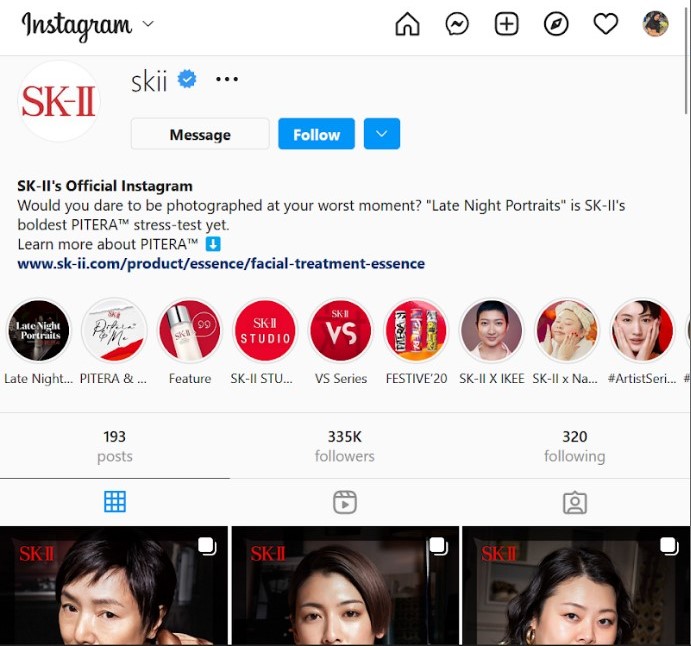 SKII is quite active on Instagram by regularly uploading content related to their products. They even did a product campaign with the theme of Late Night Portraits and promoted it on Instagram. SKII is also capable of beautifying their Instagram account by archiving lots of Highlights.
Visual content marketing
11. Somebymi
Somebymi released a product video on their social media. This video aims to inform the audience about their product's appearance, the product name, the texture, and also how to use it properly. This visual content managed to convey the message implicitly.
12. Apple
In the video below, Apple informs that their users can take photos and do editing on their Apple devices at once. This content implies that it is practical to do editing via iPhone.
13. Lenovo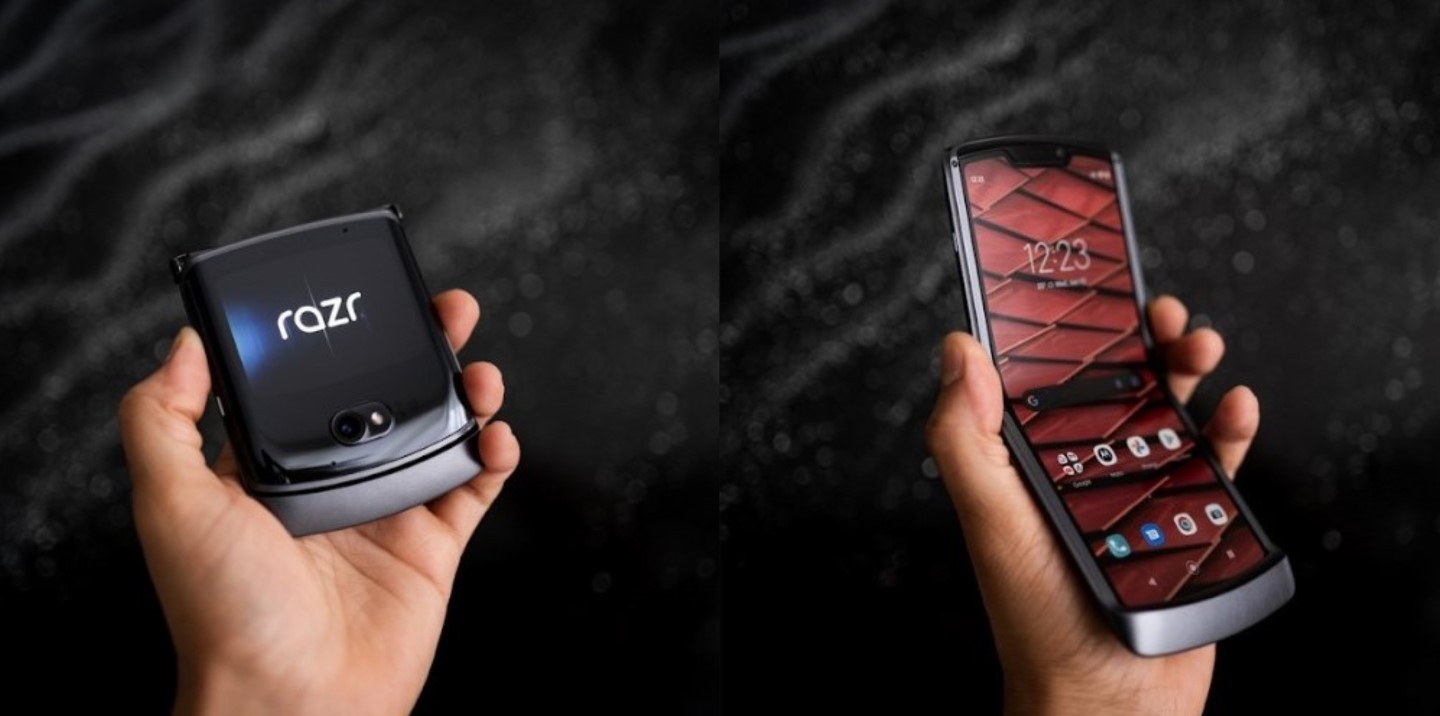 Here is one of the product photos that Lenovo posted on their social media. This content helps Lenovo to introduce their products to the audience.
14. Somethinc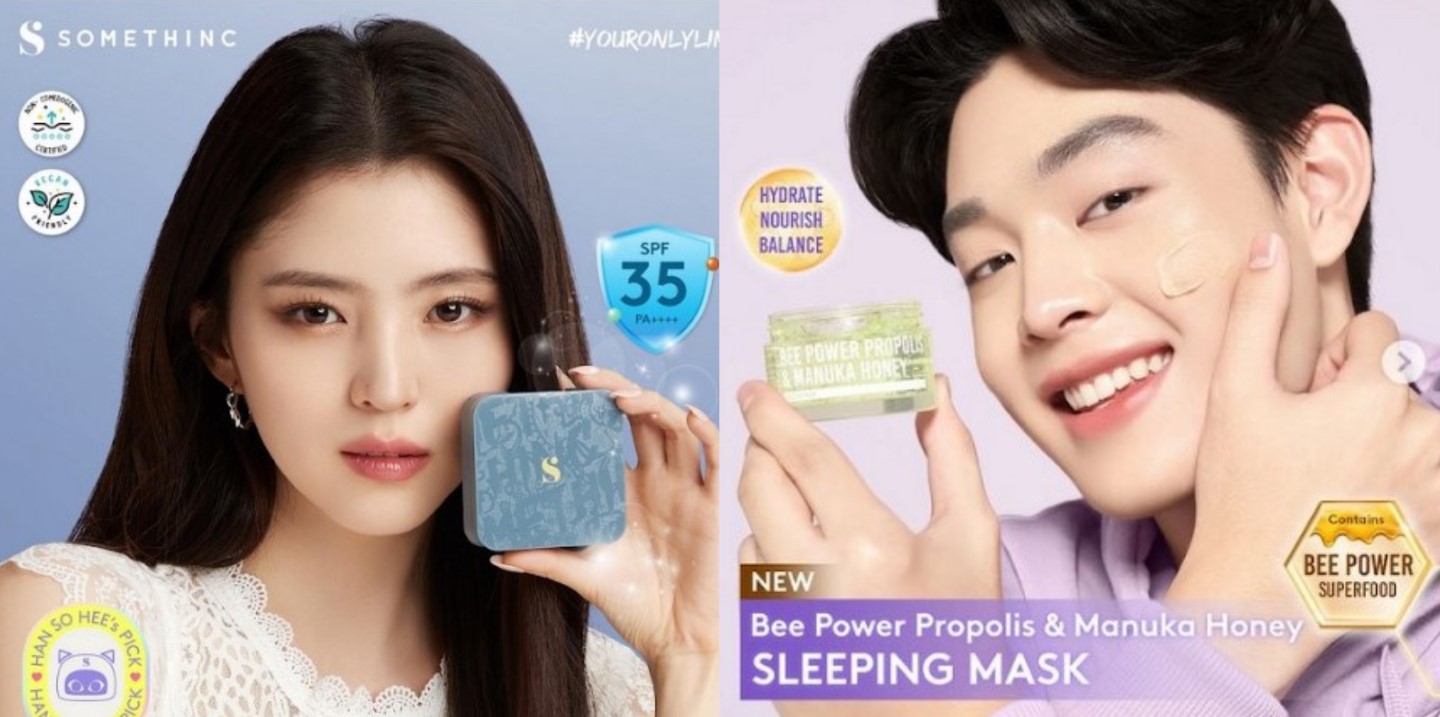 Somethinc as a cosmetic brand that is quite active on social media often uses visual content marketing as their marketing strategy. In this sample content, Somethinc introduces two new products using two well-known South Korean and Indonesian artists as their brand ambassadors. Of course, this content aims to attract the audience's buying interest.
15. Canva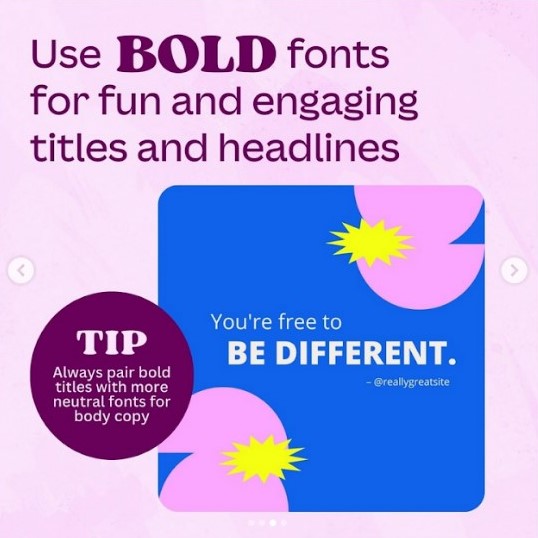 Here is one of the visuals in the form of photos uploaded by Canva on its social media. This content represents Canva's intervention in using Canva's favorite Bold font to their users .
16. Adobe
Here is an example of content that Adobe created to practice content marketing. In this video, Adobe shows the results of a project in collaboration with Prime Video, which the project was drawn using Adobe.

Tried-and-true content marketing
17. Canva
Canva invites their followers to join their event. With this event, Canva encourages their audience to use Canva implicitly. On the other hand, this content could increase the Canva user as well.
18. SKII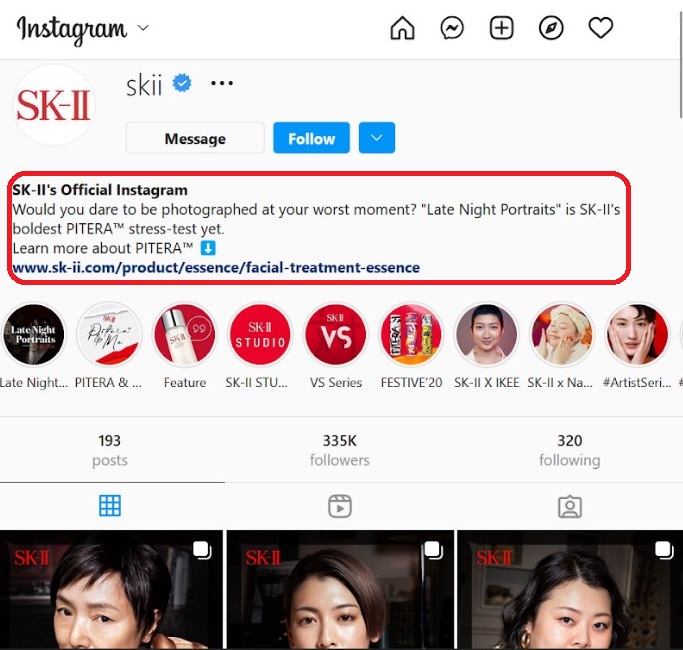 SKII invites the audience to join their campaign with the theme of Late Night Portraits. This campaign encourages the audience to take pictures of their bare skin appearance. With this campaign, SKII practiced a good Tried-And-True marketing because they involve many users.
19. Dove
Dove shared their product review content video by an influencer on Instagram. Involving influencers due to marketing efforts can also be a good Tried-And-True marketing strategy.
20. Faber Castell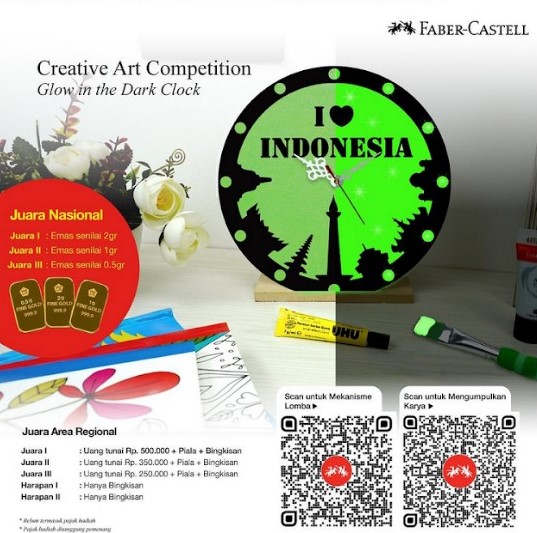 Faber Castell is one of the leading stationery companies in Indonesia. Faber Castell involved many people by holding a creative art competition.
21. Nivea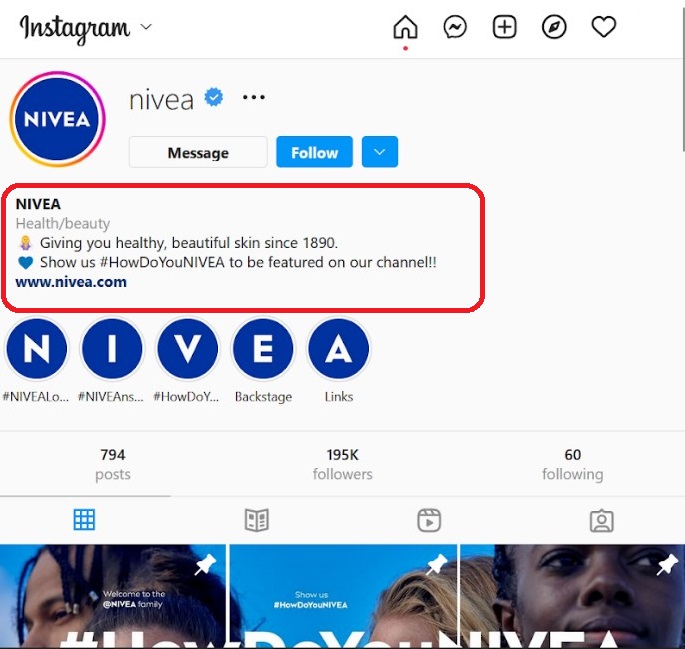 This is the one of Nivea's content marketing examples! Nivea engages their users by encouraging them to share their experiences using Nivea products. Nivea even uses the hashtag #HowDoYourNivea to enliven their campaign.
22. Vaseline
Similar to Dove, Vaseline also uses influencer reviews to encourage audiences to use their products. In this video, Vaseline encourages their audience to consult their skin condition with a dermatologist virtually.
Ebooks and resources marketing
23. Sunsilk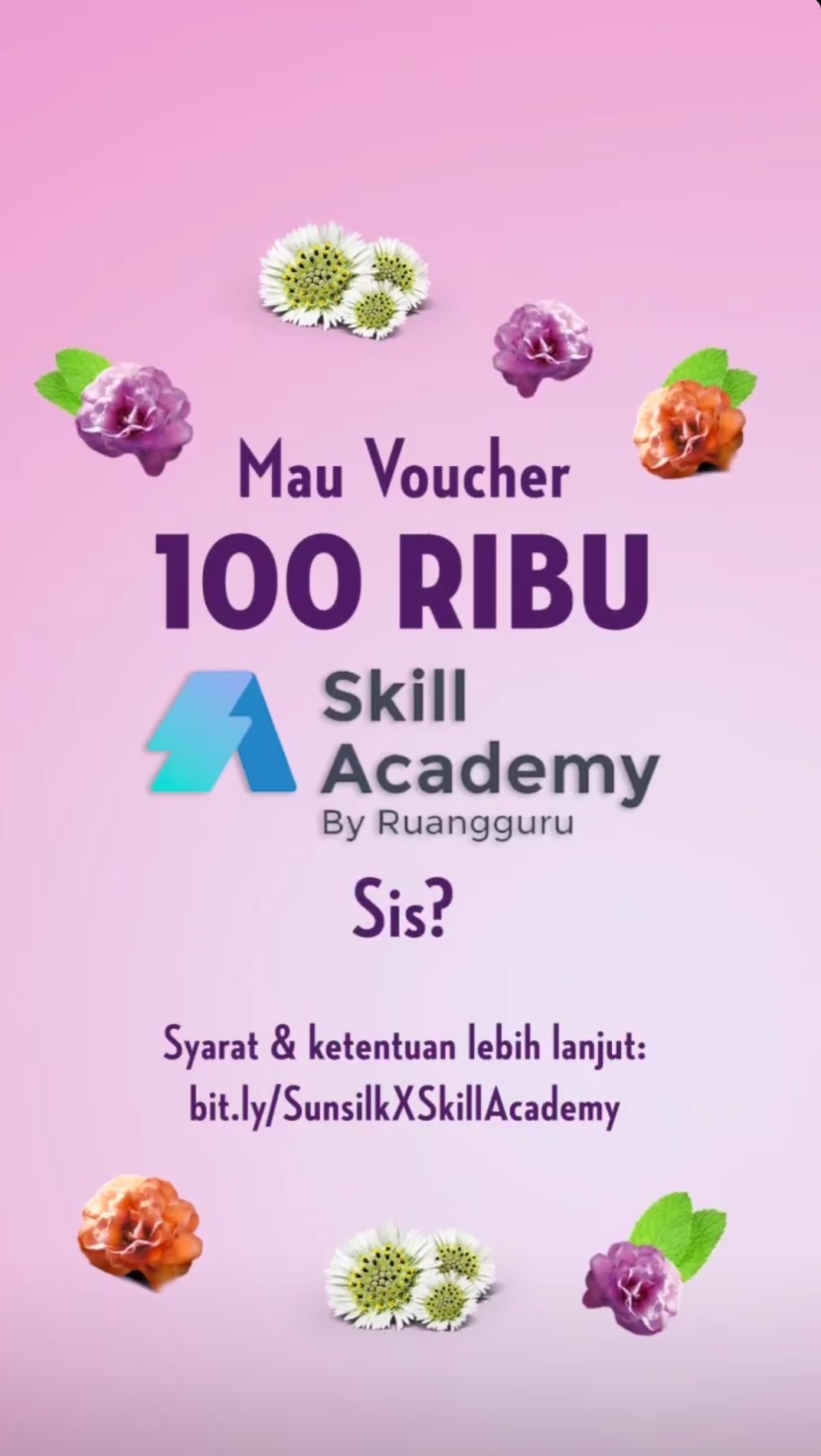 Sunsilk is one of the well-known shampoo brands in Indonesia. Sunsilk in their social media provides free virtual classes to any audience who uses Sunsilk products. The provision of free classes is one of the good strategies for marketing resources.
24. Asus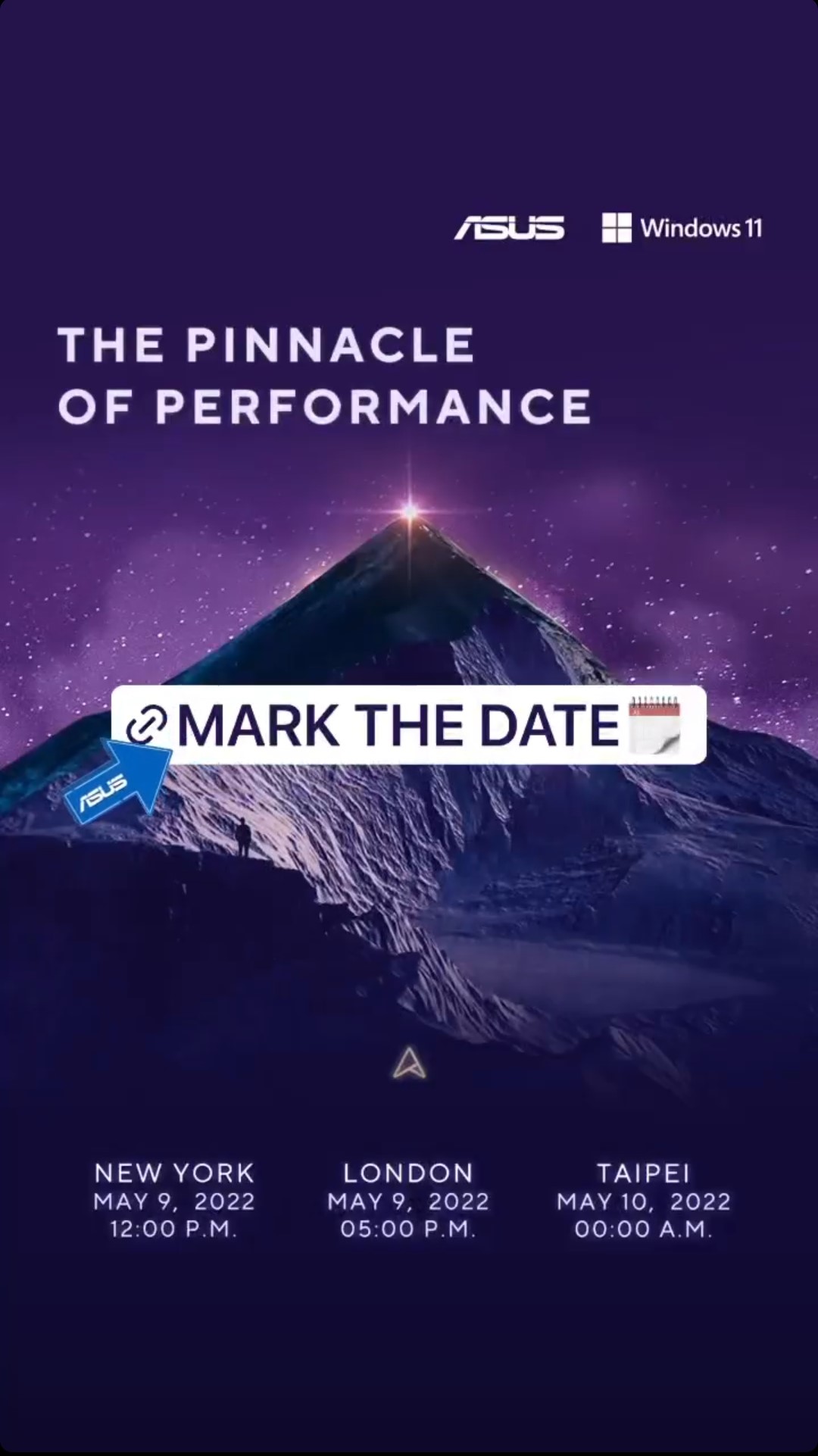 Asus provides virtual space for their users to enrich their knowledge of using Asus products. This virtual space indirectly provides various kinds of knowledge for their audience.
25. Vaseline
Vaseline provides virtually free skin consultation services to their users. With this effort, the audiences have some knowledge because they can consult their skin problem with a dermatologist directly .
Evergreen content marketing
26. Shopify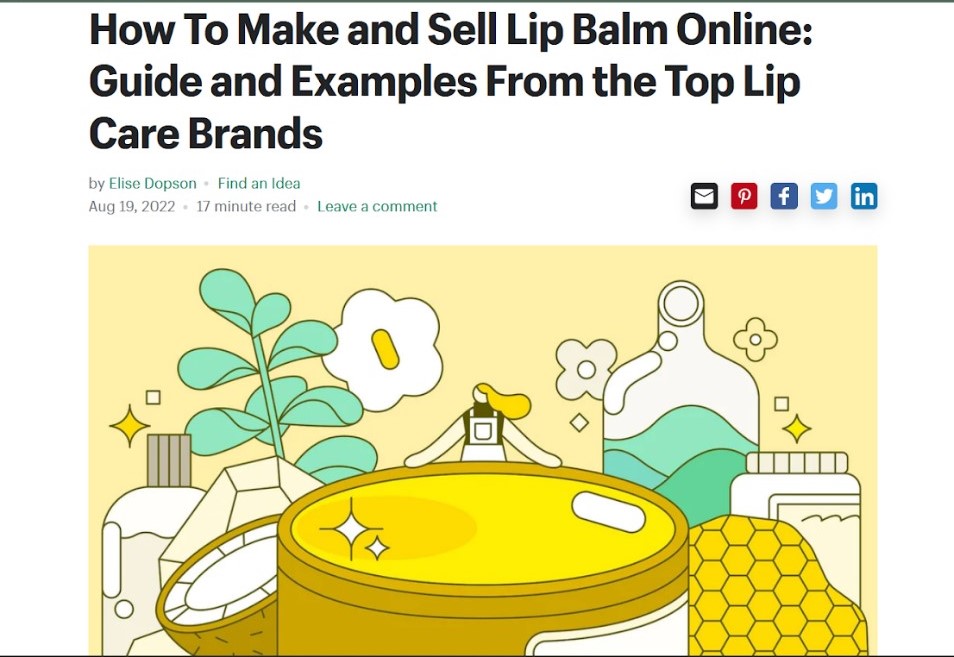 Shopify is one of the brands that is quite active on the blog. They have hundreds of articles on their blog. Even though Shopify is a company that focuses on marketing, they sometimes create content beyond their expertise. The picture below is one of their articles.
27. Hubspot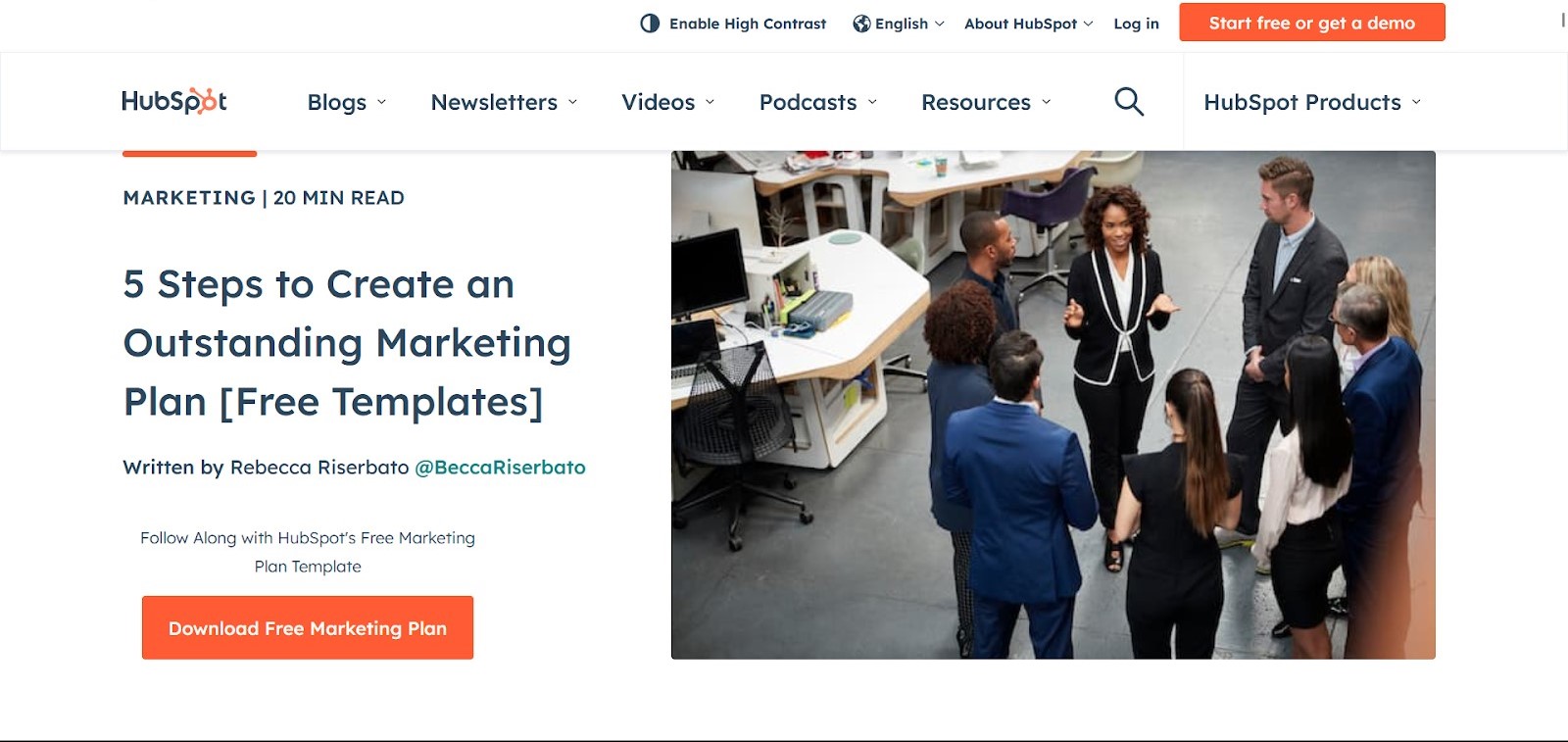 Hubspot frequently releases Evergreen content. Here is an example of their evergreen content.
28. Buffer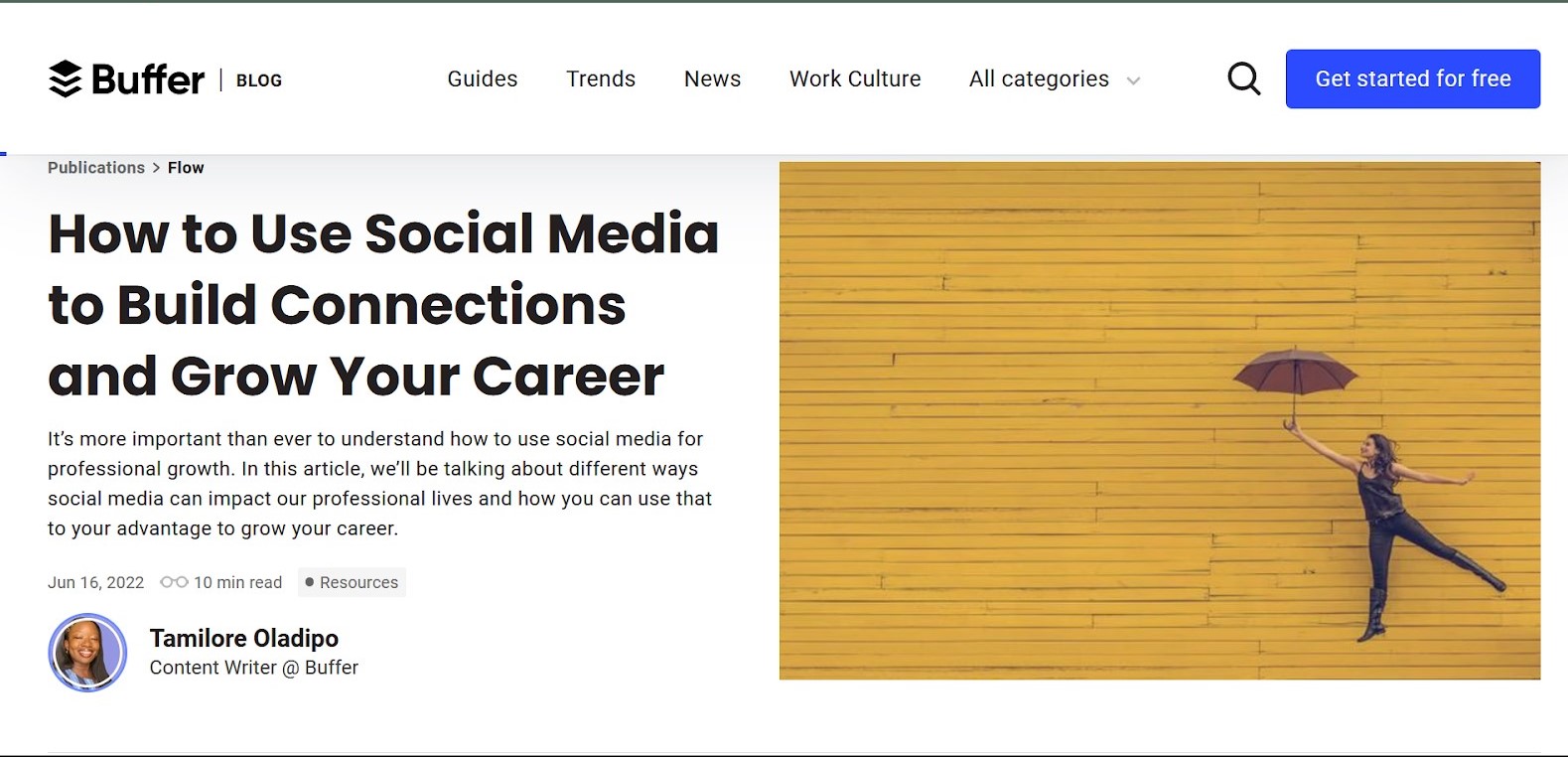 Buffer is a company that focuses on the use of social media. They also frequently give tips and ways related to the use of social media, either for business or entertainment purposes.
29. Semrush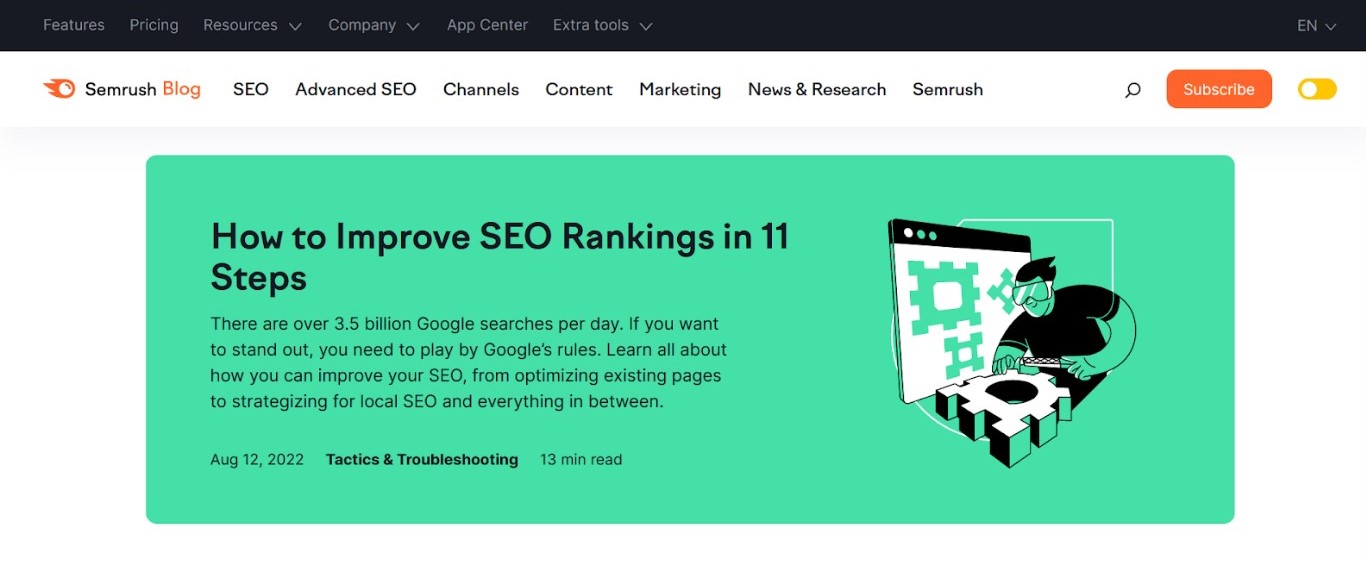 If you visit the Semrush blog, you will find various "how to", tips, steps, and advice articles. Here is an example of their latest "how to" articles.
30. LinkedIn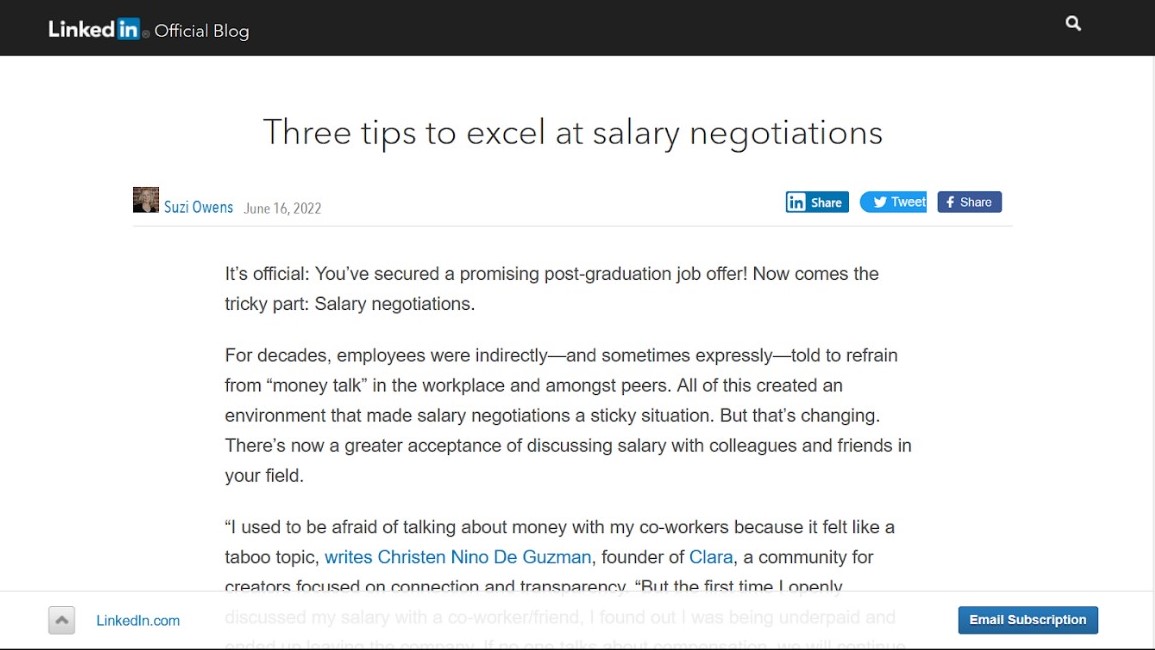 LinkedIn as a company that focuses on business, also uses evergreen content marketing. Here is an example of their latest article.
That's all you need to know about content marketing. We hope this article quenches your curiosity about how to make a good example of content marketing. You can absolutely use all of the types above, but it would be wiser if you focus on one or two to make your marketing strategy neatly organized and always on the needed lines. Final word, happy practice!